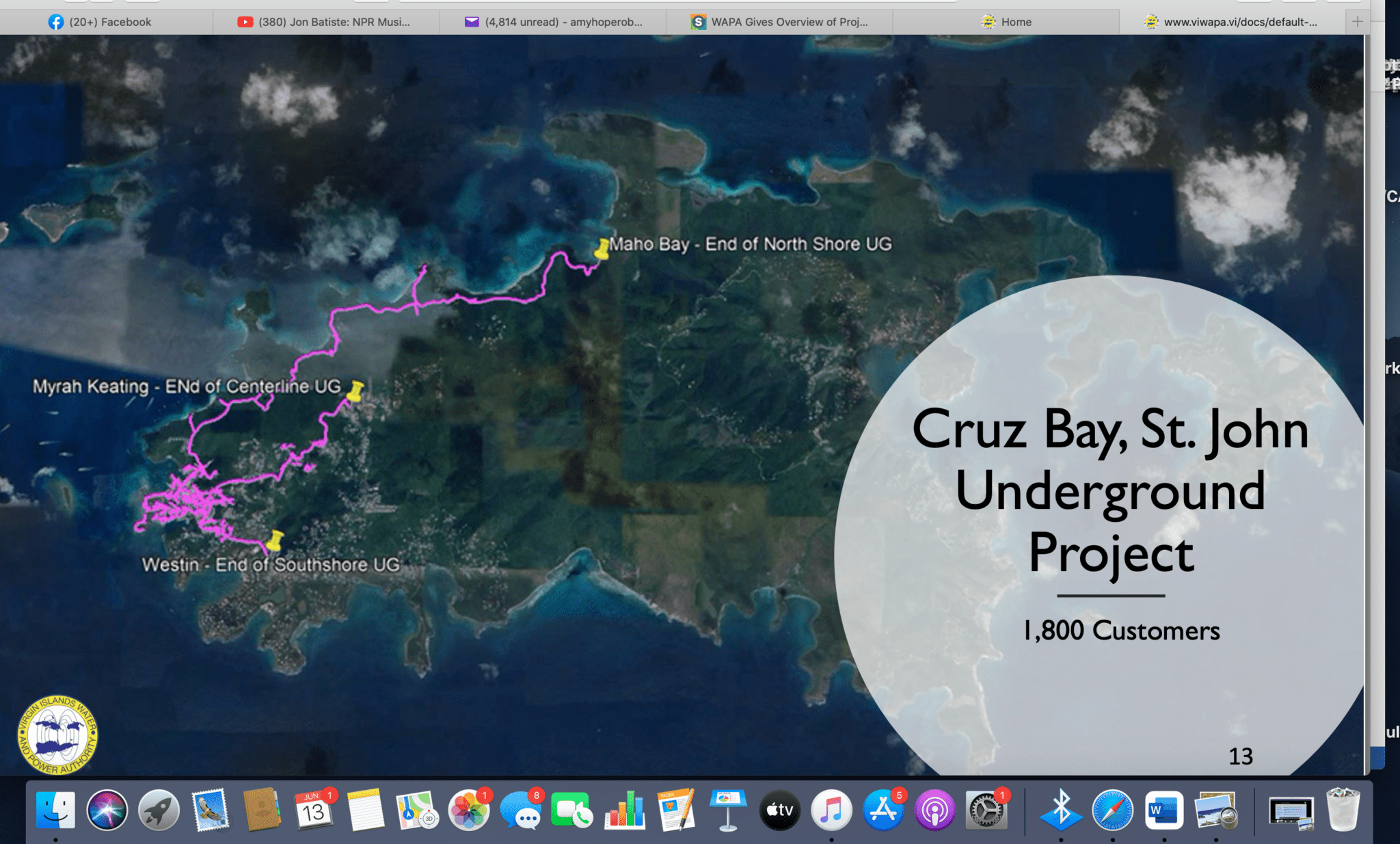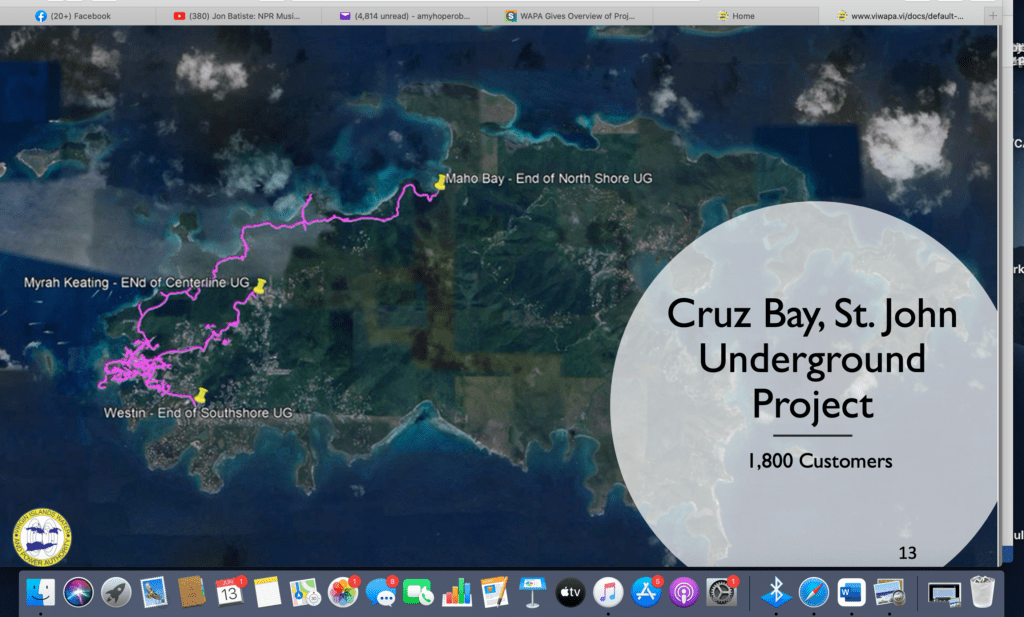 Buried bodies, rocky ground and permit delays have added months to the proposed schedule for under-grounding the WAPA grid in Cruz Bay on St. John, and hundreds of thousands of dollars to the cost, the utility's board members learned Monday during an emergency meeting.
The board voted to approve a change order increasing the cost of the first phase of the project by $448,910 and extending the time in which the work will get done by 34 weeks, for a new completion date of May 2022. Member Elizabeth Armstrong abstained.
The work in Cruz Bay is the first part of a multi-phase initiative to bury the power grid on St. John, which remained without electrical service for 50 days after the destruction of hurricanes Irma and Maria in 2017. Funded 90 percent by the Federal Emergency Management Agency and contracted to Haugland VI, the project was initially expected to last 38 weeks and cost just shy of $12 million.
However, Cordell Jacobs, manager of design and construction, said numerous delays have plagued the project that was to have started in January but did not get underway in earnest until July, including in acquiring Coastal Zone Management clearance, easements from landowners that in some cases changed the scope of work if they were denied, and National Park Service permissions.
While most of those hurdles have been cleared – save for an outstanding NPS special use permit that Pete Bonnes of project manager FX Bonnes hopes FEMA will be able to help finalize – there are other issues unique to completing a project on St. John, namely its history.
St. John is an island rich in artifacts, and an archaeologist must oversee the digging to ensure nothing of value is unearthed, as happened in mid-August when human bones were observed in a trench that was being excavated on the western tip of the historic district of Cruz Bay.
Work on that section of the project – in the road near Gallows Bay Resort and the main cemetery in Cruz Bay that has been in continuous use for hundreds of years – has been halted while officials with the V.I. State Historic Preservation Office, the Historic Preservation Commission and FEMA determine the best way to proceed, WAPA Electric System interim Chief Operating Officer Vernon Alexander said.
Despite the start and stop nature of the project, Haugland has still had to honor contracts for workers, housing and equipment, despite using only one of two crews until the NPS permit is secured and the burials resolved, said Alexander, who warned another change order to deal with those issues will be introduced at WAPA's next regular board meeting.
There is no telling what other archaeological finds may further delay work, but the project is now employing ground-penetrating radar in a bid to better plan the work going forward, said Alexander.
Otherwise, the first phase is about 15 percent completed, with work proceeding in the Mongoose Junction area and finished in Frank Bay, said Alexander.
Future plans call for the installation of underground wiring up Centerline Road to the Myrah Keating Smith Health Clinic. Eventually, the project will extend to the Westin Resort on the South Shore Road and to Maho Bay on the North Shore Road, according to WAPA's website.
Board members attending Monday's emergency meeting were Chairman Kyle Fleming, Secretary Juanita Young, Joel Lee, Anthony Thomas, Cheryl Boynes-Jackson, and Elizabeth Armstrong. Hubert Turnbull was absent.