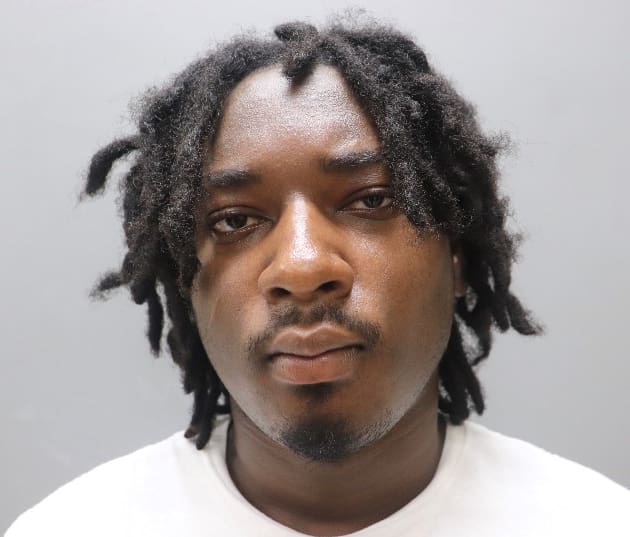 Justin Matthews pleaded not guilty on Friday to first-degree murder and 10 other counts in the Sept. 4 shooting death of Keoner Baron as she waited for a ride following her shift at Home Depot on St. Thomas.
During his arraignment in V.I. Superior Court, Matthews, 23, appeared virtually from his jail cell, where he has been held on $1 million bail since his arrest on Sept. 5.
His attorney sought Thursday to have the bail reduced to $100,000.
"The Magistrate Court's order in this matter is tantamount to a denial of bond. Even with a reduction to $100,000, the defendant's bond would be substantial that he'd likely be unable to post it," Territorial Public Defender Samuel Joseph wrote in a motion for bail reduction that was opposed by the Attorney General's Office.
Joseph said Matthews would reside with a third-party custodian – his grandmother – in Estate Contant and would be subject to strict house arrest with electronic GPS monitoring 24 hours a day, seven days a week.
Judge Denise Francois did not rule on the motion Friday. The court did agree to Matthews' request for a speedy trial and scheduled jury selection to begin Feb. 14.
In the days after her death, a memorial to Keoner Baron, 20, was assembled under the tree where she was slain in the Home Depot parking lot on St. Thomas. (Source file photo by Sian Cobb)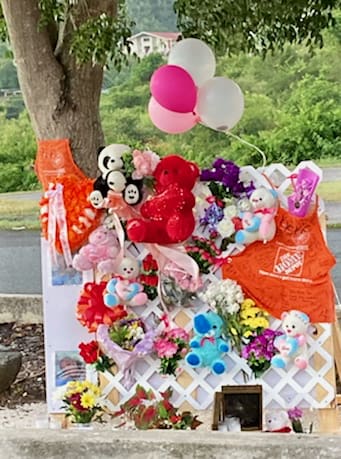 Along with first-degree murder/domestic violence, Matthews is charged with second-degree murder domestic violence, four counts of unauthorized use of a firearm, first-degree assault domestic violence, third-degree assault domestic violence, unauthorized possession of a firearm, unauthorized possession of firearm ammunition, and reckless endangerment in the first degree.
According to an affidavit by V.I. Police Detective Shenika Simon that was filed as part of the court record, officers responding to a 911 call at 4:10 p.m. Sept. 4 found Baron, 20, lying unresponsive in the Home Depot parking lot with multiple gunshot wounds. She was taken to Roy Lester Schneider Medical Center where she died of her injuries. Simon said officers collected 11 9mm shell casings at the scene.
Two witnesses said they were driving in the area when they saw a man in a black mask walk toward a woman sitting under a tree in the parking lot and shoot her multiple times, according to the affidavit. They said the man then ran from the parking lot and drove off in a gray Hyundai with a license plate ending in 570.
A third witness, who was in the Home Depot parking lot, described a similar scene, according to the affidavit.
A review of Home Depot surveillance video showed a silver vehicle approach Baron in the parking lot and stop. "She appeared to be having a conversation with the individual inside of the vehicle and then she walked off and walked towards the area where she was shot," Simon said.
"The individual inside the vehicle rolled up the window and drove in the direction where Ms. Baron was sitting. The vehicle was in the area for about five minutes before traversing Southward in the Home Depot parking lot and heading in an Eastern direction (left turn), towards Donoe roadway," Simon said.
"I observed that at about 1710 hours, an unknown individual attired in a black shirt, stone-washed short jeans pants, ran in the direction where Ms. Baron was seated. The individual approached Ms. Baron and fired a shot at her and she raised her hands and she fell on the ground. The individual continued to fire several more shots at Ms. Baron. The individual ran back towards the area he came from towards the roadway."
Detective V. Carr heard the 911 call and vehicle description and, realizing he knew the car and its owner, traveled to Matthews' residence in Estate Contant and took him to the Criminal Investigation Bureau for questioning, said Simon.
Matthews at first told police that his vehicle was stolen at gunpoint as he stopped on the side of the road in the Donoe area to remove a bucket from the trunk and that he reported it in a call to 911, according to the affidavit.
After further investigation revealed no such call had been made, Matthews was brought back to the police station the following day and admitted to shooting Baron after they got into an argument over her speaking to another man, the affidavit said.
The investigation revealed that Matthews and Baron had been dating for about two years and she had broken off the relationship three days before she was killed, the affidavit stated.
Matthews was free on an unsecured $2,000 bond on charges of stalking and disturbance of the peace/threats in an unrelated case from June 20, 2020, when the Home Depot shooting occurred, according to court documents. A pre-trial conference in that case is scheduled for Oct. 6 in Superior Court on St. Thomas.