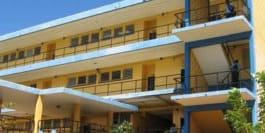 An accused child pornographer remains behind bars after a federal magistrate revoked the terms of his pre-trial release. An attorney representing Alfredo Smith said the defendant changed his mind about the conditions set by the court that would have allowed him to be confined to his home pending trial.
Those conditions arose from a Sept. 3 detention hearing, after Smith was arrested and charged with recording images of sexual encounters he allegedly had with students attending the Charlotte Amalie High School and posting some of them on social media. U.S. Magistrate Ruth Miller originally said Smith could be released from detention on a $20,000 unsecured bond and could stay at home with an electronic monitor during pre-trial proceedings.
A federal public defender representing Smith filed a notice of withdrawal of release plan and a motion that the matter of Smith's detention be revisited by the magistrate. A magistrate's order, revoking release, came after the defendant's notice was received.
But the prosecutors in the case filed a motion to stay Miller's order, saying Smith should remain in custody.
"It is imperative that the defendant remain in custody pending a decision from the District Court because he is a danger to the community," said Assistant U.S. Attorney Natasha Baker.
At the time of the accusations – some dating back to 2015 – Smith was employed as a school hall monitor and a track coach. Documents filed by investigators suggest close to half a dozen students may have been subject to abuse by the defendant. An attorney from the U.S. Justice Department told the court that additional charges are pending.
According to a statement released by the U.S. Attorney's office, the most recent allegations occurred this year.
"Homeland Security Investigations began an investigation into Smith's alleged activities after receiving reports that Smith inappropriately touched a minor during a school-sponsored track and field trip in March 2021, and that there were photographs of juvenile males who attended CAHS in the defendant's cellular phone. One witness reported that over six young males confided that they had been molested or raped by the defendant," the statement said.
Federal Public Defender Matthew Campbell suggested in court filings made Tuesday that Smith knew he risked a long pre-trial incarceration by rejecting the bail conditions. But if the prosecution prevailed with their motion to stay and a possible appeal, his wait behind bars, pending trial, was guaranteed.
This way, there was still a chance of winning release at a later date, Campbell told the court.
Education Commissioner Racquel Berry-Benjamin has spoken out since the CAHS track coach was arrested and charged with producing child pornography on Sept. 1. At a press conference held Thursday on an unrelated subject, the commissioner announced that lawyers at the Education department were conducting an internal investigation into the alleged wrongdoing.
But Education officials have not responded to questions about the coach's employment status. At the Sept. 3 hearing, Campbell told the court his client was no longer in a position to engage with students at the school. When asked to clarify Smith's status, Education Public Information Officer Cynthia Graham confirmed Campbell's statement.
"Alfredo Bruce Smith began employment at the Virgin Islands Department of Education on April 24, 2006. Since his arrest, he has been barred from all school campuses and effectively placed on leave pending the ongoing investigation," Graham said.