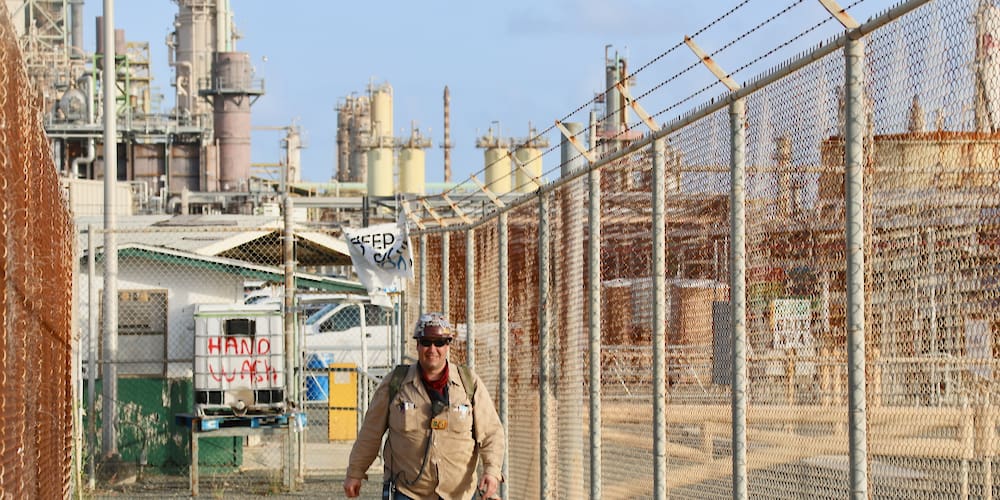 A survey conducted by V.I. Delegate Stacey Plaskett on the economic impacts of Limetree Bay Refinery's May shutdown has concluded that despite the real financial pain being experienced by local St. Croix businesses, most Crucians would prefer an economy based on tourism and other clean industries rather than fossil fuel refining.
"Over the past few months, although there was a great effort by community groups to gather information regarding the environmental and health impacts of the refinery, there did not appear to be much community conversations around how the refinery's closure was affecting the people of the Virgin Islands from an economic standpoint," Plaskett explained the reason for her survey in a news release. "This survey provided an opportunity for individuals who may not have had a chance to share their experiences to do so."
About 290 people took the survey, according to the results shared on Plaskett's website, compared with more than 500 respondents to a July survey by Bennington College, Crucian Heritage and Nature Tourism, St. Croix Environmental Association and V.I. Good Food Coalition.
The majority of the survey takers identified themselves as someone "other" than a local business owner, Limetree employee or contractor. Most were in the 41 to 56 age range. A fair number had bachelor's degrees. A large majority were married and a small majority were women. Interestingly and perhaps counter to expectations – a Plaskett aide previously had spoken of Limetree's economically impacted as a 'silent majority' – more than 50 percent of the respondents indicated they had not been affected by the refinery's closure.
Limetree's trickledown impact
Some 82 people provided Plaskett with the ammunition she was looking for to describe to President Joe Biden and his administration the territory's economic straits, including a wide range of businesses, from hotels to dive instructors, who lost customers in the shutdown. And while their numbers were relatively small compared with the working wove of the island, their losses trickled down to the economy at large, several said.
Among the comments:
– "The employees were customers that purchased items, participated in classes, and used our diving services."
– "I had patients in treatment that got laid off and cannot pay their medical/dental bills."
– "We had long-term leased and rented vehicles to Lime Tree contractors."
– "Some of my customers can no longer afford my services."
– "The workers at Limetree had standing fishing charters booked for every Sunday."
– "When the refinery is open they spend at bars and restaurants so that trickles to us."
– "I am in real estate and several of my buyers were laid off while in the middle of purchasing a home.
– "No more rental employees anymore. It's a great impact on my business.
– "Outstanding unpaid receivables over $100,000."
But despite their losses, only a handful of respondents wrote in favor of restarting the refinery and preserving the status quo. Some blamed the refinery's neighbors who were affected by its emissions and oil sprays for seeking compensation and causing it to close.
Comments included:
— "Start back the refinery. Whatever the EPA and government shut it down for, fix it. Get the employees to learn from their mistakes and make it happen."
— "If the refinery could be brought into EPA compliance, I would be all for its continuing to operate."
— "Tell the EPA to leave us alone. Arrange a 30-year EPA non-interference rule to allow an investor to confidently re-start the refinery without government interference."
Asked if the economic losses of not having the refinery outweighed its health and environmental effects, most did not say "yes." Rather, Plaskett received an outpouring of ideas for improving St. Croix's economy alongside or without it. In this respect, the respondents to her survey had much in common with those who took the community impact survey in July.
Here are some of their suggestions:
— "Revitalize dairy and cattle industries that were allowed to vanish due to legislative inaction."
— "Perhaps we need to look at other sources of revenue and entice another large alcohol distiller to operate here."
— "Utilize the south shore for a major transshipment point for the region."
— "I believe that St. Croix can be the hub for solar, wind and technology for the entire Caribbean."
— "Continue with the Marine division and storage tanks. Continue to attract businesses that can be conducted using high-speed Internet."
— "Focus on solving the crime and power issues. That will greatly improve economic development here."
— "Open warehouses."
— "Convert the refinery to an electrical plant. Start up the pharmaceutical industry again. Hemp."
— "The opportunities and income generated that would come from medical tourism are endless."
— "Support green industry such as solar power, technology, bio-based products, small footprint tourism, plastic recycling for manufacturing, sargassum harvesting for refining into food products, cosmetics and detergents."
— "Sustainable industry: industrial compost, seaweed farming and refining."
— "Form a proper licensing and business plan for the sale of legal marijuana. Invest in agriculture as a whole."
— "Call centers for US businesses."
— "Learn from Charleston, SC: The U.S. Navy base shut its doors and the city had to focus on tourism."
— "Historic and cultural sites and activities should be advertised regularly in tourist and other national websites and online publications."
— "Switch to agriculture and tourism."
Plaskett said she was grateful for all those who took part.
"I'd like to thank each of the individuals that took the time to participate in the survey, especially those who shared their specific comments and experiences regarding the shutdown," she said. "We value these experiences and hope to share the data with other members of Congress and the Biden administration, as well as our local government to give those decision-makers a sense of the community's thoughts on the economic impact of the shutdown in the territory."
"The survey results are another touchpoint that demonstrates the need for the remediation efforts that the Biden infrastructure plan is focused on providing," she said.
The Biden infrastructure bill invests $21 billion in environmental remediation to address the kind of legacy pollution that has historically harmed communities of color, including St. Croix.
In doing so, it will create good-paying union jobs in hard-hit energy corridors and give the territory a possible opportunity to modernize its electric grid, Plaskett said.
The results are available to view on the survey website.