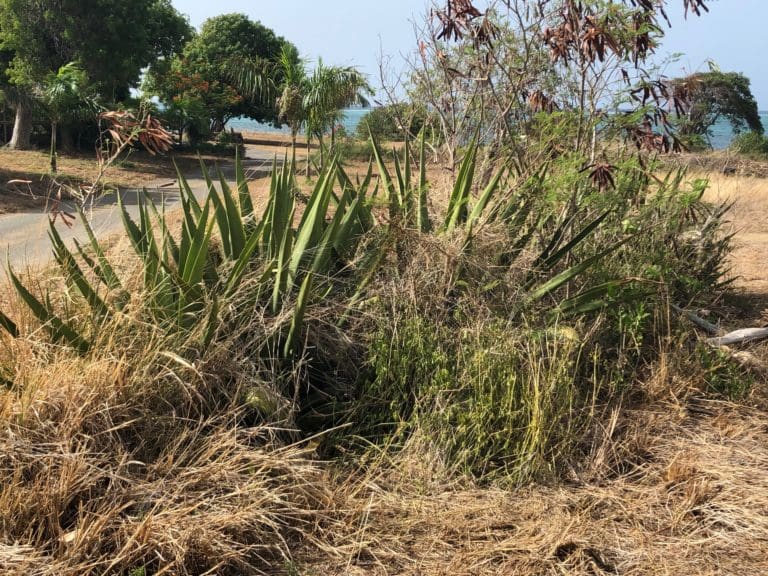 The U.S. Fish and Wildlife Service is seeking public input about a plan to remove Agave eggersiana from its list of Endangered and Threatened Plants over the next 40 years. Work to increase the plant's abundance and security before the change is planned, at an estimated cost of more than $600,000. The plant was listed as endangered in September  2014.
Agave eggersiana is a flowering plant in the century plant family endemic to St. Croix. According to Fish and Wildlife, there are about 548 adult plants and 539 juvenile plants within 13 populations found mostly on coastal cliffs on the north and south sides of the island. Six of the populations are considered natural because they are growing mixed with other native vegetation and are various sizes.
According to Fish and Wildlife, threats to the plant include its location on unstable cliffs, competition with non-native vegetation for light and space, a severely restricted range and small population and stand sizes. The last threat increases the likelihood of random events causing destruction of stands or population, according to service studies.
In order to preserve the species and improve its long-term viability, the recovery strategy includes educating landowners, preparing and monitoring management plans, implementing such plans, enhancing the current populations and establishing new populations.
The strategy for increasing public awareness will include workshops, educational signage, developing landowners' agreements and minimizing the impact of development.
The criteria for removing Agave eggersiana from the Endangered Species list are long-term conservation and encouraging a stable or increasing trend of the six natural populations on St. Croix: south shore, Cane Garden Bay, Manchenil Bay, Protestant Cay, Great Pond and West Vagthus Point.
There should also be 10 new populations established in protected areas and systems for observing those 10 populations for stability, increased growth and multiple age classes and addressing threats so the species remains viable in the future.
Estimates for the recovery actions total $618,000, with protection and management being the most costly at $288,000. Next most expensive is developing and implementing a plan to introduce agave to existing and new populations. Assessing the effect of the agave snout weevil and determining a management plan is estimated at $71,000, and monitoring the plant and its habitat could run $72,000. Education could cost $60,000 and a genetic study on the plant would be approximately $25,000.
The Source asked why such an elaborate and costly plan should be implemented for a plant that is indigenous to the island. If the agave can't sustain itself, shouldn't it be left to nature and the survival of the fittest test?
According to Maritza Vargas, who prepared the Recovery Implementation Strategy for the U.S. Fish and Wildlife Service Caribbean Ecological Services Field Office, Agave eggersiana can sustain itself but needs help due to threats, many man-made, to the species and its habitat. The goal is to maintain and protect the known populations and habitat and introduce it to new protected areas.
"Agave eggersiana is mostly threatened by habitat modification, habitat degradation and introduced species. Most threats are human-related and currently (there is) a disease/predation by the agave snout weevil," she said.
There currently is no direct funding for the plan, but funds will come, over a 40- year period, from different partners – state, federal, universities, landowners, etc. – when available, Vargas wrote in an email. If the territory works with the species, some funds may be available through federal Cooperative Endangered Species Conservation Fund grants, she added.
Click here for the draft recovery plans and here for information on the overall strategy. In addition, you may find the documents in the species profile page in ECOS, the agency's Environmental Conservation Online System.
Anyone who wants to make comments about the plan can mail them to the Caribbean Ecological Services Field Office, P.O. Box 491, Boqueron, PR 00622 or email to maritza_vargas@fws.gov. and include Agave eggersiana Draft Recovery Plan Comments in the subject line.