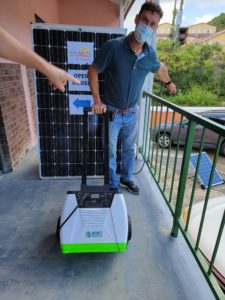 Solarizing communities is nothing new for Don Moreland, president of Solar CrowdSource. Moreland's company has successfully brought the community-based solar photovoltaic group purchasing program to 14 communities across Georgia and North Carolina.
"Most communities don't have resources to run solarized programs on their own," Moreland said Wednesday afternoon, which is where his strategy and the CrowdSource tools make all the difference.
That's where CrowdSource's concept, based upon bulk purchasing, steps in. The bulk purchasing component naturally reduces the costs, but it also reduces the time and energy required for homeowners to research, compare and investigate all the factors like equipment and installers necessary when they go it alone.
Moreland, an attorney, explained how CrowdSource eliminates those steps. The organization sends out a request for bids, and then scrutinizes the responses to choose the best company for the job in each community. That not only includes pricing, but naturally must also consider capacity to handle the dozens or more customers who enroll in the program. In the case of St. Thomas, that was Silver Sun Solar,  a company that has been installing solar systems in the U.S. Virgin Islands since 2014.
Some perks of the project are its built-in local workforce development requirements – a key objective of the partner organizations. Silver Sun will work with Solarize St Thomas' partner organizations to provide internship opportunities for University of the Virgin Islands students or other qualified applicants in the field or remotely.
Naturally, there are those who have concerns about the viability of the Water and Power Authority as customers move to solar and also how that affects low- and moderate-income households and non-homeowners.
The first challenge gets addressed by selling excess solar power back to WAPA at much lower costs than conventional energy, thus helping the authority to stay in the black while maintaining its grid. The second issue is addressed by working with nonprofits to obtain grants and funding to install solar systems at much lower costs for qualifying households than those in higher tax brackets. And for renters, they also offer small solar-powered generators that can be used during blackouts to keep refrigerators and other necessary electrical equipment running.
Locally, Solarize St. Thomas received a $50,000 donation from St. John homeowners Brad and Juli Camrud, which was double-matched by the Community Foundation of the Virgin Islands, resulting in $150,000 to be used to fund projects and equipment for those Virgin Islanders who would otherwise be excluded from the possibility of having solar energy in their homes. They call the local adjunct program, "Share the Sun."
Moreland said St. Thomas was the first location to incorporate the low- to moderate-income feature and so far "has the most funds to deploy," adding "St. Thomas has truly led the way." Furthermore, he said, it is the only place deploying the portable solar generators.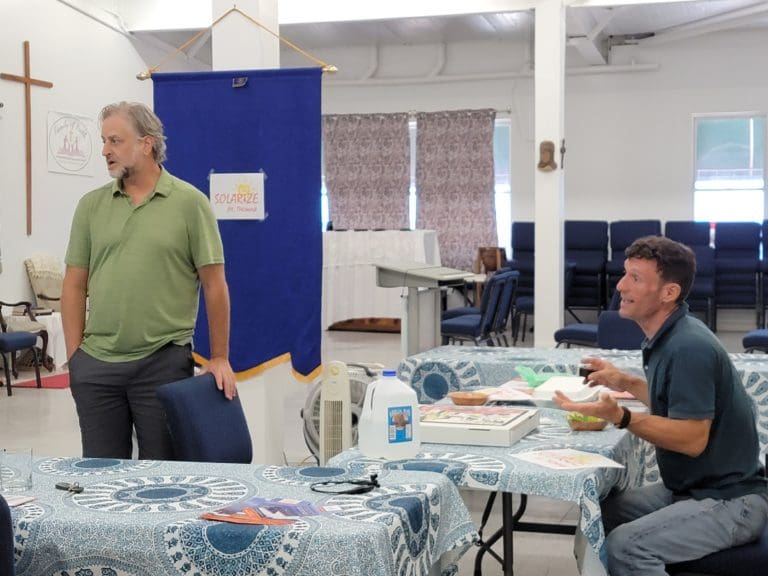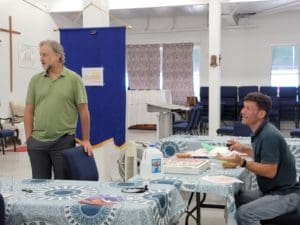 Moreland and community activist and environmentalist Jason Budsan have manned an open house Tuesday and Wednesday at the upper level at Red Hook Shopping Center to bring the message of solar power's value and benefits to residents and business owners and to sign them up for the program.
The two will also be there Thursday until 6 p.m. for residents who want to see and understand the power of the sun.
Moreland will also be presenting the program on Thursday night at a Savan Town Hall meeting.
Moreland said the community-based approach to offering solar in a time of energy crisis across the globe "lifts all boats."
For more information or to sign up, contact Solarize St. Thomas at admin@solarizestt.com or call 770-288-0440. Enrollment will be open until the end of the year.
Solarize St. Thomas is a public-private coalition consisting of the Coalition for Solar Affordability including the Virgin Islands Energy Office, UVI's Caribbean Green Technology Center, Rotary Club of St. Thomas East ECO, Environmental Association of St. Thomas-St. John, Virgin Islands Conservation Society, VI Electric Vehicle Association-North, and Solar Crowdsource.