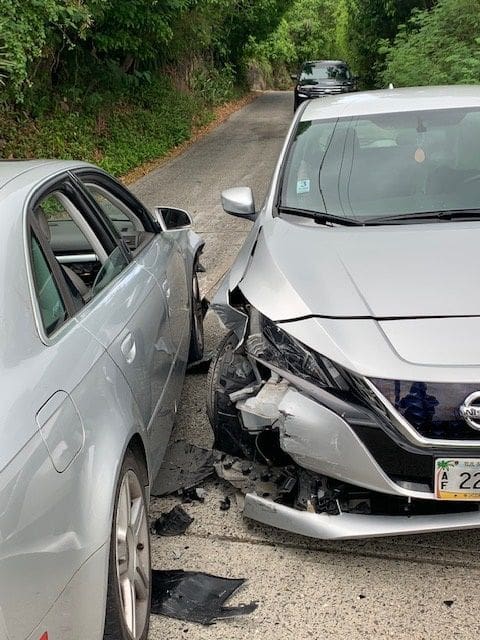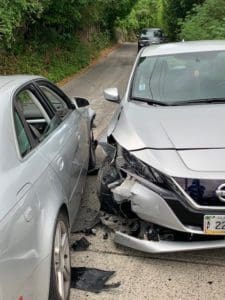 While driving home from a lovely lunch celebrating my son's birthday this week, it finally happened. I was hit just shy of head on by a speeding vehicle on the wrong side of the road on a curve less than a quarter mile from home.
(No one was physically injured.)
Fortunately, the person in the car behind me was a well-known public official who quickly called the police, since I had left my cell phone at home. He also attempted to provide calm to a heated situation.
I was furious. "You are my worst nightmare," I told the woman, whose excuse was, "There are never cars on this road."
Those who know me can imagine my short snort retort.
To add to the insult of having my relatively new Leaf battered and rendered undriveable, she kept wanting to move her car … didn't want to inconvenience the 20 or so vehicles that were trying to get by the wreck she had created ON A CURVE, on the road she said there were never cars on.
The public official, before he reluctantly left the scene, kept telling her to "calm down."
I kept telling her to stop talking – as she repeated for what seemed like an eternity how she was sorry, she would pay for the damage, she just wanted to first, leave or finally, just move her car.
On the many, many, many occasions (every time I take my car out of my driveway) that I have found myself stopping in my tracks and hitting my horn to notify motorists – some local, some not – they have drifted onto the wrong side of a narrow, most usually un-striped roadway, I have worried that one day, they simply wouldn't see or hear me. Wednesday was that day.
Here's the cost to the community: a police officer is taken from far more important tasks to attend to something that is completely avoidable. Often other community members are terribly inconvenienced as those reckless individuals block the roadways – creating a potential for yet another vehicular mishap. And then there are the mental health issues.
I found myself having to carefully guide an older woman through the bush on the side of the road, as she skirted the paralyzed vehicles while watching for other speeding vehicles around that curve, because the woman was afraid to back up, turn around and go the other way. And it hadn't yet started dumping buckets of rain on the slippery narrow, curved roadway. The woman was obviously not a skilled driver and she was really nervous. I don't blame her.
I am now even more nervous myself.
And then there's the fact that it could be quite some time before I have my car back, and there are no rental cars available due to the influx of COVID tourists. Finding car parts, at a time when COVID shut down manufacturing across the globe, that's a whole other issue.
Fortunately for me, I have the use of another vehicle because of my privilege in life. But I am the exception. I couldn't help thinking about what my life would be like for the next month or months, while I await parts and repair – if the car is repairable – did I not have the good fortune of an extra vehicle at my disposal, and feeling the pain for most people who don't. How do they shop, get to work, or the beach with their family?
This community is out of control with lawlessness. Tinted windows and texting while driving are against the law. So is ignoring stop signs as though they were "suggestions only." All of these behaviors are wildly pervasive, however.
The attitude seems to be, "I can get away with it," because we all know police are at worst in short supply and at best ineffectively deployed.
Nobody gets away "with it" forever. It is our responsibility, duty even, to protect one another as Jesus said in his second directive: "love thy neighbor, as thyself."
I will admit that I was not very nice to this woman whose absolute disregard for the safety of others drained our community this week. And I will happily admit, I don't feel bad about that.
Better to have been careful than sorry is my position.
How much better would our community be if we made that "love they neighbor" thing an ever-present gauge for our behavior as citizens of our beautiful, blessed community?
If there was ever a time that we needed to care for, protect and be responsible for one another, it is now.
Please.