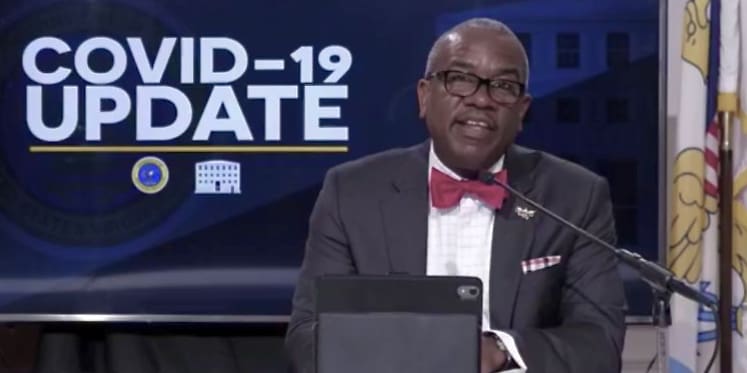 Citing a continued decrease in new COVID-19 cases, with 51 active cases currently being tracked, Gov. Albert Bryan, Jr. said Monday that he felt comfortable easing restrictions on weekend and holiday beach closings and restaurant seating. But he said residents should still be strict with mask-wearing and social distancing or they could go back into effect.
During Monday's weekly news briefing, Bryan ended the curfews at all of the territory's beaches, which had been ordered closed by 5 p.m. on weekends and holidays to help mitigate the spread of the virus. The curfew will be lifted beginning Friday, though restrictions prohibiting grilling, DJs and live or amplified music will remain in effect, along with requiring social distancing and banning mass gatherings.
Further, Bryan said with restaurants now posing less of a transmission risk than before, tables can now be placed four feet apart.
"I am encouraged by our progress so far to achieve herd immunity and promised several weeks ago that we would look at restrictions we can safely remove as we move forward with our vaccination strategy," Bryan said. "These lessened restrictions will allow us to deploy our law enforcement resources in the other areas that they patrol that require their attention."
Still, not following public health guidelines in place – particularly mask-wearing and social distancing – could result in the restrictions being reinforced, he added. As of Monday's briefing: 94,697 residents had been tested overall, with 91,656 negative and 3,041 positive. Of the 51 active cases, 23 are on St. Croix, 27 on St. Thomas and one on St. John.
"I think it's safe to say we are making great and steady progress, but we are not there yet," Bryan said. "The virus is still very deadly and very serious and our best shot in protecting residents and community is to get the vaccine."
Last week, the territory recorded its 27th COVID-19 related death, which he described as a "stark reminder" that the virus is still a safety threat.
"That is why we continue to urge everyone to take the vaccine and continue to wear your mask, practice safe social distancing and wash, wash, wash your hands," Bryan said. "You don't have to go to that mass gathering. You can stay away and keep not only you, but your family safe."
The closer the territory gets to its goal of vaccinating 50,000 residents by July 5, the more restrictions can be relaxed. Speaking Monday, Health Commissioner Justa Encarnacion said the territory is a little more than 15,757 shots away, with 34,265 first doses and 23,149 second doses already being administered.
Vaccine access in the territory has expanded to include anyone over the age of 16, with community vaccination clinics open on all three islands. Starting May 10, however, Encarnacion said the clinic on St. Thomas will move to the Health Department's Community Health Clinic on the second floor of Schneider Regional Medical Health Center, while the one on St. Croix will move to the Nissan building.
Speaking later, Encarnacion said the department is working on the creation of "vaccine passports" that would make it easier for residents to travel. These passports are typically an app with a code that verifies whether someone has been vaccinated or recently tested negative for COVID-19. While currently in use or under development in European countries, Encarnacion said the department is in the process of working out access issues and finding professionals within the territory who can validate each result.