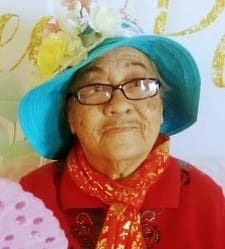 Eva Cordero de Carrion, also known as "Evita," of Estate Whim died on Jan. 11. She was 83 years old.
She was preceded in death by her first husband, Jovino Ponce; last husband, Ramon Carrion; mother, Carmen Rivera; father, Ricardo Cordero; daughter, Carmen Lydia Ponce; sister, Miguelina Cordero-Johnson; brothers: Jose Luis Cordero, Carmelito Rivera and David Cordero.
She is survived by her son, Jovino Ponce Jr.; grandchildren: Jinette Osorio, Wanda Soltren, Norma Iris Rodriguez, Carlos Denton, Emily Ponce-Santos, Omyra Ponce-Rivera, Delma Ponce-Rodriguez, Michaela Ponce-Matthews, Eliezer Ponce and Abigail Ponce; and great-grandchildren: Elizabeth McFarlane, Collins McFarlane, Elian La Santa, Jose A. Felix, Joel E. Felix, Angelina E. Correa, Priscilla Osorio, Mileika Powell, Tanya Rodriguez, Cristalyn Denton, Lairalee Denton, Raphael Denton, Nataneli Santos, Carlos Lucas Santos, Julissa Rivera, Thalia Rivera, Christina Rivera, Isaias Rodriguez, Elizabeth Rodriguez, Zemira Matthews, Eliezer Ponce Jr., Jonathan Ponce, Jafet Ponce and David Ponce;
She is also survived by sisters: Nelida Rivera- Ventura, Carmen Rivera- Nielsen and Minerva Cordero-Santiago; brothers: Antonio Rivera Jr., Rudy Rivera, Elias Cordero and Roberto "Rubel" Cordero; daughter-in-law, Sostenia Ponce; brother-in-law, Santiago "Chagin" Diaz; sisters-in-law: Geneva Rivera and Iris Nereida Gonzalez; great-great-grandchildren: Jaslene Pusey, Hennessy Felix, Lianis Felix, Lizahiry Felix, Liliana Felix, Joel Felix Jr., Ahjani Ashai Gage, Ahmaila Marie Gage, Michayla Anyla Powell, Rasheed O. Rawlins Jr., Leilani Ahrianna Ross Denton and Kataleiya Encarnacion; as well as nieces, nephews, great nieces, great nephews, other relatives and friends too numerous to mention.
Special thank you to Wanda Soltren for taking care of her and for everything she did on behalf of grandma.
A funeral service will be held on Wednesday, Feb. 3, at Jehovah Justicia Nuestra A.M.I.P. (entrance across from El Flamboyant Restaurant, Clifton Hill).  Tributes will begin at 9:30 a.m. followed with a service at 10 a.m. Interment will be at Frederiksted Cemetery.