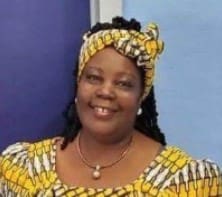 Friends and loved ones are advised of the passing of Andrea Maura Lewis Mondesire on Jan. 11.
Andrea was a beautiful, gentle soft-spoken, compassionate woman of God who made a tremendous impact in her community.
She is preceded in death by her mother and father: Florentine and Woodrow Lewis of Dominica.
She is lovingly remembered and survived by her husband, Matthew Mondesire; daughter, Tinisha Turnbull; stepdaughter, Sheena Mondesire; aunts: Medora Lewis, Millicent Lewis and Janet Lewis; brothers: Hilary St. Claire, Antoine St. Claire, Clayton St. Claire, Anthony Lewis and Antoine "Wilders" Lewis; sisters: Paula Thomas, Veronica Lewis, Felicia Daniel, Juliana Lewis and Sandra Lewis; father-in-law, Louis Mondesire; sisters-in-law: Melina Bruno, Rina Hector, Shirley Carbon, Diana Lewis, Olena St. Claire and Tonya Brown Lewis; brothers-in-law: Mark Mondesire, Murphy Mondesire, Wilson Mondersire, Albert Gabriel, Aubrey Thomas and Jerville Daniel; 29 nieces and nephews; and 25 grandnieces and grandnephews.
Her extended family includes her adopted mother, Jennifer Wescott; adopted daughters: Sherna Marie, Sharie Joseph-Registe, Sheena Anthony, Kellyn Gabriel and Delia Bruno-Angol; adopted sisters: Charmaine John, Kile Ryan and Patricia George; adopted grandchildren, adopted nieces and nephews too numerous to mention; best friends: Cecilia Harrigan-Hawley and Bernadette Richardson; Pastor Bernaby and Deborah Joseph; the Kingdom Life International Christian Center family; Virtuous Women of Pearls; the John family and the Moise family; as well as other relatives and friends too numerous to mention.
The first viewing will be held from 3-5 p.m. on Thursday, Jan. 28, at Turnbull's Funeral Home.
The Celebration of Life Service will be held on Friday, Jan. 29, at Kingdom Life International Christian Center located on Hilton Road (the hill behind Scotia Bank). At 9 a.m., there will be an opportunity to offer personal tributes at during the second viewing. The Celebration Service will then follow at 10 a.m. Interment will be at Eastern Cemetery.
The family cordially requests colors of purple and/or yellow be worn in her memory.
Family and friends abroad may view the Celebration Service live via the St. Thomas USVI Kingdom Life International Christian Center Facebook page. Please visit Andrea Mondesire's Facebook page for further information on how to offer special messages, memories, tributes (ourdearandrea@gmail.com), wreaths (Krissy & Mom Wreaths and Things at 642-9126) and flowers (East End Flower Shop at 779-2619).
Due to the COVID pandemic and public health regulations, masks and facial coverings must be worn at all times.