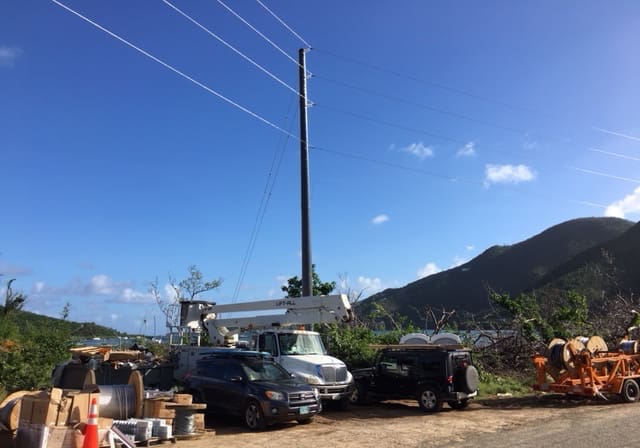 The Federal Emergency Management Agency announced Friday it had awarded $133 million to the V.I. Water and Power Authority to continue installing composite utility poles and undergrounding electrical equipment on St. John.
The funding, announced in a news release, is the latest obligation of FEMA money to WAPA to execute mitigation projects aimed at building a more reliable, efficient and resilient electrical system in the territory.
Approval of the funds "follows on WAPA's continued justification of projects to modernize and rehabilitate not only the power plants but the electric grids comprised of both transmission and distribution components," said WAPA Executive Director Lawrence J. Kupfer. "We are grateful to our partners at FEMA and HUD, the leadership of Governor Albert Bryan Jr. and the Office of Disaster Recovery for the continued support they have provided to WAPA in securing funding for the three-to-five-year transformation of the utility," Kupfer added.
Delegate to Congress Stacey Plaskett said the money will allow WAPA to not only return the infrastructure of St. John to pre-Hurricane state, but make them more resilient in the face of future calamities.
"This important grant will benefit the Virgin Islands tremendously in our ongoing rebuilding efforts," Plaskett said. The United States government and the international community has an obligation to work with the affected local governments to restore infrastructure, provide critical humanitarian assistance, and help rebuild our islands."
John Covell, FEMA's acting recovery director, said the grant shows continued commitment to the recovery of St. John and all of the U.S. Virgin Islands.
"Today's announcement is the next step in our partnership with Gov. Bryan, WAPA, and ODR [the Office of Disaster Recovery] to rebuild the electrical infrastructure on this beautiful island," Covell said. "We look forward to continued collaboration with our federal and territorial partners in moving the island's recovery forward."
In Friday's news release, Kupfer said the funding announced by FEMA is specific to projects on St. John.
"We will continue to install composite poles in the areas where it is impossible to underground, while undergrounding significant portions of our electrical equipment," he said.