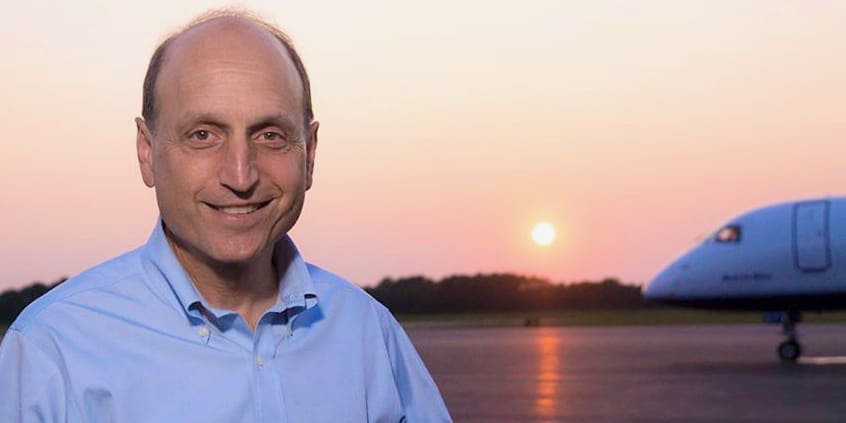 Cape Air, a commuter airline serving the Caribbean for more than two decades, bears a name that sounds distinctly New England-style — for good reason.
It was 1989 when Daniel A. Wolf – flight instructor, airplane pilot, airline mechanic and entrepreneur – along with his eight employees, celebrated Cape Air's first flight, from Boston to Provincetown. Soon thereafter, the single-route commuter airline began adding more and more southern New England destinations.
Wolf says that from day one Cape Air did everything possible to live up to the motto "We're Your Wings."
Today, Wolf, founder and CEO of Cape Air, comes to the table with a storied career and countless stories to tell.
One theme remains constant throughout each chapter of his life. "It's all about the joys of flying," he said.
As a business and community leader, Wolf has served many non-profit and civic organizations. A husband and father with three grown daughters, even while representing Cape Cod and the Islands in the Massachusetts State Senate from 2011 to 2016, he never stopped being the passionate aviator — and his uplifting spirit continued to energize the company he founded.
Less than a decade after establishing Cape Air, Wolf brought his passion for aviation to the Caribbean.
"That first year, we hoped to serve 15,000 passengers," he said. In actuality, the number approached 28,000.
Asked what inspired him to expand Cape Air's customer base to Puerto Rico and the Virgin Islands, Wolf said, "We were looking for a location 'counter-seasonal' to the northeast."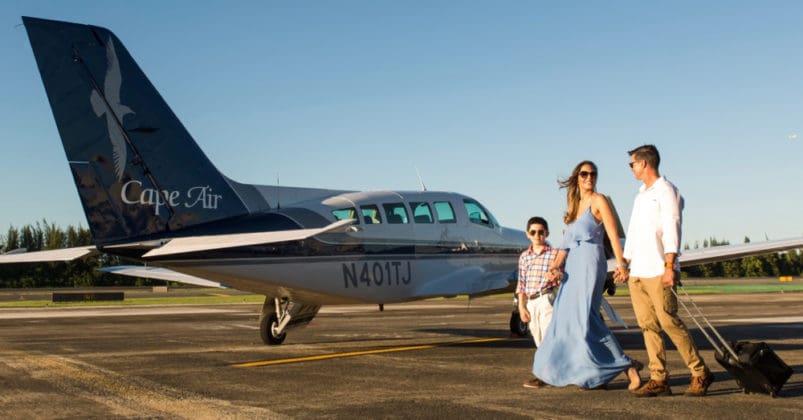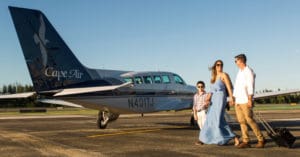 In other words, the search was on for destinations far from frosty winters.
Wolf and his team researched warm-weather options. Providing commuter flights between Puerto Rico and the Virgin Islands seemed ideal.
"Our purpose was not to compete but to provide an alternative," he said.
"I met with the St. Thomas airport manager for the first time in 1998." That same year, Cape Air began offering regularly scheduled flights between St. Thomas and San Juan, later expanding to St. Croix. With a touch of pride and nostalgia in his voice, he added, "We've been flying here for 23 years."
During that time, Cape Air has added service to several key destinations, including Vieques and the British Virgin Islands. Beginning in February, plans are in place to add Anguilla to the roster.
Cape Air also is a proudly pet-friendly airline.
Cape Air offers private services to many Caribbean destinations, including St. Barths. With CAPE charters, passengers fly in a private plane, on a schedule of their choosing, enjoying uninterrupted access to airports outside established routes.
On a personal note, Wolf — one of five children — was raised in the Philadelphia area. He reminisced about a treasured childhood memory that brought him to the Caribbean long before his business dealings.
"Our parents used to go on sailing vacations to the Virgin Islands. One year, when I was in ninth grade, they took all us kids along." Chuckling, he added, "I don't know what they were thinking."
When the opportunity to establish Cape Air in the Caribbean presented itself, it brought back fond memories of that sailing trip.
"The islands are extraordinarily beautiful … very special to me," he said.
Also special to Wolf is his valued staff. With that in mind, in 1996, Cape Air instituted an 'employee ownership' policy – the Employee Stock Ownership Plan, or ESOP.
"Employee ownership is a reflection of who we are," said Wolf. "The benefit program began as soon as we started being profitable. Our philosophy is people who make business successful should share in it."
Regarding employment opportunities, Wolf said, "We have broken many glass ceilings around here." He is particularly pleased with the number of female pilots hired by Cape Air.
One such employee is Captain Ruby Laughter.
"Yes, that's her real last name and it suits her perfectly," Wolf said.
Working for Cape was a dream come true, Laughter said.
"When Cape Air offered me the opportunity to work for them as a first officer and to eventually become a captain, I felt that my dream was finally becoming a reality," she said. "Working for Cape Air has given me experience and confidence – things that you cannot buy. Cape is a wonderful company and I am proud and honored to be part of the family."
Today, Laughter is chief pilot for Cape Air.
Another of the many women in the workforce is Linda Markham, president of Cape Air.
"We are very proud of our performance in the Caribbean and the role we play in the development of air traffic in the region," Markham said.
Wolf said the company's sense of social responsibility has led it to actively supports U.S. Virgin Islands non-profit organizations.
In May of 2012, the U.S. Environmental Protection Agency awarded Cape Air its 2011 Environmental Merit Award, recognizing the company as outstanding environmental advocates who make significant contributions toward preserving and protecting natural resources.
Cape Air maintains more than two dozen aircraft in the Caribbean including Cessna 402s and Britten-Norman Islanders – with Tecnam P2012 Travellers coming soon. Tapped as an "industry changer," the innovative 11-seat plane is electronically controlled, fuel-efficient – and fully air-conditioned.
Although COVID-19 has forced temporary suspension to some Cape Air services, Wolf said, "We are here to do what the community wants. …We are aware of spikes and are responding to the day-to-day needs of the islands – keeping everyone connected."
Wolf's airline also helps make it possible for health care professionals to serve multiple communities and transports medical supplies.
"Cape Air is pleased to serve as a lifeline to medical people," he said.
"Our pilots are already getting vaccinations. They are considered essential workers," he added, expressing appreciation to health officials throughout the Virgin Islands.
Cape Air also serves travelers to and from the mainland through code-sharing agreements with American Airlines, Jet Blue and United. That means ticketing and baggage transfers are handled with one single, seamless transaction.
Additional information is online at the Cape Air website.