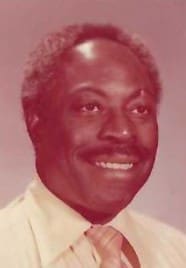 Neville Thomas died at his home on Dec. 20, 2020. Neville was born on St. John on March 31, 1926, to James Nathaniel Thomas and Hilda Idoria Jackson, both of whom are deceased.
He was also preceded in death by an aunt, Ina Jackson; uncles: Fritz Jackson, Leroy Jackson and Owen Jackson; cousin, Louis Jackson; and great-nephews: Brian Mitchell, Herbert Garner Jr.
Neville is survived by his loving wife, Rachel Thomas; his son, Lawrence Thomas; sister, Susie Thomas Dyer; caregiver, Heather Bazil; nieces: Judith Dyer-Mitchell, Beverly Davidman, Gloria Mobery and Michelle Dyer; nephews: James Dyer Jr. and Herbert Garner; and cousins: Ishmel Jackson, Alfred Jackson, Lillian Plaskett, Ruth Vanterpool, Joan Thomas, Hilda Anthony, Leayle Robinson and Alvis Christian.
He is also survived by great-nephews: Brian Mitchell and Michael Mobery; great-nieces: Stephanie Mitchell, Regina Allen, Leah Dyer and Alicea Garner; special friends: Mildred Hodge, Christiana Antoine, Dorine Petty, Benice Donovan and Everlyn Freeman; and many other relatives and friends.
The viewing will take place at 9 a.m. followed by a funeral service at 10 a.m., Wednesday, Jan. 13, at Blyden's Memorial Chapel, which is across from the Western Cemetery and was formerly the Apostolic Faith Church. The body will be cremated.