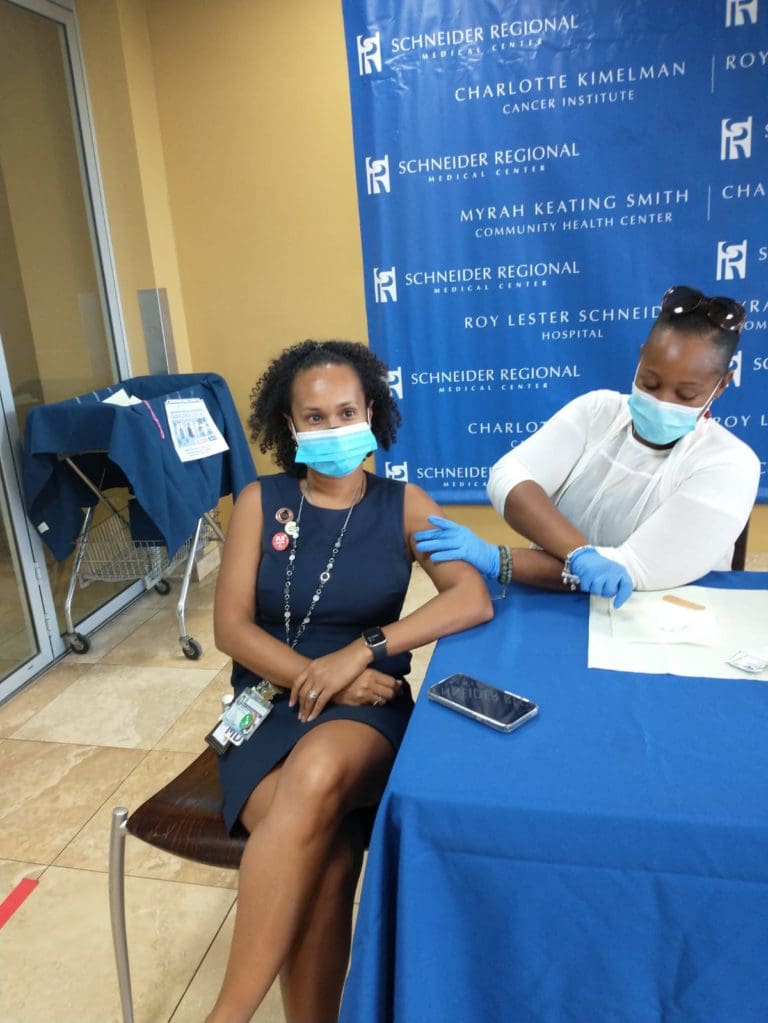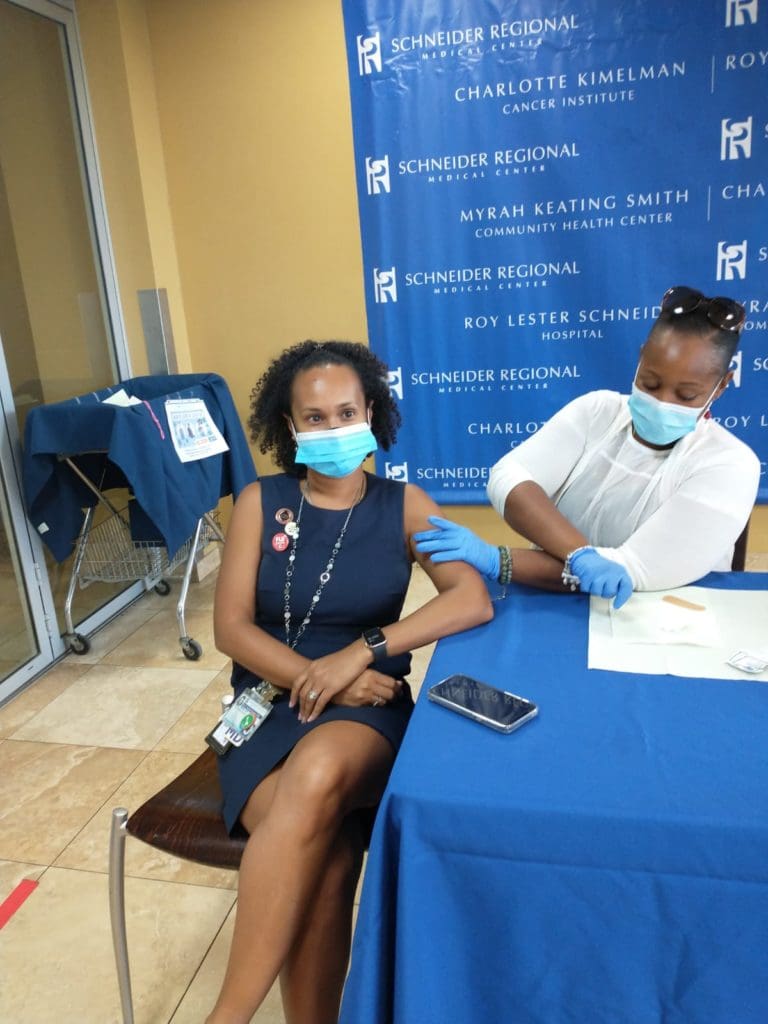 An interventional nephrologist on St. Croix and an infectious disease physician on St. Thomas were among the clinical healthcare staff in the Virgin Islands to receive the Pfizer COVID-19 vaccine recently authorized by the U.S. Food and Drug Administration.
According to the Department of Health, minutes after the vaccine shipment was delivered from the Department of Health by the Virgin Islands National Guard, registered nurse Hope Bagley delivered the first shot to Dr. Jan Tawakol of Plessen Healthcare on St. Croix. Members of the Plessen staff also received the vaccine at their urgent care office.
On St. Thomas, registered nurse Beranice Wade of Schneider Regional Medical Center delivered the first shot to the Department of Health's medical director, Dr. Tai Hunte-Ceasar. Hunte-Ceasar, who is known for being an advocate for vaccinations, was reportedly ecstatic about being the first to receive the vaccine in the St. Thomas-St. John District.
Nurse practitioners, epidemiologists, registered nurses and other health care staff were among the Virgin Islanders to receive the vaccine on the first day of its availability.
"By vaccination, I think it's very important we realize what tool we have in our hands and all of us take that step to stop this virus," Tawakol said in a statement from the Health Department.
Tuesday, 975 doses of the vaccine arrived on St. Croix and have allowed providers to start the first part of the first phase of vaccinations throughout the territory. This phase includes clinical healthcare staff and residents and staff in long-term care facilities.
As more vaccines are ordered and delivered on a weekly basis, first responders, persons with immunocompromised conditions and the 65 and older population will be next in line.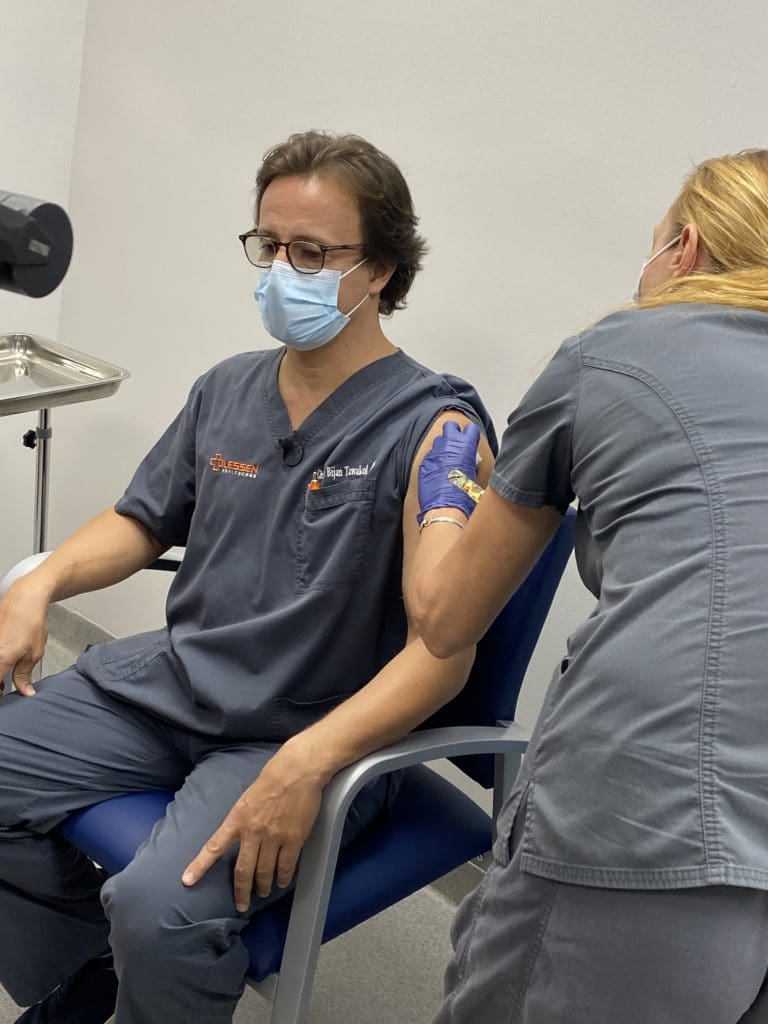 The very first vaccinations were livestreamed on Facebook.
"Seeing pictures and videos of the first clinical staff receiving the COVID-19 vaccine creates a level of excitement throughout the health care community especially knowing that our own Dr. Tai Hunte-Ceasar was one of the first in line to become immunized. The vaccine represents increased immunity against the virus and indeed shines the glimmer of hope that I spoke of — the hope we have been waiting for," Health Commissioner Justa Encarnacion said.
The vaccine will not be widely available for some time, so the Health Department is urging everyone to keep their guard up and adhere to guidelines and best practices to reduce the spread of COVID-19. That includes practicing good hand hygiene, maintaining physical distance from persons outside of your household, avoiding non-essential travel, and staying home when sick.
Frederiksted Health Care, Inc., is one of the distribution sites on St. Croix for the COVID-19 vaccine. At this time Frederiksted Health Care is only offering the COVID-19 vaccine developed by Pfizer to health care workers at the Ingeborg Nesbitt Health Center located at 516 Strand Street, Frederiksted.
Frederiksted Health Care CEO Masserae Sprauve Webster and some clinic staff were vaccinated Wednesday.
They have received 160 doses so far and will begin vaccinating health care workers first. All health care workers in the community are invited to contact Frederiksted Health Care to coordinate vaccinations. "FHC has long-standing and established protocols for vaccine distribution as a Federally Qualified Health Center, and our process to administer the vaccine of the initial 160 doses will ensure that our health care workers are supported in this battle with COVID-19. We are encouraging all health care workers to get vaccinated at this time," Webster said in a statement.
According to the clinic, it is important to understand that many will not be able to get the vaccine during the initial rollout when supply is limited. To reduce the risk of exposure to COVID-19, the clinic is asking patients not to come into any Frederiksted Healthcare site seeking a COVID-19 vaccine at this time. They will contact patients directly when a vaccine is available, based on each patient's risk factors.
The COVID-19 vaccine is set to be available to the general public in early Spring 2021. Visit covid19usvi.com for updates.