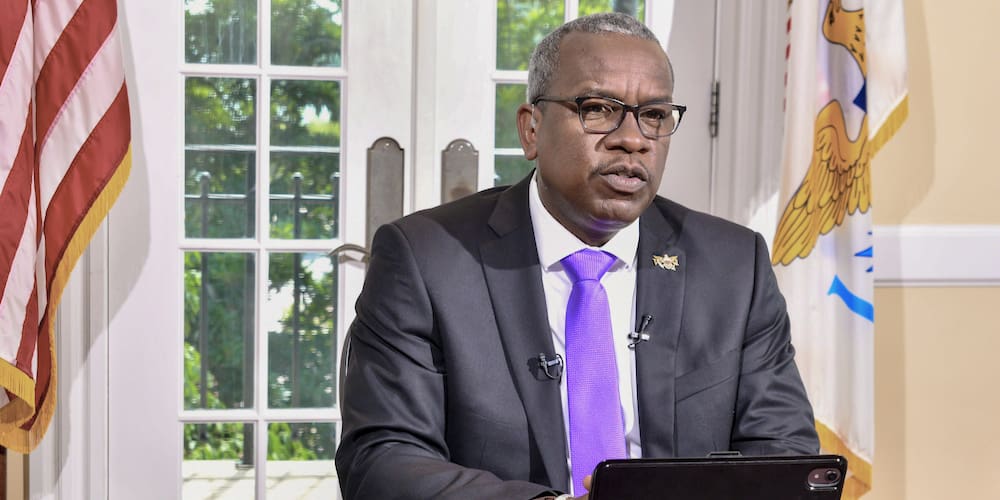 As the first shipment of Pfizer's COVID-19 vaccine arrived in the territory on Monday, Gov. Albert Bryan Jr. reminded residents to continue wearing masks and maintain social distancing as numbers continue to rise from events and parties and returning travelers spread the virus.
With the territory's overall positivity rate for the past week up to 9 percent, Bryan announced that bars and nightclubs in the territory will be shut down: nightclubs starting at 5 p.m. on Thursday, Dec. 17, and bars beginning on Christmas Day and reopening on Jan. 8.
"We cannot have a repeat of Thanksgiving over the two weeks of Christmas," he said on Monday at his weekly news conference.
Bryan and Health Department officials said 975 doses of the vaccine arrived on St. Croix and will allow local providers to start the first phase of distribution to clinical health care staff, along with residents and workers in long-term facilities throughout the territory. The governor said that as more doses arrive through December, vaccines will be administered to first responders, residents with compromised immune systems and senior citizens.
Two doses of the vaccine are required, and Bryan said the second dose must be given within 28 days of the first.
Because there have been concerns about the safety of the vaccine worldwide, particularly within communities of color, Bryan volunteered to publicly take the territory's first vaccine to build a level of trust with residents so that it can be administered effectively.
The "not so good news," Bryan said, is that even with a vaccine, residents still have to adhere to public health guidelines as the territory's numbers continue to climb. Since last Monday's press conference, 1,746 people were tested territorywide and of that amount, 158 tested positive, making it "one of our highest weeks ever," he said. There are 179 active cases.
Bryan said residents need to stay alert to the possibility of coming into contact with the virus. He spoke of a family that attended a wedding in the states. Four attendees returned home COVID-positive, then spread the virus to friends and family within the territory. Random testing over the weekend turned up five COVID-positives and for the first time, the governor said his COVID task force is considering a nighttime curfew to limit social gatherings and events.
"I want everyone within the sound of my voice to know that I am perhaps the only person standing between you and a solid curfew for the Virgin Islands," he said while urging residents to be vigilant and not to encourage those who aren't wearing a mask or social distancing.
"I know we all want to go out and party, but this is not the time."
A universal mask policy remains in effect, requiring any two or more people who don't live in the same household to wear masks when social distancing is not possible, he added. Painting a candid picture, Bryan said that while there is light at the end of the tunnel, not everyone might be able to see it if the numbers don't start to flatten.