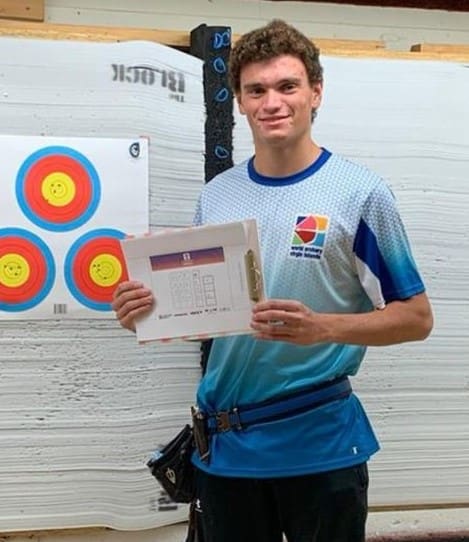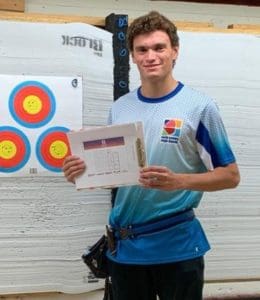 Nicholas D'Amour of St. Thomas won a silver medal in the largest online archery event in the world. Mexican archer Angel Alvarado beat D'Amour by one point to take the recurve men's title in the Online Archery Cup of the Americas, bringing the region's first online tournament to a close.
With the culmination of the recurve men's competition, the Online Archery Cup of the Americas comes to an end. It was a historic project for the continent, with more than 700 archers participating in the early stages, 50 remote matches streamed live and more than 670,000 people were reached with coverage on social media.
D'Amour was the number one seed coming out of the qualifying rounds shooting an impressive 591. There were 250 men shooting in his category. After qualifying to compete in the quarterfinals, he beat an Olympian, Daniel Rezende of Brazil and Carlos Rojas, the number two archer in Mexico, he was on his way to a silver medal for the U.S. Virgin Islands. Throughout the competition, he was supported by an outpouring of support from the entire Caribbean archery community.
While D'Amour was shooting his last arrow, "I was visualizing mine to do the best possible shot – breathing, focusing on what I needed to do and I took it as a shoot-off," he said.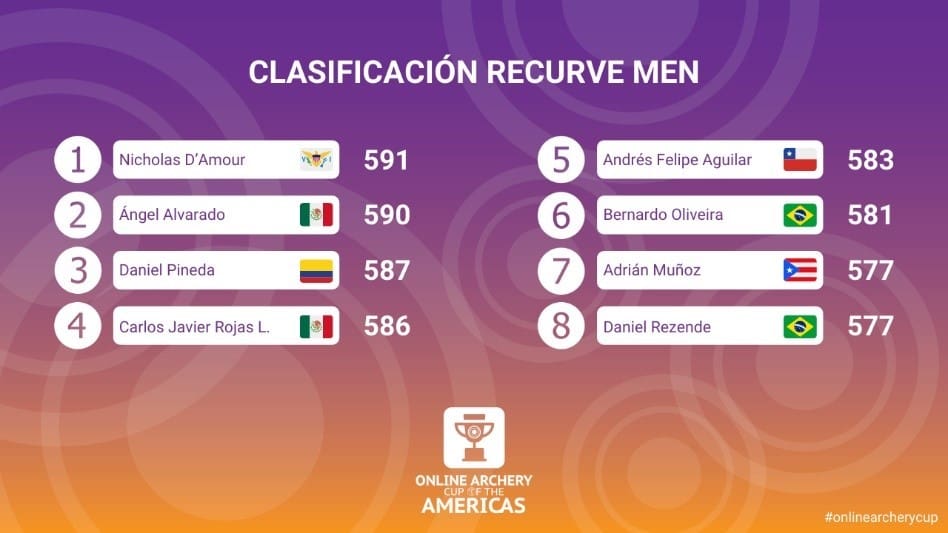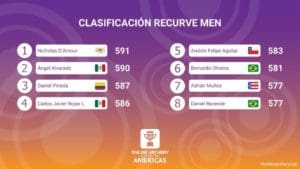 "I wasn't able to take the win today, but we'll see how things go at the Pan American Championships next year – and I congratulate Angel greatly," he said. He will look to secure the Virgin Islands Olympic Committee's first archery quota for the Olympic games next year.
"We shot a great match. Congratulations to Nicholas for shooting this good," said Angel. "I felt the pressure, but thanks to my previous matches and the advice of my psychologist, I managed to stay calm."
First seed D'Amour shot one more nine than Angel – and one more than in any of his previous matches.
D'Amour thanked the Virgin Islands Olympic Committee, World Archery Americas, the tightknit group of archers throughout the Caribbean and his coach Angelo Ruiz Acevedo for all of their support throughout the competition.
The bronze medal went to Rojas, who beat Daniel Pineda of Colombia in four sets, 7-1.
Matches were streamed on World Archery Americas' Facebook page. Commentary language was in Spanish and English.
Top-ranked archers in nine divisions, para- and able-bodied participants were in live match play in September and October.
The Online Archery Cup of the Americas was produced remotely, using StreamYard, a cloud-based video mixing and presentation software. Archers connect two devices, usually mobile phones, via video call and compete live against each other from different locations.
This event used a panel of judges who watched the competition live and were called upon to render a decision on any questionable arrow.
Bruce Arnold from St. Thomas also competed in the qualification round in the men's compound division where he placed 72 out of 177 archers. The Virgin Islands Archery Federation website is https://www.facebook.com/VIArchery.