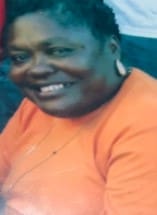 We are saddened to announce the death of Crescent Charles, lovingly known as "Sister" or "Creso." She died at her home on St. Thomas on Monday, Oct. 19, at 70 years old.
Creso is survived by her longtime partner, Earl Blackman; four children: Carlton Xavier, Curtis Leatham, Curly Blanc and Clyde Blackman; and grandchildren: Curvin Leatham, Curana Leatham, Curmisha Leatham, Kareem Casimir, Raheem Casimir, Haniella Williams, Calri Xavier, Calrin Xavier, Vernesha Xavier and Chelsea, Clyde and Caleb Blackman.
She is also survived by three sisters: Melanie Charles, Octovie Charles and Solo Charles; two brothers: Clyve Blaize and Alfred George; and many great-grandchildren.
Prior to passing, Creso had many loved ones by her side, including Rasta, Elijah Edwards, Annette Casimir, Leah Houston, Rebecca Blackman, James, Ethlyn, Jenelle and the entire Nisbett family.
Creso was born on Sept. 30, 1950, in Grand Bay, Dominica, to Josephine Blaize and Devon Charles. She came to St. Thomas, Virgin Islands in 1988 and made it her new home.
Creso was a devoted mother, grandmother and major bingo player. She had a zestfulness for playing bingo and cards with her close family and friends. She was often heard saying "papa BINGO."  Prior to becoming sick, Creso was passionate about selling her famous blood pudding and fruits and vegetables throughout St. Thomas. She loved to laugh and be around the younger generation of her family often looking after her great-grandchildren: Amelia, Kamarion and Kamarianna Casimir. She loved life and her family. She called things like she saw them and was almost always smiling or laughing. She lived life with no judgements and no expectations. She could be heard saying, "do your business and keep your secret." She was a realist and lived life honestly and stress free often shaking her head and saying "the world a go so."  Her large personality and delightful spirit will be greatly missed.
A viewing is scheduled for 9 a.m. followed by a funeral service at 10 a.m., Tuesday, Oct. 27, at Turnbull's Funeral Home. Interment will be cremation. All are welcome to attend and celebrate the life of Crescent Charles.