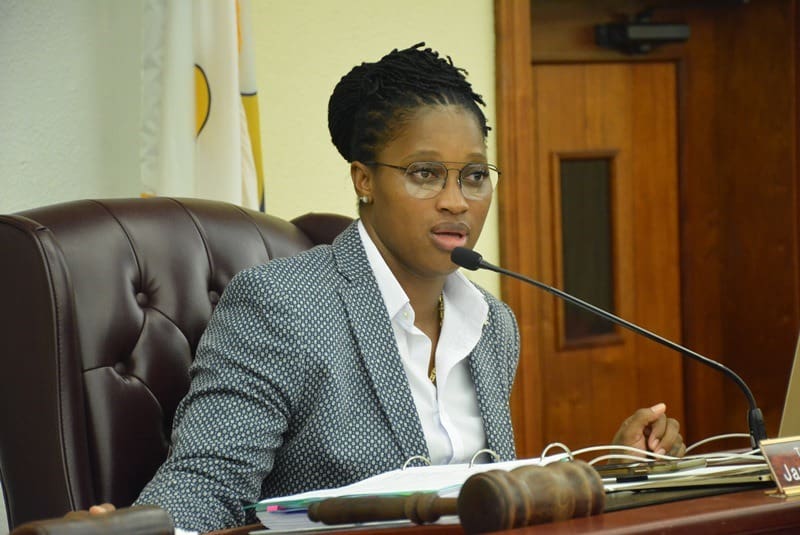 The Legislature will again create a new board, this one to replace the existing Water and Power Authority Governing Board, if legislation approved unanimously in the Rules and Judiciary Committee on Tuesday becomes law.
The measure, (Bill No. 33-0346) proposed by Sen. Janelle Sarauw, would take authority away from the existing Water and Power Authority Governing Board and place it in a new, better-paid, temporary "committee."
The bill does not say what happens to the existing WAPA board, or whether it will continue to meet or be dissolved for several years, then reformed.
Most existing boards, including the existing WAPA board and the Public Services Commission, which also regulates WAPA, have members nominated by the governor and confirmed by the Legislature. This new board, if it comes to be, would include the director of the V.I. Energy Office, who already serves on the existing WAPA board. Currently, that is Kyle Fleming, an engineer with an extensive background in solar and alternative energy.
The governor would directly appoint two members, with no mention in the statute of confirmation by the Legislature. The president of the Legislature would appoint the other two, again without confirmation by the Legislature as a whole. Two of the four appointed members would be required to "be an expert in the field of utility generation or engineering," one an expert in utility finance and one an expert in utility law. It would exist for three years unless the Legislature grants it more time to complete its mandate. Then it would be dissolved, and its authority would revert back to the existing WAPA board.
The temporary committee would take over all the responsibilities of the existing WAPA board, with a mandate to create assessments of WAPA's finances, debt consolidation plans, rate schedules and grid modernization plans. The legislation gives the committee a mandate to develop a series of plans, including organizational restructuring, an "energy plan that provides for appropriate base rates," a water quality and distribution plan, among others.
Unlike most boards and commissions, but similar to controversial payments to the West Indian Company Board, the committee members would get $2,000 each, every time they meet, as well as reimbursement for expenses.
These plans and the per diem payments to the committee members would be funded with $250,000 from the V.I. government, diverting federal funding tied to federal alcohol excise tax revenues away from the General Fund for this purpose. By comparison, the PSC assessed WAPA five times that amount – $1.24 million – to pay technical consultants to examine WAPA's finances and billing rates, according to Gov. Albert Bryan Jr.'s transition report on WAPA issues.
The PSC is briefly mentioned in the legislation, but its role is not changed; it would continue to make its separate annual assessments.
"The culture of WAPA is in question and it needs to change. Nobody wants to give up their sovereignty and when you govern it is important to do so through various intellectual camps. The camps that you continue to push is 'Trust me.' This bill transcends through time. Leadership cannot be one-dimensional," Sarauw said in support of her bill.
Officials from WAPA, the WAPA Governing Board and the Virgin Islands Energy Office were not in support of the bill.
WAPA CEO Lawrence Kupfer said the measure may violate the relationship with bondholders and expose the V.I. government to litigation, and there is a possibility that federal funding for WAPA projects might be put in jeopardy. He also said members of the WAPA Governing Board are highly qualified both academically and professionally.
Energy Office Director Fleming, who would be on the new committee also opposed it, saying the WAPA board already has members who are engineers, financial accountants, entrepreneurs and organizational managers and so there is no need to replace the existing board.
WAPA Board Chairman Anthony Thomas said it is "disingenuous" to suggest a new committee "will in three years be able to address the issues that have been on the forefront of every discussion and strategy of the governing board and management."
Sarauw has more than once championed changing board membership requirements to mandate different members have different specialized areas of expertise. She recently proposed such changes to the Government Employees' Retirement System Board and Cannabis Advisory Board.
The Source editorialized against those changes, arguing that adding specific requirements for membership to a volunteer board will make it difficult to fill the board. Those were volunteer boards, without the $2,000 per day payments envisioned for this new committee, however. Bryan ultimately vetoed those proposals.
Unpopular WAPA is a perennial favorite target of legislation. In February, senators considered a measure proposed by Sens. Kenneth Gittens and Alicia Barnes to require members of the existing WAPA board and the PSC to have minimum educational requirements and changing the number of members.
In July, the Rules and Judiciary Committee sent that measure on for final approval. Hence, the Senate is simultaneously looking at restructuring the WAPA board and replacing it for three years with a new committee.
The territory currently has more than 120 boards and commissions, many of which cannot meet and act due to not having a full complement of members.
This problem is especially severe where boards require specialized expertise.
Voting in favor of the bill were Sens. Sarauw, Gittens, Barnes, Donna Frett-Gregory, Myron Jackson, Javan James Sr. and Steven Payne Sr. No one voted against it. All members were present.
The committee advanced another bill from Sarauw and Sen. Jackson creating a number of new unfunded mandates. Historically, when the Legislature issues mandates without funding to pay to make them possible, they often fail to materialize.
The new measure, Bill No. 33-0103, mandates:
– Six weeks paid leave and six weeks unpaid leave for government workers who are parents of a newborn or newly adopted child.
– Pediatricians employed directly or indirectly by the V.I. government to perform behavioral health screenings twice a year for children ages three to 18.
– Postpartum depression evaluations for mothers.
– Breast examinations, pap smears and prostate examinations for prison inmates.
– Lab testing of blood and urine for inmates.
– The territory's hospitals to both hire a discharge planner.
Senators also forwarded a bill entitled the "ratepayers bill of rights," putting new limits on when WAPA can collect bills in dispute or cut off power.
The committee also moved forward:
– Bill No. 33-0254 – An Act amending Act No. 7233 to reprogram funds appropriated to WAPA to be used for the expansion of the Bovoni Waterline project.
– Bill No. 33-0111- An Act amending Title 19, part VI, of the Virgin Islands Code by adding a new chapter 56B requiring that the Waste Management Authority designate disposal sites throughout the territory for waste tires and creating the Waste Tire Management and Disposal Fund.
– Bill No. 33-0325 – An Act amending Title 23, chapter 10, subchapter I of the Virgin Islands Code relating to emergencies and major disasters by adding a section 1017 to prohibit unconscionable pricing of goods and services during a declaration of a state of emergency.
– Bill No. 33-0198 – An Act amending Title 14, chapter 7, section 192 of the Virgin Islands Code by increasing the penalty for the illegal importation of snakes and imposing penalties for the importation of animals or species not indigenous to the Virgin Islands, which may pose a threat to the ecosystem of the Virgin Islands and the people of the Virgin Islands as amended.
– Bill No. 33-0348 – An Act amending Title 27, chapter 1, subchapter I of the Virgin Islands Code relating to licensing of medical professionals to provide for a two-year licensure period amending subchapter IIb to repeal provisions that appear in subchapter I and provisions that have become obsolete; and amending subchapter IIb, section 50i to allow physician assistants to prescribe, dispense and administer Schedule II through V narcotic drugs and non-narcotic drugs to the extent delegated by a physician.
– Bill No. 33-0115 – An Act amending Title 24, chapter 14 of the Virgin Islands Code, by inserting a new section 384 relating to the transfer of the Virgin Islands Labor-Management Committee as a division within the Public Employees' Relations Board as amended.
– Bill No. 33-0211- An Act amending Title 3, chapter 16, section 273 of the Virgin Islands Code by establishing minimum criteria for Public Services Commission members and changing the number of its members as amended.
– Bill No. 33-0246 – An Act amending Title 19, chapter 45 of the Virgin Islands Code adding subchapter VI relating to maternal mental health.
The committee voted favorably on nominees William J. Tobias, a marine biologist representative to serve on the V.I. Commission on Aquaculture and Mariculture, and Alvin D. Burke Jr. to serve on the V.I. Public Broadcasting System Board of Directors representing the St. Croix District.