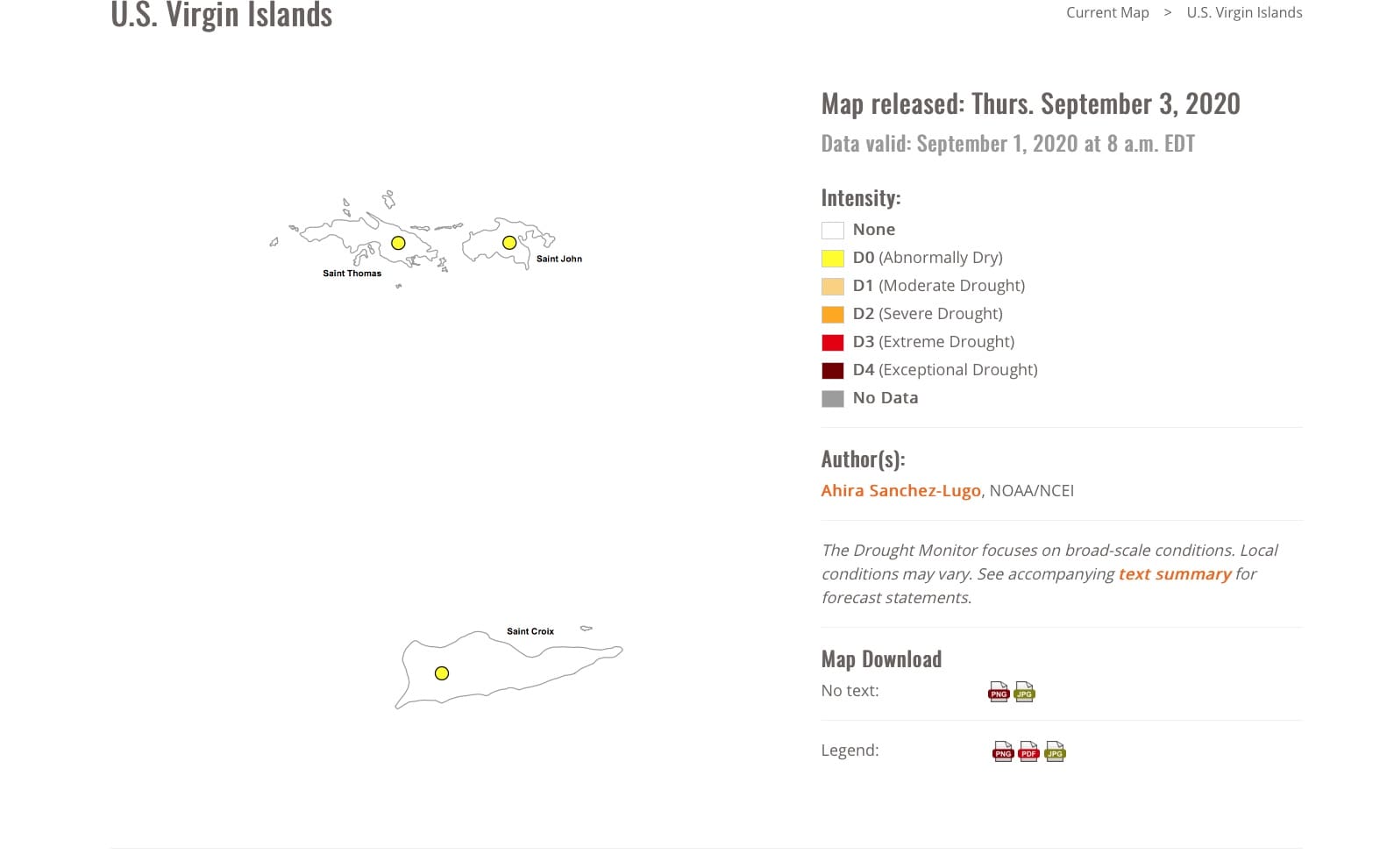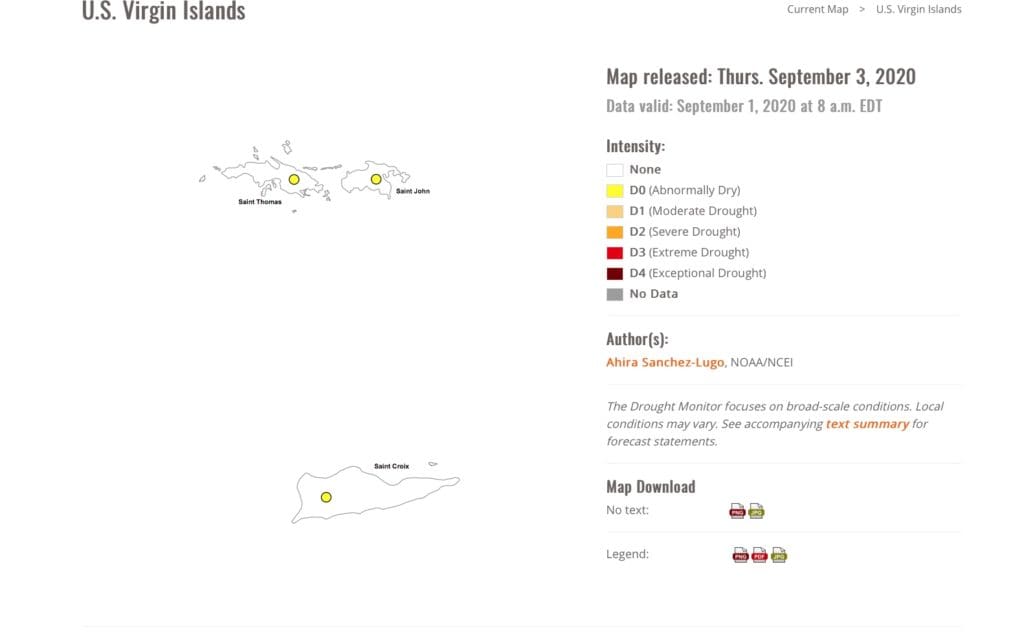 Rains from tropical storms Isaias and Laura dramatically improved drought conditions in the U.S. Virgin Islands and Puerto Rico, signaling the apparent end of a severe drought that has hurt farmers and browned the landscape since January.
The territory has been under a drought designation since Aug. 1 and has been severely dry since early in the year.
An update Thursday from the National Integrated Drought Information System, along with other agencies, says those storm rains improved groundwater levels to the point where the territory is now only "abnormally dry." While that sounds bad, it is better than the earlier "severe drought" designation the USVI has suffered under. And the wet weather forecast for the next month will eliminate any remaining pockets of abnormally dry conditions.
The report says in the USVI "late August rainfall and increased water access led to vegetation regrowth, pond filling and mild increases in crop and poultry production."
A Drought Declaration was placed in effect for the USVI and is operational as of Aug. 1. This is a first for the St. Thomas-St. John District. The "declaration" is a formal action that reflects the existing damage to farming and qualifies the Virgin Islands for the U.S. Department of Agriculture Livestock Forage Disaster Program, which offers payments to eligible livestock producers. It is still in place. It is separate from the drought "designation," which is just a measure of where the water levels are at the moment. Crops and livestock take time to grow, so drought damage does not vanish the moment there is sufficient groundwater.
The report says year to date rainfall deficits of three to four inches, or 80 to 85 percent of normal levels, are prevalent across St. Thomas and St. Croix. Hence the abnormally dry designation.
Most of Puerto Rico has now seen above-normal rainfall, with the exception of the southeast coast near Guayama, where 90-day rainfall deficits of up to 12 inches are recorded.
Based on the three-month extended forecast by the Caribbean Climate Outlook Forum, Puerto Rico and the USVI are forecast to have an 80 percent probability of normal to above normal rainfall through November. And the most recent outlook from the NOAA Climate Prediction Center calls for an 85 percent probability of an above-normal 2020 Atlantic Basin hurricane season. Through Aug. 30, there have already been 13 named tropical cyclones in the Atlantic Basin. The average for this date is only five. The peak of the season normally occurs in the first two weeks of September.