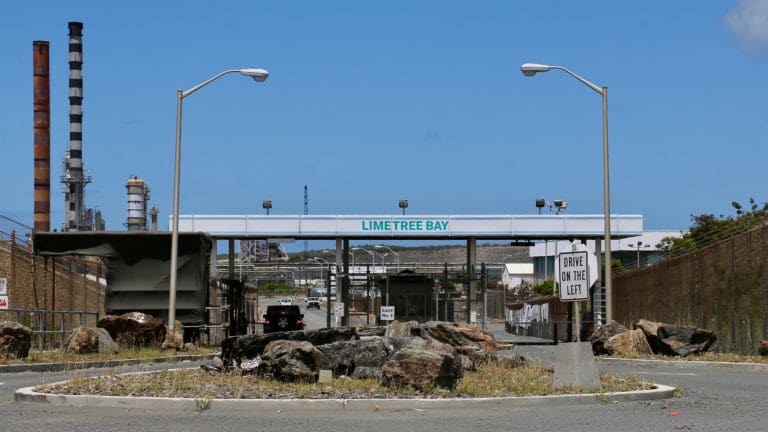 Oil-tainted stormwater overflowed a contained stormwater system at the Limetree Bay Terminals on St. Croix Saturday morning, spilling into a holding pond, was among the problems caused by excess runoff from Tropical Storm Laura.
In a news release midday Saturday, Limetree Bay said very heavy rainfall in a short period of time caused one of its stormwater handling pumps to fail. This resulted in an overflow from the contained stormwater system into an open containment pond.
The overflow contained quantities of oil along with the stormwater, the news release said. The oil is contained in the holding pond but is resulting in odors.
The company is working to recover the oil.
Additionally, there is a light sheen at the stormwater outfall in the harbor which is contained by the permanent boom system, the company reported.
Limetree's Emergency response team and NRC oil spill response organization was immediately deployed to maintain containment and recover the oil, the news release said.
Limetree notified all applicable regulatory agencies and said it will provide further updates as it responds to this incident.
Meanwhile the V.I. Waste Management Authority reported that storm runoff from Tropical Storm Laura is causing a large inflow into the sewer collection system, which might cause overflows in low-lying areas. The flow of rainwater and stormwater entering the sewer system may exceed the pumping capacity at various pump stations that pump sewage from residential and business systems to the wastewater treatment plants.
After the rain and the stormwater run-off subsides, the sewer collection system may continue to be impacted.
VIWMA asked motorists to use extreme caution when traversing flooded roadways during and after the storm to avoid potential and known areas of manhole overflows. Residents are asked to avoid areas with standing waters.
*Update: According to a release from Limetree Bay, all oil was recovered and no oil escaped beyond Limetree Bay's permanent boom.
The authority asked residents to report sewer overflows by calling the 24-hour hotline at 844-WMA-USVI (844-962-8784).