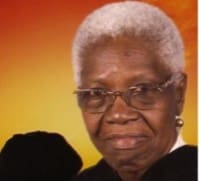 Astrid Thomas Hendricks, born April 22, 1921, peacefully transitioned to her Heavenly Father's home on June 26, while at home with her daughter at her bedside.
Astrid was the youngest daughter born to Ebenezer Thomas and Josephita McTavos in Charlotte Amalie, St. Thomas, U.S. Virgin Islands.
She was preceded in death by her husband, Charles; daughter, Berenice; and her siblings: Justin, Adele, Maria, Anselmo, Iona and Ina of St. Thomas, USVI, as well as Elaine, Almeane, Louise, Daisy, Lucita, Eldra, Inez, Geraldine, Ivy, Ellis and Alpheus of Tortola, British Virgin Islands.
On Dec. 16, 1939, Astrid was joined in holy matrimony to her childhood sweetheart, Charles Hendricks, also of Charlotte Amalie, St. Thomas. From this union were born three children: Beatrice Elita, Berenice Adelita and Charles Anthony Hendricks.
Astrid was acknowledged as one of the best dressmakers on the island, having begun to actualize her love of creating fashion at a very early age. In elementary school, she would clean discarded mango seeds and dress them in clothes that she designed, then sell them to her classmates.
She owned and operated a shop on St. Thomas and her work was in high demand. In 1957, in her quest to provide for her children and in an effort to sharpen her skills as a seamstress and dressmaker, she accepted an invitation to move to New York City. This allowed her to begin her studies in designing and dressmaking, which she could not pursue in the Virgin Islands. One year later, after establishing herself in New York City and allowing her youngest daughter Berenice to graduate from high school on St. Thomas, her husband and their three children joined her in New York City.
The Hendricks family arrived in a city abundant with vast cultural and educational opportunities, and they feasted. In particular, Astrid seized the chance to take night classes at the High School of Fashion and Design while working as a seamstress in the garment industry, her day job. She was living her dream. She further advanced her professional skills with studies at the Fashion Institute of Technology. As her skillset in the fashion industry grew, Astrid advanced from a machine operator in a factory to a design position with Simplicity Patterns.
At the twilight of her career in the fashion industry in New York City, Astrid was very highly respected. As the industry was transitioning overseas (i.e. Asia), Astrid was offered a position as a member of the team responsible for the start-up of operations in China. In later years she would talk about her regret in not taking the offer.
After careers that spanned more than 40 years in mainland United States, Astrid and Charles returned to St. Thomas after their retirement. As time progressed, Charles and Astrid decided to return stateside to be near their children.
Even after retirement, Astrid was driven to continue her general education, motivating her to complete GED requirements at Dunbar High School in Washington, D.C. Her drive and ambition for higher education led her to further pursue and receive an associate's degree in early childhood education from the University of the District of Columbia (Class of 2002). She was 81 years old.
At a very early age, Astrid was baptized and confirmed at the Cathedral Church of All Saints in Charlotte Amalie, where she was nurtured spiritually and remained a devout Anglican all her life. After returning stateside, Astrid and Charles became dutiful and supportive worshippers, with daughter Beatrice, at St. Mary's Episcopal Church in Foggy Bottom, Washington, D.C.
She is survived by her daughter, Beatrice E. Hendricks Esq. of Washington, D.C.; son, Charles A. (Gloria) Hendricks of Freeport, N.Y.; grandson, Charles Evin Hendricks, United States Navy; sisters: Ethlyn Thomas Hodge, Myrthlyn Thomas Blyden, Ivy Thomas Hodge and Cynthia Thomas, all residing in Tortola, BVI; and a myriad of cousins, nieces and nephews on St. Thomas and Tortola.
The viewing will be held at 9 a.m. followed by the service at 10 a.m. Monday, Aug. 3, at Turnbull's Funeral Home. Interment will be at Eastern Cemetery, Smith Bay, St. Thomas.