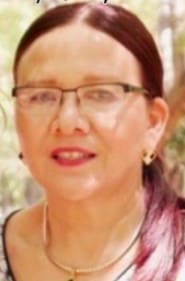 We regret to announce the passing of our loved Josefa Olea, also known as "Elena," who died Aug. 1, on St. Thomas, V.I.
Josefa "Elena" was a charming, loving, kindhearted and caring soul. She was always smiling and offering a word of encouragement to those fortunate enough to pass her path.
Josefa "Elena" is survived by her son, Pedro Livio Guerrero; daughters: Kendy Javier and Ericka Javier; granddaughters: Yary Javier, Ashely Guerrero and Maribel Guerrero; grandsons: Darwyn Reyes Javier, Delwyn Javier and Yanuel Amir De la Cruz; father, Catalino Olea; mother, Juana Guerrero; and brothers: Anselmo Olea "Joselo," Julio Guerrero "Julito," Victor Guerrero and Secundino Guerrero "Alfredo."
She is also survived by sisters: Eusebia Olea "Alicia" and Paula Olea "Jaqueline;" nieces: Angela, Nani, Fanny, Yorlenis, Evelyn, Kilsy, Charina, Yurky, Greichy, Brianny, Kiara and Amirha; nephews: Reynaldo, Jose Miguel, Victor "Freisy," Anewdis, Franchy, Melvin "Gono," Victor "Junito," Carlitos Concepcion and Kelvin Concepcion; as well as aunts, uncles and other relatives and friends too numerous to mention.
The viewing will be held from 3-5 p.m., Tuesday, Aug. 11, at Turnbull's Funeral Home. Due to the COVID-19 pandemic and resulting public health mandates, masks or facial coverings must be worn at all times.
Elena, sleep in peace. You will forever be missed, remembered and loved.