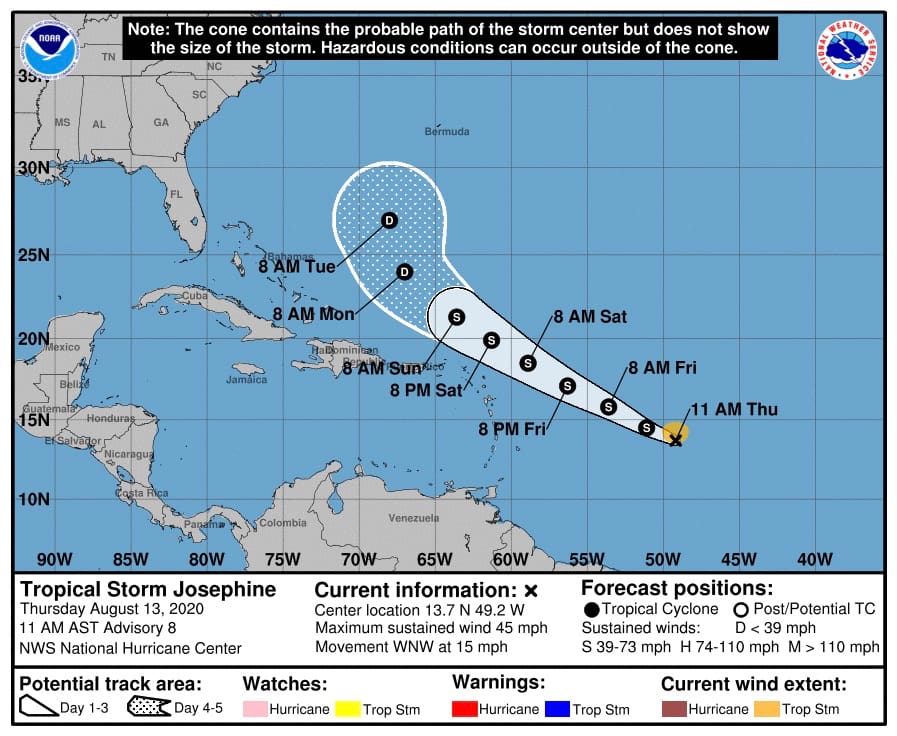 Tropical Depression 11 is now Tropical Storm Josephine, the National Hurricane Center reported in its 11 a.m. Thursday update.
The center of Josephine was about 1,080 miles southeast of the Virgin Islands, near 13.7 degrees North, 49.2 degrees West, moving to the west-northwest at 15 miles per hour with increased winds to 45 miles per hour.
On the current track, the center of Josephine should pass some 208 miles northeast of St. John on Sunday morning. At that time, the weather system will be a tropical storm with top winds of 45-50 miles per hour. The winds and rains associated with Josephine are not expected to affect the territory.
According to the NHC, a satellite overpass showed an area of 35 to 40-knot winds about 70 miles north of the center of Tropical Depression Eleven. Satellite imagery also shows that the convective pattern associated with Josephine has become better organized.
The agency expects Josephine to continue moving west-northwest for the next several days as it moves toward a weakness in the western portion of the Atlantic subtropical ridge. Global models forecast the western end of the ridge to weaken even more after 72-96 h, which should cause the cyclone, or what is left of it by that time, to turn northwest.
Tropical storm force winds extend outward up to 80 miles to the north of the center.
Thursday's satellite photos also indicate that thunderstorm activity around the tropical storm has increased significantly during the past few hours, and the overall circulation is much better defined. In addition, it appears that a couple of feeder bands have developed, which should help this system continue to strengthen over the next couple of days.
The environmental conditions around Josephine are currently favorable for strengthening with lower levels of wind shear present and the system protected by a bubble of moist air, which is keeping the dry air away. This environment should exist through Friday. By Friday night, wind shear values will increase dramatically, and the system will find itself in a much more unfavorable environment. Intensification is likely to continue, and Josephine may peak to 60 miles per hour before weakening as it tracks to the north of the northern Leeward Islands this weekend. As it weakens, most of the associated winds, showers and thundershowers will remain on the northern side of the system, well north of the northern Leeward Islands and out over the open waters of the Atlantic.