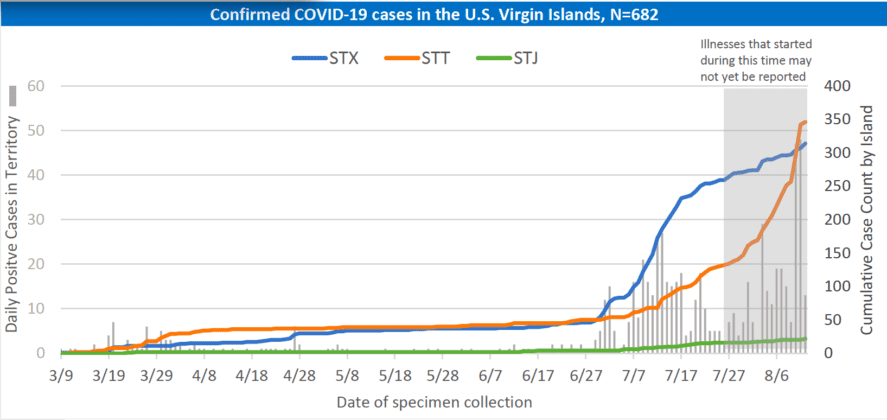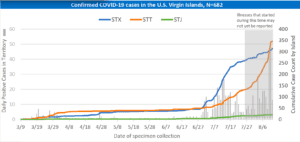 Gov. Albert Bryan announced a return to strict restrictions on business activity Thursday in response to an explosive surge in COVID-19 cases on St. Thomas over the past week.
Starting at 6 a.m. Monday, the territory is reverting back to "stay at home" in an effort to quash the continued spike in positive COVID-19 cases on St. Thomas, Bryan said at a  press conference Thursday. Bryan said all non-essential businesses will be closed and all non-essential workers asked to stay at home for at least the next two weeks until the government can reassess. No new hotel reservations are allowed effectively immediately at hotels, Airbnb's and through other reservation systems, while no new check-ins are allowed after Wednesday, Aug. 19, except for government workers, business travelers and emergency workers.
All schools are ordered closed for students but can function remotely, while churches are also asked to close for at least the next two weeks. Beaches will close at 12 p.m. on weekends and holidays, while restaurants are asked to go back to take out or delivery only.
No more than 10 people are allowed at one time at any business except grocery stores.
At the press conference, Bryan said it would be at least a month before the territory returns to the blue "open doors" phase.
"While we have been closely monitoring the outbreak of COVID19 in the territory since going to the open doors phase in June, the recent infiltration of the virus into residential institutions that house vulnerable members of our population create an alarming level of risk," he said. "We must bring the virus back to a manageable level in the territory."
The Source will bring you more coverage of the press conference this evening.
In just the past week, since Wed. Aug. 5, the number of confirmed positive cases in the USVI has jumped 36 percent, from 501 to 682. But St. Thomas has seen a massive 78 percent jump in one week, from 194 confirmed cases on Aug. 5 to 346 confirmed cases as of Thursday morning.
Since Tuesday evening, the territory has recorded 43 new positive cases, including 20 at the St. Thomas jail and another 16 at the Queen Louise senior assisted living facility on St. Thomas.