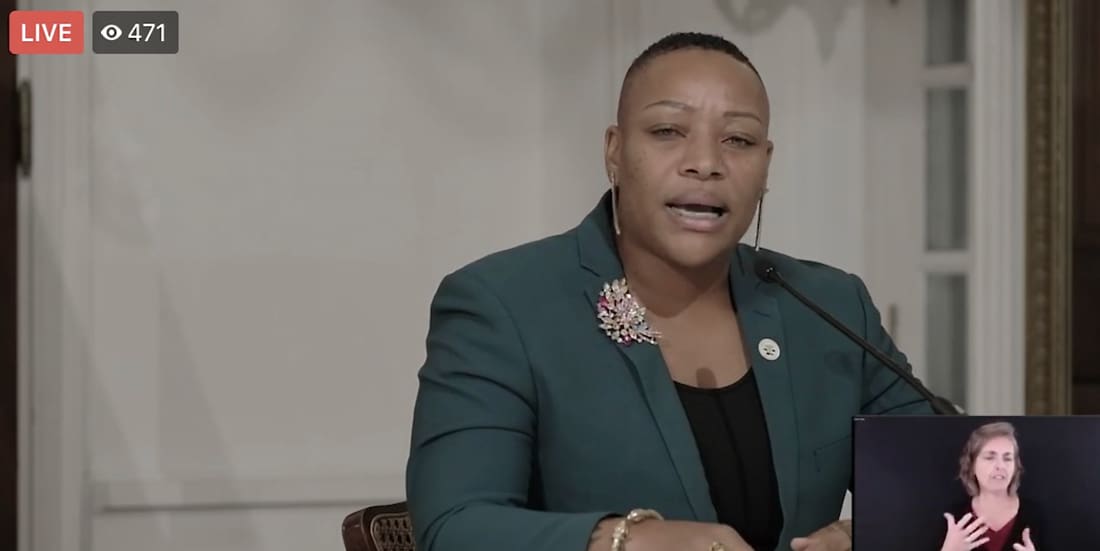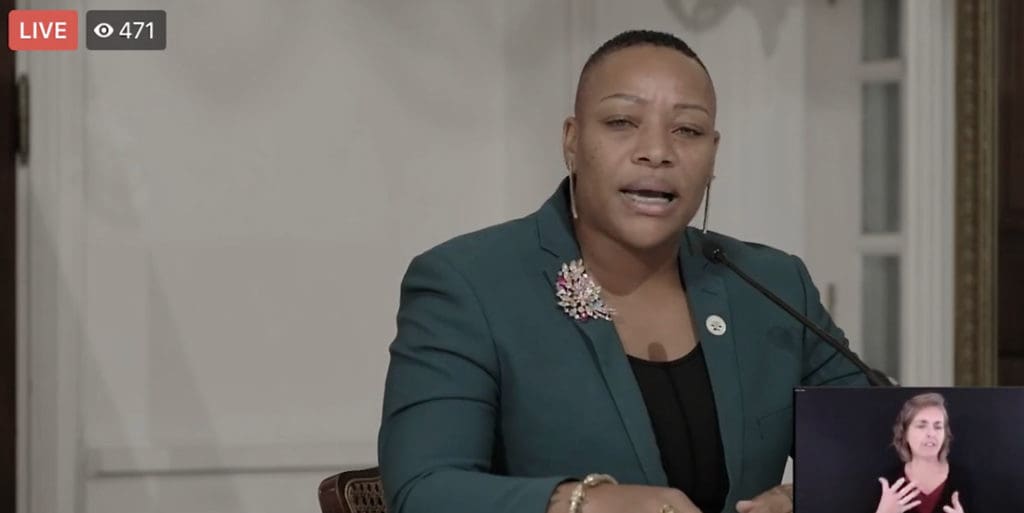 Speaking about the loss of two family members to COVID-19, Assistant Health Commissioner Nicole Syms pleaded with residents to draw on their sense of "empathy and compassion" by wearing masks and social distancing to control the spread of the virus.
Where the numbers were once higher on St. Croix after an outbreak at the Limetree Bay refinery and storage facility, there has now been a surge on St. Thomas, and officials said at a news conference Monday that they are still searching for "ground zero."
In the meantime, Syms said Health teams are studying the maps to target areas with higher positivity rates and will increase testing at pop-up and mobile sites that could be spread around the island.
Until then, Syms asked residents to let her "be the face" of the impact of COVID-19 in the territory.
"Let me be the face reminding you I can no longer speak to my niece," she said. "And in a few days, we are going to say our last goodbyes to her. This is not a game. Take in everything that is provided to you by way of mitigation for your own safety. Trust what we are doing and trust the process until we can understand what we are dealing with. Don't challenge it."
Speaking earlier in the news conference, Gov. Albert Bryan Jr. said he has heard the community's calls for closure – whether it's the ports, which fall under the U.S. government, or hotels – in the wake of the most recent spike, and announced tighter restrictions on mass gatherings and community events that he said are behind it.
According to the data, Bryan said that travelers have yielded the "least number of positive infections," while 268 of the positive cases stem from close contact and another 145 from community spread.
"In this pandemic, we cannot afford to go on hunches," he said. "We must let the data be the guide. Our main vulnerability is at social events occurring in the community, where individuals aren't adhering to the guidelines, those little house parties, families' get-togethers, repasts after the funerals. We all have to be careful."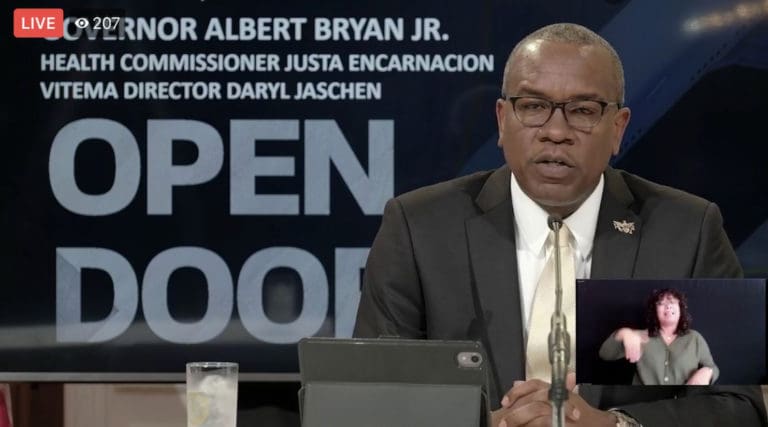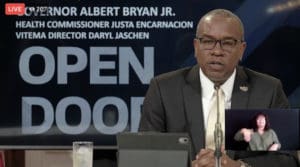 With that, he announced that attendance at funerals is once again limited to immediate family, with no more than 10 people present. With several family members coming in from the mainland in many instances, Bryan said these quickly turn into mass gatherings where loved ones "want to embrace" and comfort one another, putting others at risk.
Rumors that restaurants were to be shut down this week were false, though Bryan said it is something his team had contemplated. Not wanting to punish establishments that have been complying with the guidelines, Bryan said that all restaurants territorywide are being put on notice. Local enforcement will be stepping up on monitoring, and those found to be in violation of public health guidelines will be shut down for 30 days and could be fined by the Department of Licensing and Consumer Affairs.
"We're going to give this a try," he said. "We're going to tighten down on this pipe that's leaking COVID into the territory, and we're going to fine the culprits having these mass gathering events."
That includes boaters, Bryan said, adding that he has continued to see videos and photos on social media of parties at sea. To clamp down, the governor said effective immediately, there will be no rafting – or tying together of boats – at any time on or around any island or cay, and that all vessels must remain 12 feet apart unless there is a medical emergency. Vessels are also prohibited from anchoring in designated swimming areas.
"If we catch you having a party in the boating community, there will be a $10,000 fine and/or a confiscation of your vessel," he said.
Additionally, the governor said, for the general public, residents violating the local masking policy in places will be fined $50 for a first offense and $100 for each additional offense.
"In us trying to be understanding, we haven't cracked down enough on some of the nonsense going on in our community," Bryan said. "Now is not the time. The virus doesn't discriminate because of familiarity. In fact, it relies on it to continue to spread and replicate. We will be unforgiving, and we will be brutal, and there will be no exceptions."
As of Monday night, 128 active cases were being tracked in the territory, with the overall positive cases increasing to 576 with 11,089 residents tested.
Hurricane Preparedness
V.I. Territorial Emergency Management Agency Director Daryl Jaschen rounded out Monday's news conference by cautioning residents to continue to prepare for a strong and active hurricane season. Sharing updates from an early morning meeting with national emergency response officials, Jaschen said that where there would usually be one or two named storms by August, there have already been nine, with several more predicted overall for the season.
Among them is Invest 95-L, which Jaschen said is forecast to develop into a tropical cyclone within the next 48 hours and impact the territory as early as Saturday. Otherwise, there is predicted to be 19-25 named storms, with winds 39 miles per hour or greater; seven to 11 hurricanes, with winds 75 miles per hour or greater; and three to six major storms, with winds 111 miles per hour or greater, Jaschen added.
"This was the most active seasonal forecast in 22 years of history for hurricane outlook," he said. "I encourage all individuals in the territory to do their part and be prepared."
To help, Jaschen said VITEMA will distribute sandbags territorywide from Aug. 13 through Aug. 18. More information is available online.