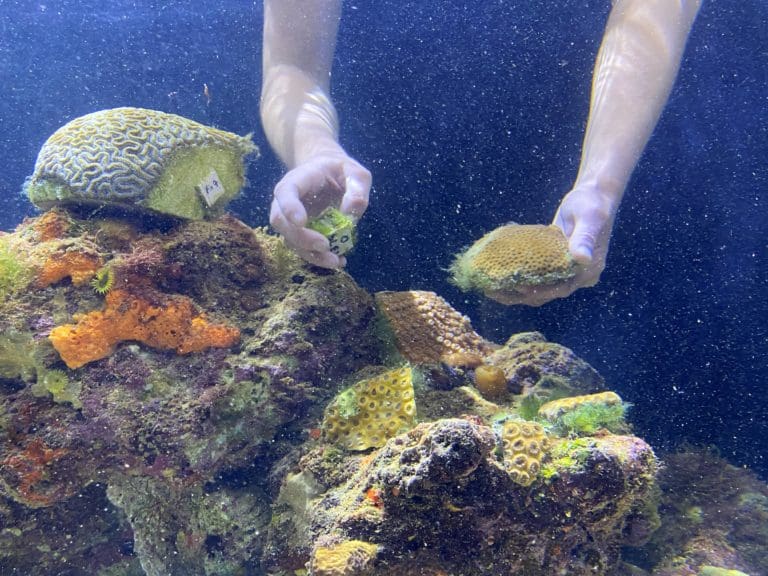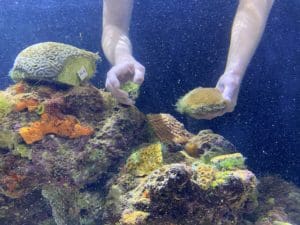 U.S. Virgin Islands Coral World Ocean Park and the University of the Virgin Islands (UVI) have enjoyed a longstanding relationship through education and research. The partnership was solidified further with the announcement of a memorandum of understanding (MOU) last week. The two organizations share a common vision for marine science and education, and that collaboration was recently solidified with a new agreement that makes Coral World Ocean Park the official home for some of UVI's rescued corals.
The territory's coral reef is under attack by a new disease called the stony coral tissue loss disease (SCTLD), which is a highly lethal, rapid tissue loss disease that affects approximately half of all stony coral species in the U.S. Virgin Islands, including listed endangered species and important reef building species.
In response to this disease, the Virgin Islands Coral Disease Advisory Committee formed to manage and mitigate the impacts of the disease. This brought together private and public sector stakeholders with four overarching goals:
Rapid reporting and response to any ongoing and future disease outbreaks in the territory
Regular communications across the territory and with neighboring islands regarding coral disease
Coordination and communication with experts and other groups managing severe coral disease in Florida and the Caribbean
Implementation of a formal Coral Disease Outbreak Response Plan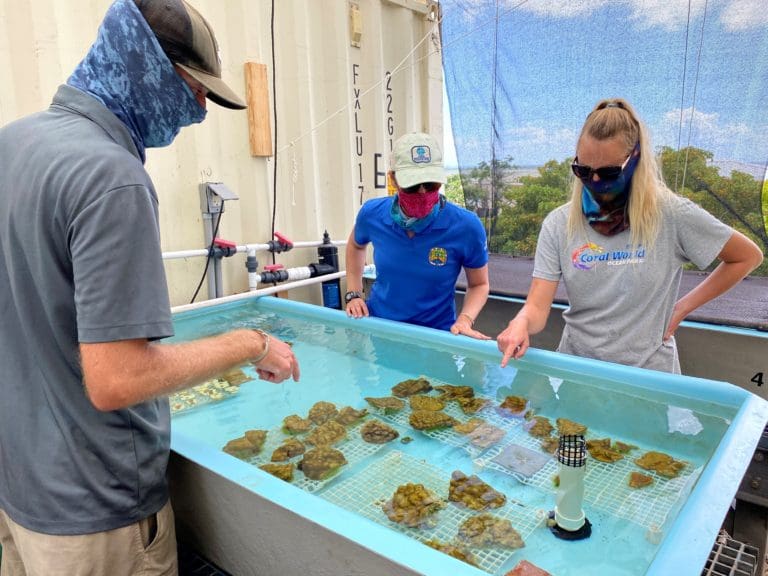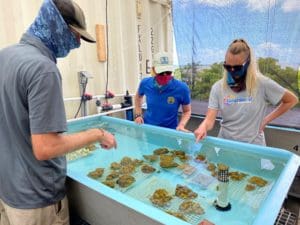 Trained strike teams have been formed, and deployed to provide direct intervention to infected colonies and to monitor reefs affected by SCTLD. Treatments have shown success since they were first deployed this past winter. Culling of small diseased colonies and amputations of sick portions of affected corals are also being used to stop disease progression within individual corals and between corals on a reef.
As part of the Coral Rescue and Restoration component of the Outbreak Response Plan, UVI, under the leadership of Marilyn Brandt, Ph.D., research associate professor, has been actively rescuing and treating corals in their land-based nursery.
"This important new collaboration will expand our ability to successfully treat endangered corals that otherwise would perish from this virulent disease," said Brandt.
Meanwhile, Coral World renovated a portion of the Marine Gardens Exhibit, which had been severely damaged during the 2017 hurricane season, and it made room to take in rescued corals from UVI. Last week, Coral World Research and Logan Williams, education coordinator, and Adam Glahn, UVI marine life restoration technician, carefully transferred dozens of rehabilitated corals to the park for public display.
Trudie Prior, Coral World general manager, observed, "Coral reefs contribute to USVI economic and coastal resilience. They act as a natural barrier against storm surges and support the territory's gross domestic product (GDP) through tourism-related activities and are a main factor driving the economy in the USVI. We are pleased that we can participate in the rescue and rehabilitation of corals with the goal of preserving this critical resource."
The agreement with Coral World will allow UVI to free up space in its coral nursery to receive new sick corals by transferring rehabilitated corals to Coral World for housing and continued monitoring.
According to Brandt, "Currently we cannot put rehabilitated corals back out on the reef because the threat of the disease is still high and corals do have the ability to develop long-term immunity like humans do. Coral World hosting and monitoring these corals is critical for buying us time to research ways that we can safely reintroduce the corals back to the wild."
The new coral exhibit will highlight the amazing work being done to address the STCLD outbreak in the Virgin Islands and educate the public on coral restoration efforts taking place around the islands. The collaboration provides unique opportunities to both institutions, the researchers, students and volunteers.