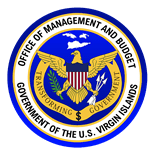 In complying with the Governor's Management Agenda and an Executive Order, Director Jenifer C. O'Neal has announced the reorganization of the Office of Management and Budget (OMB), including the formation of two new business divisions, to provide residents with more efficient and effective services. OMB has consolidated units and shifted management and personnel to fill known gaps and lead new initiatives.
The most notable change is the creation of the Performance Management Division and the Budget Review Division. Both divisions, independently, will support the fiscal requests and needs of agencies while improving on the Government of the Virgin Islands' (GVI's) strategic direction and the efficient fiscal management of government resources.
Kevin McCurdy has been named the associate director of budget review and assigned to lead the Budget Review Division, a combination of the former Policy Management Unit and Budget Administration Unit.
Denelle Baptise has been named the senior performance manager and leads the Performance Management Division and the transition to performance/priority-based budgeting within GVI as mandated by law.
Additionally, Associate Director Hilarie Baker will lead OMB's efforts to become compliant with the special conditions imposed by the U.S. Department of Education. Baker will also assist the V.I. Department of Human Services and the Office of the Governor with the management of all of their federal grants. These changes took effect on Monday, Aug. 3.