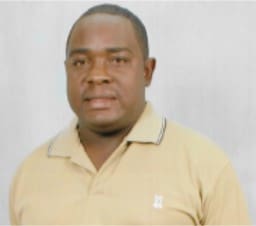 With our deepest sympathy, we regret to announce to family and friends of the sudden passing of Terrence Charles Liburd, better known as "Terry" or "Roper," who died June 6 at age 49.
Terry was born on St. Croix, Virgin Islands, and was separated from his mother when he was only nine months as he was taken to Ponds Extension on St. Kitts to live with his father. As a young man, Terry relocated to Tortola, British Virgin Islands, and in 1990, he moved to St. Thomas where he lived in Contant for 30 years.
He was employed at Caneel Bay Resort on St. John for 20 years; and for the last two years, he worked at Bolongo Bay Beach Resort.
Terry was preceded in death by his brother, Simon Charles of St. Lucia.
Terry is survived by his mother, Marcella (Tokes) Charles of St. Lucia; father, Calito Rufino Jimmy Liburd of Mount Lily, Nevis; stepmother, Myrtice Marcella Liburd; daughter, Terresa Charlene Liburd; brother, José Liburd; sisters in St. Lucia, Cecilia Charles, Francis Priscilla Charles, Octavia Patsy Mathurin, Marcelline Mathurin, Sandra Gloria Price in Canada, Othelia Joane Mathurin Deterville in New York, and Maritza Liburd in St. Kitts; his daughter's mother, Murtle Thomas; adopted father, Elton Warner; uncles, Russell Liburd of Manchester, England, George Williams of England, Lloyd Williams of Camps Village, Nevis, and Llewellyn Williams of Fountain Village, Nevis, and Horasis Charles and Julian Charles, all of St. Lucia.
He was also survived by aunts: Nester Liburd of Fountain Village, Nevis and Catherine Charles, Pearl Charles and Jennifer Charles, all of St. Lucia; nephews: Shevawn Charles in Miami, in St. Lucia Junior Charles, Leone Charles, Phillip Ishmael, Simone Saint Claire, in Canada, Dalton Charles, Harlon Charles, Michael Thomas, Aaron Price, Damian Mathurin and Daneil Mathurin, and in Trinidad Lance Mathurin; nieces: in St. Lucia are Kurlyn Charles, Kiesha Charles, Ashley Mathurin, Sian Saint Claire, Rufina Charles and Shannon Mathurin, in Canada are Vanessa Mathurin and Simmanessia Thomas, in New York are Tyffany Deterville and Chastidy Deterville, and in St. Kitts is Marsha Liburd.
Other survivors include close family: Gwenneth Selkridge in Texas, Bernadette Selkridge in Antigua, Kenneth Selkridge and Glenn Selkridge on St. Croix, Catilda Skeete in Hospital Ground, St. Thomas, Norma Stapleton in Half-Moon, St. Kitts, Dr. Delores Harris Stapleton in Christ Church, St. Kitts, Joan Stapleton, Patrick Stapleton, Marcus Stapleton, Anthony Stapleton and Maurice Stapleton, Georgette Richards in Leicester, England, Ovan Stapleton in St. Maarten, Gwenneth and Janet Stapleton in Puerto Rico, Curtis Richards and Glenroy Pinney in Orlando, and Vincent Richards in St. Thomas; close friends: in St. Kitts, Veralyn Finley, in St. Thomas are Orson Webbe, Ostia Evans, Peter Baron, Joanne White, Marlene White Ostalaza, Mary Bassue, Dennis Hodge, Natalie Warner, Royston Dupont, better known as Tanza, Knekaa of Picture Perfect, J. "Five-Eights" Marsham and Daniel Crabbe-Ras Nashamba-I; as well as many other relatives and friends too numerous to mention.
A viewing will be held at 9 a.m. followed by funeral services for Terrence Charles Liburd at 10 a.m. Saturday, Aug. 1, at Turnbull's Funeral Home and Crematory Services. Interment will be at Eastern Cemetery in Smith Bay.