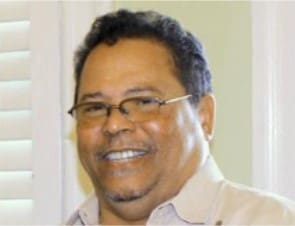 Conrad E. "Ricky" François II died on Tuesday, July 14, at the age of 69.
He was preceded in death by his mother, Gloria Kaufman François; sister, Leslie Walker; and his brothers: Pedrito "Emmet" and Gary François.
He is survived by his wife, Ellen André François; father, Pedrito A. François; children: Conrad E. François III and Eleanor François; grandson, Khafri François; brother, Darryl François; brother-in-law, Dr. G. Dwight Walker; sister-in-law, Peggy Ashbrook; uncle and aunt: Donald and Faye François; and nieces: Tracey Smith, Toni Glass, Michelle André-Connor, Renee André, and Gloria Amadi François-Ashbrook.
He is also survived by nephews: Dwight Walker, Pedrito E. François Jr., Kamoya François-Ashbrook and Asasi François-Ashbrook; great-nephews: Jalen Jenkins, Dasan Walker, Kingston Walker, André Walker, Bryson Smith and Malachi François-Ashbrook; great-nieces: Kayla Smith, Kiera Smith, Kennedy Glass, Mackenzie Glass, Trinécia Connor, Trinity Connor and Eva Walker; and numerous aunts, cousins and other relatives of the François and Joseph families of St. Thomas, and the Kaufman family of New Orleans, La.
There will be a memorial service at 9:30 a.m. Monday, Aug. 10, at Ss. Peter and Paul Cathedral with interment to follow at Western Cemetery No. 1.
Because of the coronavirus pandemic restrictions, attendance will be limited to family, close friends and colleagues. Also, as mandated, we ask that you wear a mask to protect yourself and other attendees. We thank you for your understanding.
Tributes to his life of service to his family and the Virgin Islands community can be emailed to francoistribute@gmail.com no later than 3 p.m. Monday, July 27.