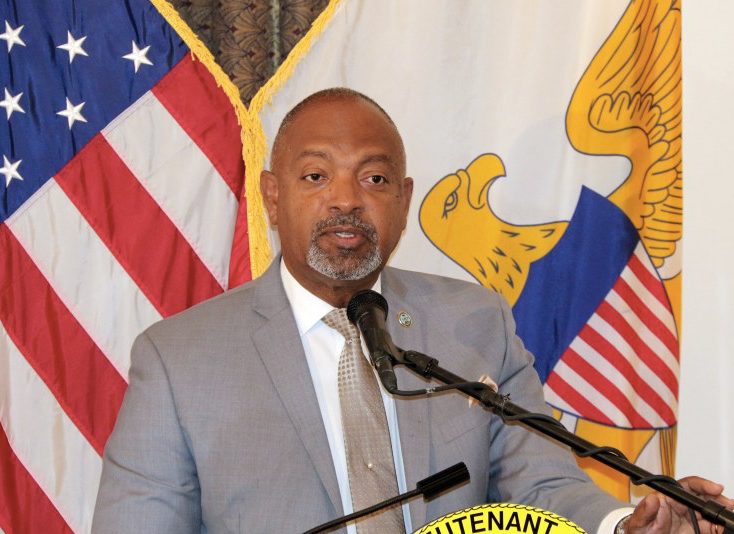 In the latest development surrounding tech startup Avera, Lt. Gov. Tregenza Roach said Tuesday he is requesting an end to ongoing discussions between the company and the Department of Health regarding a $1 million contract for COVID-19 contact tracing.
Instead of Avera, whose founders include Aliyah Bryan, Gov. Albert Bryan Jr.'s daughter, and Michael Pemberton, the governor's friend, Roach said in a press release he wants contact tracing lead by the Health Department, Bureau of Information Technology and the University of the Virgin Islands.
Roach's press release followed the governor telling the press he sees a conflict of interest in executing the contract and would recuse himself from signing it, leaving it to the discretion of Roach.
"I would definitely recuse myself from the matter and have the lieutenant governor look at that and evaluate whether it should be signed or not. I wouldn't be participating; that would be a little bit much in terms of conflict of interest. I mean she is my child. I wouldn't be the one signing it," Bryan said at a press conference on Tuesday.
But in correspondence sent to Bryan after the press conference, Roach stated he is not likely to sign off on a contract between the Department of Health and Avera, nor would he like to see any private company used for contact tracing services.
"I will not execute a contract with a private vendor in that regard unless I am convinced that resources already at our command, including valuable work already done by the Department of Health, cannot adequately address this need," Roach said.
The collaborative approach Roach would like to see between the aforementioned entities, he said, comes from his firm belief that the Bureau of Information Technology and UVI possess the skills and talent necessary to guide and work with the Health Department.
"The very definition of information technology by which our bureau should be guided encompasses the area of software development used to manage the exact type of data that I believe contact tracing requires. In addition, our university with its varied research arms should already be poised to advise and direct this effort," Roach said. "If working together they cannot do this and cannot do so urgently, then we are literally up the proverbial creek without a paddle."
Roach further stated that the $1 million designated for contact tracing should not benefit a single, privately-owned company, but instead "assist and support our already existing government departments and our university, which is already struggling with financial concerns resulting from the global pandemic."
During prior press conferences at which the Avera contract was discussed, Bryan and Health officials maintained their stance that the request for proposal and the process taken to receive bids were well within the law.
At Tuesday's conference, Health Commissioner Justa Encarnacion said the department emailed two other companies for quotes for service, but only Avera contacted them back. The Source reported previously that Josh Disbrow, CEO of Atyu BioScience – one of the two additional companies the department said they contacted – said there was no communication between his company and the Health Department.
Sen. Novelle Francis Jr. issued a statement on the matter on July 25, saying, "It is understandable why the community feels that their trust has been violated. … The territory has come under intense criticism time and time again for our mishandling of public funds – especially those awarded by the federal government."
To further identify any potential problems with government contracts, Francis said a Committee of the Whole meeting will be conducted on Aug. 5 to examine both the Health Department's potential Avera contract and a separate contract awarded by the Virgin Islands Housing Finance Authority that also skipped the procurement process.