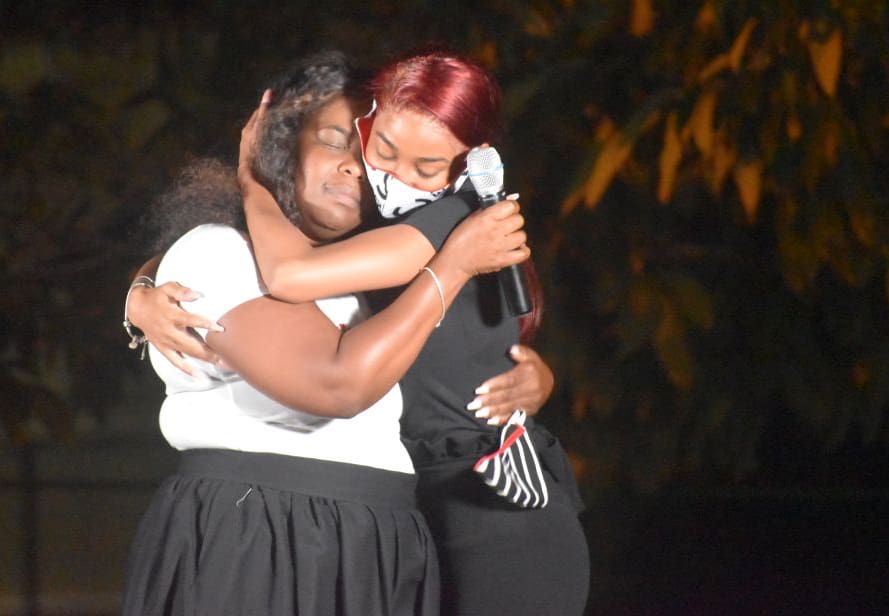 From every story told Tuesday night, 14-year-old Aaron Ashby was the exact opposite of someone who could even consider taking another's life.
"Aaron was different. And the reason why he was different is because he didn't live by the rules," his uncle Bernard Ashby said at a vigil held by the family Tuesday night. "He did what made him happy. He was quick to laugh. Aaron was loving. Aaron was kind. Aaron was beautiful."
The vigil, attended by friends and family, among others, was held in the Franklin Delano Roosevelt V.I. Veterans Memorial Park, where, Aaron's mother said, for the past three years the family has held a movie night. It was his favorite spot, and on Tuesday, it was turned into a memorial for the person he was and what the family said his death should represent to the community.
Aaron and his 29-year-old cousin, Rique, were shot to death in broad daylight on July 9 as they operated a backhoe, cleaning up overflowing trash in the as yet to be demolished former Tutu Hi-Rise housing community. In one of the last conversations she had with him before his death, family member Colette Smith said that Aaron called her to discuss his "perfect utopia," what it would look like and what it should be.
He chided her for falling asleep during the conversation and, recounting it Tuesday, Smith called on the community to honor the spirit of the conversation by turning the territory into one that stands against guns and creates hope for each child.
"We need a community where senseless killings are eliminated," she said, adding that in the meantime, support should be provided for those families and children who are left behind.
Gun reform, anti-gang initiatives and even teaching compassion should be the order of the day, she said.
"If children feel loved and cared for and are given options, they will not fall prey to the streets," she said.
For the children gathered at the vigil, many of whom were Aaron's junior high school classmates, Smith also advocated that they hold Aaron – and what he stood for – up as a moral compass, guiding them through conflict and tough decisions. When at a crossroads, they should stop and ask, "What would Aaron do?"
Aaron's mother, Andrea Hamilton, expressed the same feelings. Standing resolute on the stage, she wasn't tearful, but strong, and shared her memories of hearing Aaron's voice as he burst into her office, greeting her co-workers. It's a joy that won't come back, nor will the feeling of being able to hug or kiss him, she said, adding that on the morning of his death, she woke him up saying, as she frequently did, stay safe.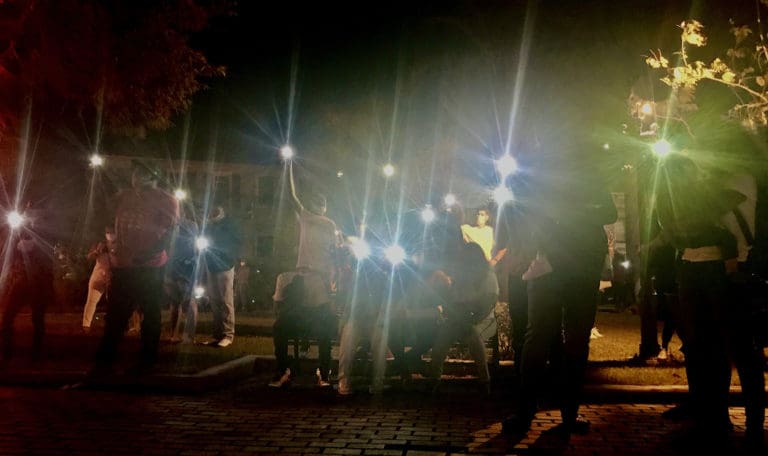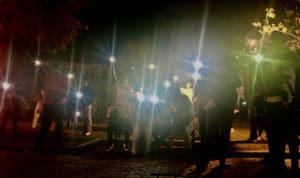 "I said, 'stay safe, I love you,'" she said. "The way in which his life ended should not have happened, and I will do my best as his mother to make sure his name lives on in this community."
The park lit up with the soft glow of flashlights from cellphones that were held high as she spoke, illuminating the faces of everyone from cousins to classmates who stood, masked and silent.
"Your flashlights are on," she said. "Let's not let that light die for Aaron Nicholas Hamilton Ashby."
The family then moved to the waterfront, intent upon releasing paper lanterns over the harbor in the cousins' honor. When the wind made it difficult, they instead stood and sang, the refrain of "This Little Light of Mine," floating in the night.
"I'm going to let it shine," they sang. "Let it shine, let it shine, let it shine."