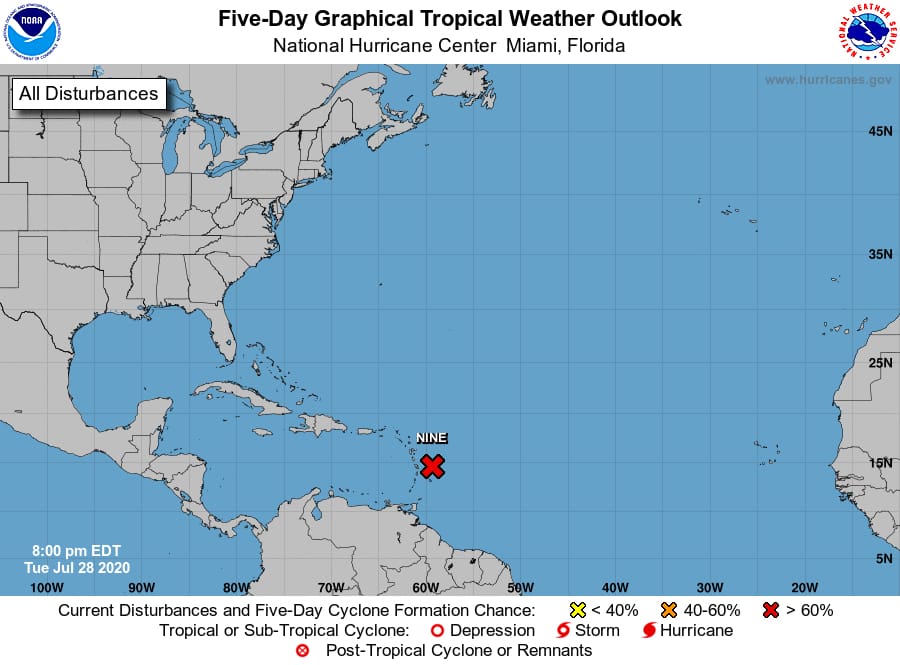 The large storm with the unusual name – Potential Tropical Cyclone Nine – had not become better organized by shortly after midnight Wednesday, but was continuing to move on the U.S. Virgin Islands at a brisk 25 miles per hour.
The storm track has shifted slightly south, and in its 11 p.m. Tuesday update the National Hurricane Center estimated the center of the storm will pass approximately 43 miles south of St. Croix at 5 p.m. Wednesday, bringing locally heavy rainfall to much of the Lesser Antilles, and tropical-storm-force winds to portions of the Leeward Islands, the U.S. and British Virgin Islands, and Puerto Rico during the next 24 hours. At that time, the weather system will be packing sustained winds between 45 to 50 miles per hour.
Strong showers and thundershowers were just over 300 miles away from the Virgin Islands as of midnight Wednesday morning.
At 11 p.m. Tuesday, the center of the weather system was near 14.6 degrees North, 59.4 degrees West – approximately 420 miles east-southeast of St. Croix. Top winds are at 40 miles per hour with higher gusts, and the territory remains under a tropical storm warning. Additional intensification is expected during the next 48 hours, and the system is forecast to become a tropical storm on Wednesday.
The storm has the potential to produce three to six inches of rainfall as it passes the Virgin Islands on Wednesday. Weather conditions, marine and coastal conditions are expected to deteriorate beginning Wednesday afternoon, with inclement weather continuing through Thursday.