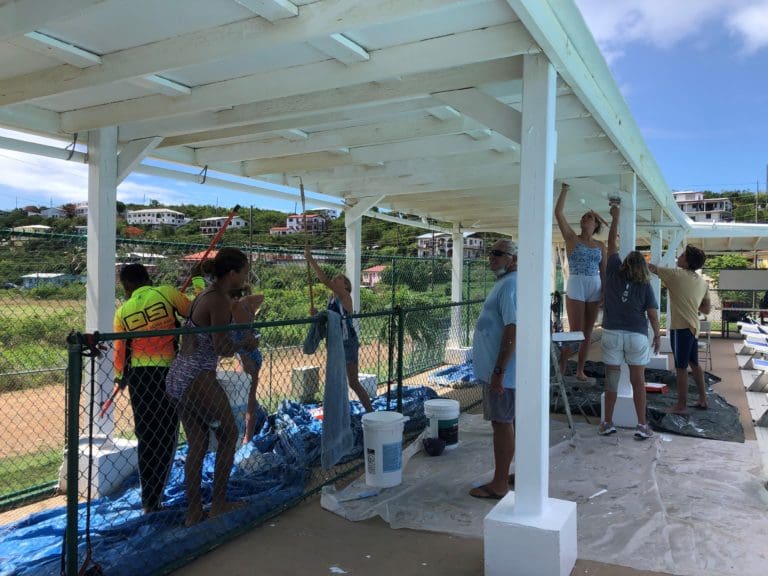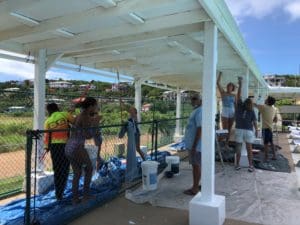 The St. Thomas Swimming Association received a facelift on Saturday with the help of many volunteers.  They were able to collect a container full of hurricane debris, build new benches and paint the awning.  Also, a new fence was placed around the perimeter, and new security cameras will be installed.
Many thanks go to the following donors for their help and donations:  MSI Building Supplies, Cyclone Fencing, Sea Chest, Paint Depot, KDL 007 Maintenance and Security Service, and Rotary Sunrise.  Rotary Sunrise provided a container lunch and volunteers.
This year, the pool has raised $9,800 for its swimming scholarship program. Anyone who would like to learn to swim can call to schedule a free lesson or a free week on the swim team.  Those who need additional assistance may apply at the pool.
Anyone who would like to donate to the St. Thomas Swimming Association may do so through its fundraising platform at https://stthomasswimming.networkforgood.com/. Call the pool at (340) 779-7872 to schedule a lesson or a swim team tryout.