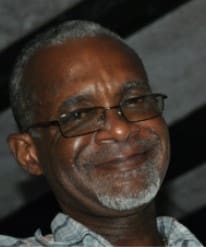 We announce the passing of Arthur Anthony Richards, who was the firstborn of Arthur and Myrna Richards (both deceased) and husband to Karen Smith Richards (deceased).
Anthony is survived by his brother, Duane L. Richards; sister, Pamela C. Richards; adopted son, Calhern George Jr.; mother-in-law, Jane Johannes; sisters-in-law: Gillian Richards, Leona Smith and Juanita Johannes, Janet Smith Burton, Edith Smith Fleming, Elizabeth and Enez Smith; brothers-in-law: Darwin L. Newton Sr., Alvin L. Newton, Angel Joseph, Winston Smith Sr., Avelino O. Samuel (former); and aunts: Jeanette M. Iles, Gwendolyn C. Blake, Leatrice Todmann, Bernice, Aurelia and Hannah Richards, Claudette Derrick, Claire I. Marshall, Delita Todmann Utley, Delores Clendinen, Lorraine Nanton and Myrl P. Hendricks.
He is also survived by his uncles: Donald Richards, Claude R. Richards, Cletis Clendinen, Olaf Hendricks and Winston Todmann; nephews: Duane L. Richards II and Quentin A. Richards; and cousins: Tyree Y. Knight, Debra T. Tutein, Evelyn and Ricky Brathwaite, Gregory, Wesley, Claude, Robert, Daryl, Donna, Laurence, Lyn, Claudia, Steven, Linda, Emmanuel and Daniel Richards, Winona C., Warren C., Wentworth C. and Willis C., Michael, Cassandra and Dexter Todmann, Myrilin Y. Daniel, Thomas R. Blake Jr., Sylvia N. and Ronald E. Blake, Alonso Marshall, Aaron A. Derrick, Cletis Clendinen, John and Milton Utley, Rabiah Hendricks and Leroy Grant.
Other survivors include godchildren: Kissa M. Tutein, Chisa Christian Butler, Jere Christian, Darian L. Newton, Ms. Smith and Gwendolyn Roebuck; special friends: Oliver Christian (deceased), the Hon. Usie R. Richards, Everett Smith, Carol A. Frett, Leona B. Wheatley, Claudette Lewis and Susan Penn, and the 1974 Class of Charlotte Amalie High School.
A memorial service will be held at 10 a.m., July 17. at Turnbull's Funeral Home. Funeral services will be held at 10 a.m., July 24, at James Funeral Home. Interment will be at Frederiksted Cemetery.
The memorial service can be live-streamed at the Turnbull's Funeral Home Facebook page.