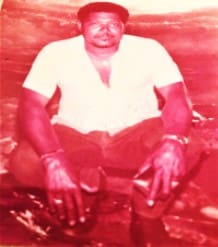 Eudoro Z. Campbell was born in Guanaja Island, Honduras, on March 15, 1944, and departed this life at 1:28 a.m., June 28, 2020.
He was known to many as "Al," "Cumbo" or "Cowboy." His parents were Antonio Zelaya Ortiz and Maria Elena Campbell Tatun.
Eudoro worked as a cook on a boat, the Ritt Service One, with his brother Zelaya, who was the captain, for many years. When in St. Thomas, the boat usually docked in the Crown Bay Marina close to the America Legion Hall.
In 1981, Eudoro met Miss Ivy. They fell in love and eventually got married that same year at St. Andrew's Episcopal Church. Upon attaining his residency in 1982, he worked with a contractor at WAPA for a short period of time. Soon after, he joined Mr. Blackhall at Nisky Center as a maintenance worker and also worked at Crowley on the weekends during that same period.
Eudoro departed this world for his eternal home on June 28, leaving behind his loving wife, Ivy Campbell; six sons: Henrique Zelaya, Ernesto Zelaya, Jonny Zelaya, Oscar Zelaya, Tito Zelaya and Virgil Campbell; two daughters: Elizabeth Randell and Michelle Campbell; one stepson, Neville Manning; four stepdaughters: Linneth Manning, Veralyn Manning-Poteat, Sharon Manning and Sheryl Naomi Manning; seven grandchildren; and six great-grandchildren.
Eudoro is also survived by four siblings, two brothers: Adam Zelaya and Rumilo Zelaya, who both reside in Honduras and two sisters: Ernestina Bennett and Antonia Rivers, who both reside in the Cayman Islands.  Mr. Eudoro leaves behind nephews, nieces, and a host of other relatives and friends.
Mr. Eudoro Z. Campbell will be greatly missed by many.
Funeral services will be held Thursday, July 23, with viewing from 9-10 a.m. and a service to follow at 10 a.m. at Turnbull's Funeral Home. Interment will be Eastern Cemetery, Smith Bay.