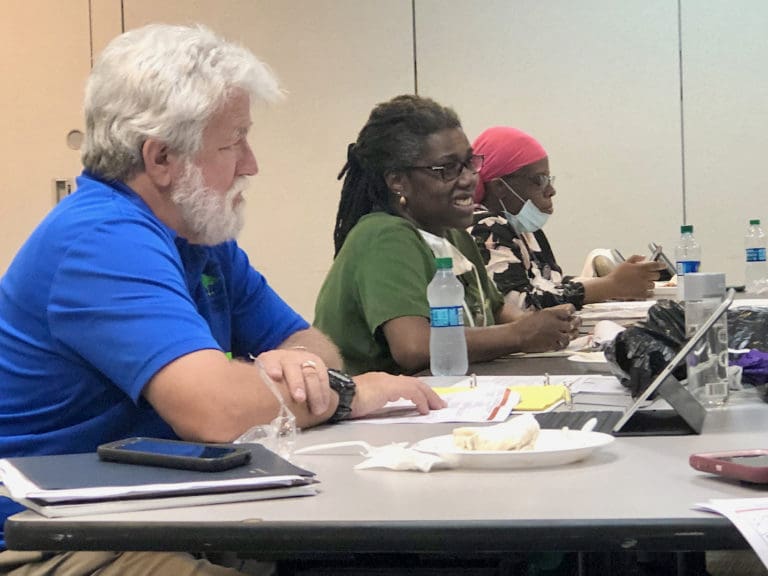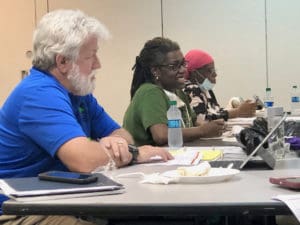 With the deadline for bidding on the rebuilding of the Gov. Juan F. Luis Hospital less than a month away, board members were eager Thursday night to get started sorting through the applications to find a perfect fit and had to be reminded that they will need expert help in reaching a decision.
Since there are only three members of the Gov. Juan F. Luis Hospital Board, and a minimum of five is necessary for a quorum to conduct business, Dr. Anne Treasure, the board chairwoman, said Thursday night's meeting was an "information session." Treasurer Christopher Finch and Faye John-Baptiste were joined by senior hospital administrators to discuss the upcoming rebuild of the facility by FEMA after the 2017 hurricanes and other items.
The request for proposals to rebuild the facility has drawn bids by 67 contractors, so far. With a July 17 deadline, more companies may bid for the construction project. But while board members expressed excitement about sorting through the prospects to find the perfect fit, interim Chief Executive Officer Dyma Williams and others reminded them they need professional engineers, architects, lawyers and others to help make the final decision.
"I would like to see a way to develop a quorum and a board with an attorney, an accountant, an architect and someone with physical plant experience," Treasure said.
Finch said that the Department of Property and Procurement will probably lead the rebuilding project.
Two items that have been approved by JFL committees and will be forwarded to the territorial board for final approval were discussed at length. Treasure will ask for a 96-day contract extension with Aptim Environmental and Infrastructure, LLC and an additional $2.3 million to be included in the $77.5 million contract.
Aptim has been contracted to construct the hospital's temporary structure to the north of the current hospital site but plans for a radiology department were originally omitted. Aptim may have tried to fit in more beds and locate the radiology department in the V.I. Cardiac Care Center. Williams said in early 2019, Aptim was notified the radiology department was to be included in the temporary structure to conform with regulations from the U.S. Centers for Medicaid and Medicare. Since then, a change order was approved, and the footing has been laid for the department. The square footage of the structure has not changed, just the layout, Williams said.
Finch, the chair of the territorial board, asked that documentation be provided for the next territorial board meeting to show whether or not the radiology department was included in the original plans and if it was paid for. Finch said to also document equipment and construction costs for the radiology department, and whether or not the costs were taken out of the contract and the hospital was given a price reduction when it was discovered the radiology department had been left off the drawing table.
Other items to be sent to the territorial board for approval were eight medical staff members waiting for license approval or renewal and three policy amendments dealing with security protocol, electrical extension cords and power strips.
The board also discussed COVID-19, and the staff said everything was still in place in case of a surge in cases. Currently, one person is hospitalized with coronavirus. Also, an area in the hospital has been identified to care for a dialysis patient should someone contract the virus.
Acting Chief Financial Officer Shenel Moorehead said the facility is paying past and current bills as often as possible, but they have not received the V.I. government allocations for May or June. They are tracking COVID treatment, hoping for reimbursement and have applied for seven Community Development Block Grants, she said.
Chairwoman Treasure and Dr. Raymond Cintron, chief medical officer, started a discussion about the difficulties of hiring medical staff. Both said they have seen several professionals first accept a job and then, after seeing the 11.5 percent deducted each month from their salary to pay into the retirement system, change their minds and declined employment.
It is well known the Government Employees' Retirement System is on its way to collapse, so some people retire early, Treasure said. Others are working "per diem" so they don't have to pay into GERS and can pick their own hours. That scenario "does not do well for morale," Treasure said.
"Do you exhaust the system before you pay back those who haven't gotten paid," she asked hypothetically.
Treasure said she plans to discuss the subject with the human resources committee and Sen. Kurt Vialet, chairman of the Senate Finance Committee, and see if they can formulate an alternative retirement program for the hospital.