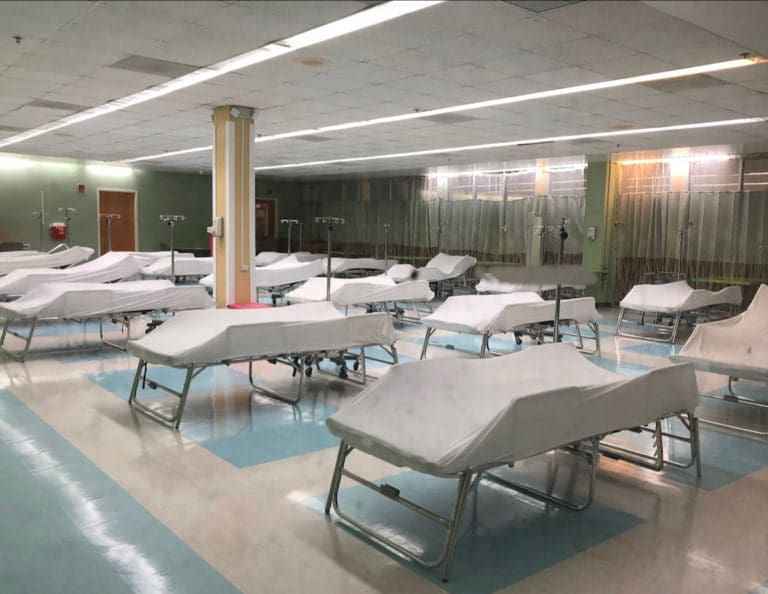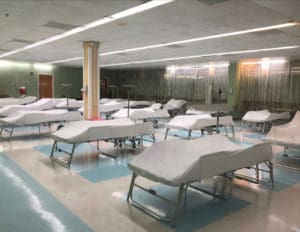 Rebuilding the Gov. Juan F. Luis Hospital is slowly moving forward with multiple proposals from contractors and a walkthrough scheduled, but the acting chief executive officer presented board members with a list of projects that could delay overall construction.
The discussion took place at Tuesday's board meeting, but JFL has only three board members and without six they are not able to vote or take action without going to the Territorial Hospital Board first.
Acting CEO Dyma Williams, said the project management team will assess the JFL building this week and then follow up with the 67 companies who have expressed interest in rebuilding the facility, damaged irreparably during the 2017 hurricanes.
Additions to the facility, such as propane tanks and an oxygen generator, may be difficult to fit into the footprint of the facility, Williams said. The oxygen generator is predicted to be on island on June 30 and will need to find a permanent home.
The administrative staff also faces a problem because the modular trailers for dialysis patients, which were paid for by FEMA, won't be approved by the Centers for Medicare and Medicaid. FEMA will not pay for another facility and CMS requires a brick-and-mortar building. Williams said the staff is searching for a building that will satisfy both federal agencies.
Plumbing may delay the construction because there is a 90-degree connection under the patio between the hospital and the Cardiac Care Center. Rather than deal with sewage backups or lift stations, Williams said a request for proposal is pending to restructure the plumbing system.
The restrooms on the second floor, long out of commission, will be important when the operating rooms open and should be repaired within 14 days of awarding the contract, according to Williams.
Another complicated area is the communications system that will be up to Viya and VINGN to install, working together, William said. Research is being conducted now to design the best hookups for gas, oxygen and other medical technology.
With its 21 modules, the Meditech platform will not only be difficult to install but may cost the hospital $2.5 million to hire consultants with enough experience to get the pharmacy, inventory, documents and other modules running properly.
And finally, the ambulance ramp is too long and quotes to remediate it are being solicited.
Williams also reported that there are now three operating rooms and two can be used at a time, complete with the necessary medical equipment. Additional staff has been hired and patients are being given pre-op COVID swab tests before surgery.
Williams updated the board on the COVID response, describing the new triage procedure and the cafeteria conversion for patients without coronavirus. She added that hospital staff sadly attended a funeral for a co-worker recently.
The hospital is working to acquire more ventilators, up to 35 after the last order arrives. Williams explained that normally, non-coronavirus patients are on ventilators one or two weeks, but COVID victims need the machine for 30 or more days.
"We're ready and prepared but not for a rapid increase," she said, referring to a possible surge in the virus after travelers start visiting the territory.
Acting Chief Financial Officer Shenel Moorehead informed the board again that there is a serious financial crisis, made worse by COVID. She said she anticipates a 25 percent decrease in revenue this year. Regular payments are being made to the retirement system and vendors but $3 million is still owed to the Government Employees Retirement System and payables are $35.2 million.
The V.I. government's $23.5 million appropriation is used almost exclusively for payroll. They are almost two months behind in payments to the Juan F. Luis Hospital, according to Moorehead.
"We'll have trouble making payroll if we do not get the government funding in very short order," Moorehead said.
GERS is in dire financial trouble of its own and is predicted to fail in a few years. Recent recommended fixes include lowering payments to retirees by 42 percent.
Acting Board Chairman Dr. Anne Treasure said that hospital workers, especially nurses and physicians, have multiple options for employment and "GERS is not attractive." If JFL had retirement options and employees could convert to a 401K, it might be easier to hire staff, she added.
Attending the meeting were board members Treasure, Chris Finch and Faye John-Baptiste.