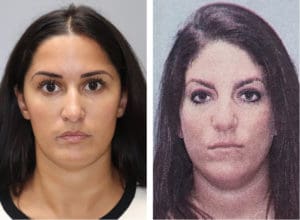 Two women turned themselves in to police Sunday morning after learning they were wanted, the V.I. Police Department reported.
According to police, 32-year-old Loretta Biss and 35-year-old Nicole Williams, both of Nazareth, turned themselves in at about 9:15 a.m. Sunay. They were placed under arrest, charged with grand larceny and trespassing.
Biss and Williams are two of three suspects who reportedly took puppies April 13 from a residence in the area of St. Peter Mountain without permission of the owner, police said.
A third woman, Heather McBrayer, turned herself in on Friday, according to police.
Bail for Biss and Williams were set at $20,000 each. They each posted bail and were released, as McBrayer had on Friday.
Police urged anyone with information on the case call 911, the Criminal Investigation Bureau at 340-774-2211 extension 5579 or Crime Stoppers USVI at 1-800-222-8477