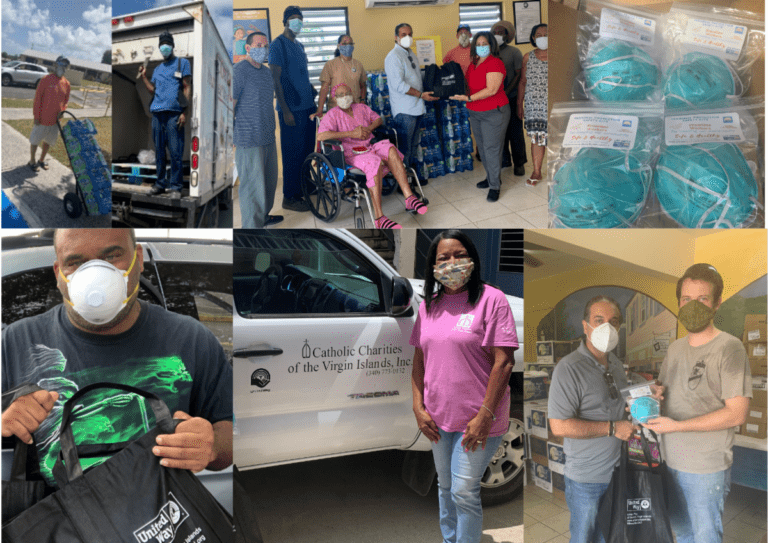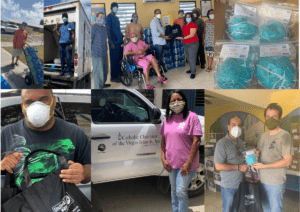 United Way of the U.S. Virgin Islands is serving the community during the COVID-19 pandemic. United Way started its first program oriented around COVID-19 relief to get Personal Protection Equipment (PPE) kits to front-line workers and the most vulnerable residents in the territory. United Way USVI launched the initiative as part of their Giving Tuesday Now fundraiser held on May 5 to support front-line workers.
Donations from that event as well as matching funds donated from corporate partners were used to directly benefit front-line heroes and vulnerable neighbors in an effort to flatten the curve and reduce the spread of the coronavirus in the USVI.
United Way USVI distributed 1,000 PPE kits, which included N95, KN95 or surgical masks with gloves and a "Thank You" message to front-line workers who risk their lives to keep the community safe and functioning during these times of uncertainty.
PPE kits were delivered to Catholic Charities of USVI, Light House Mission, Ten Thousand Helpers and the Flamboyant Gardens Senior Housing facility to help address the needs of the outreach workers, underprivileged and members of the homeless and elderly communities who have limited access to resources due to varying circumstances.
In the spirit of community partnership and corporate engagement, Cost-U-Less joined the effort by generously donating 50 cases of water to the seniors at Flamboyant Gardens. United Way USVI recognizes the critical role that the power of community has in giving back, resulting in a "Water for Seniors" monthly program partnership to assist underserved seniors in their time of need.
"At the United Way, we realize that health comes first and ensuring our front-line workers are protected should be a main focus. We need to ensure that caregivers are protected as they continue to serve our residents; our support system in the USVI is fragile. We cannot afford to lose any front-line worker. It is important to safeguard our support system in order to continue providing services to our community.
"It is vital that we all do our part to social distance, continually wash hands and wear face coverings, but our frontline will have to answer the call and their safety is a priority. If we lose front-line workers to the coronavirus our valuable programs and health care infrastructure will be jeopardized. This is just the first of many programs we plan to launch to respond to the COVID-19 pandemic in the USVI," said Vinod P. Dadlani, president/CEO of United Way USVI.
Community organizations in need of PPE kits can submit an email request to covidhelp@unitedwayusvi.org. Donations to the COVID-19 Relief Fund can be made online at www.unitedwayusvi.org or https://www.unitedwayusvi.org/civicrm/contribute/transact?reset=1&id=16.