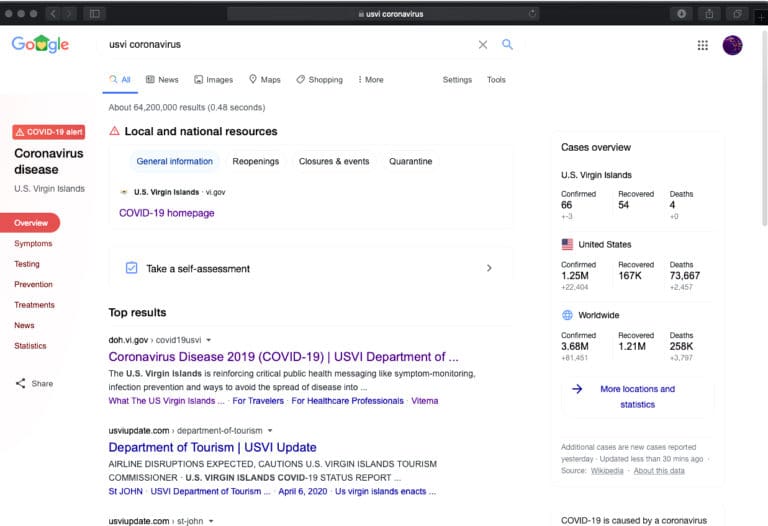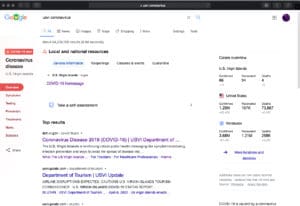 The V.I. government is collaborating with Google to get out reliable local information on the crisis, according to Government House.
"In a nutshell, we are harnessing the best that technology has to offer on behalf of the health and safety of our residents," Gov. Albert Bryan Jr. said in a statement issued Wednesday by Government House. "With input from the USVI departments of Health, Education, Labor, Tourism, Licensing and Consumer Affairs, as well as VITEMA – the Virgin Islands Territorial Emergency Management Agency – Google will help make available authoritative local health information related to COVID-19."
If you go to Google and enter "U.S. Virgin Islands" and "COVID-19" or other related terms, the search window presents a bar on the left with convenient links to local information, including local statistics, local news and information about testing. The top results are local government sources, and an insert on the right shows local statistics. A bar at the top includes links to general information, reopenings, closures, events and quarantine information.
The National Security Council has urged the public to make sure they are getting their information from legitimate sources.
Health Commissioner Justa Encarnacion said the department is pleased to collaborate with Google "so that our population can arm itself with the most potent weapon available: Accurate and reliable information about the virus and steps to help prevent the spread of COVID-19. That's the best way to limit its transmission."
Through Google's search, maps and other products, critically important information will be available to Virgin Islanders, including a link to the Health Department's page on the pandemic, to help Virgin Islanders monitor themselves for COVID-19-like symptoms, get the best ways to treat those symptoms appropriately at home, the number of COVID-19 cases and the number of patients recovered, negative and pending in the territory, along with other content such as:
– COVID-19 frequently asked questions
– testing guidelines
– events and closures
– quarantine guidelines
"Google is proud to work with the U.S. Virgin Islands Government to help make sure Virgin Islanders have the information they need to keep themselves and their communities safe," said William Floyd, Google's director of U.S. public policy. "At Google, our mission is to make information universally accessible and useful. In these uncertain times, working with local governments and health authorities is key to our efforts and we're deeply appreciative of the support of the USVI to make this possible."