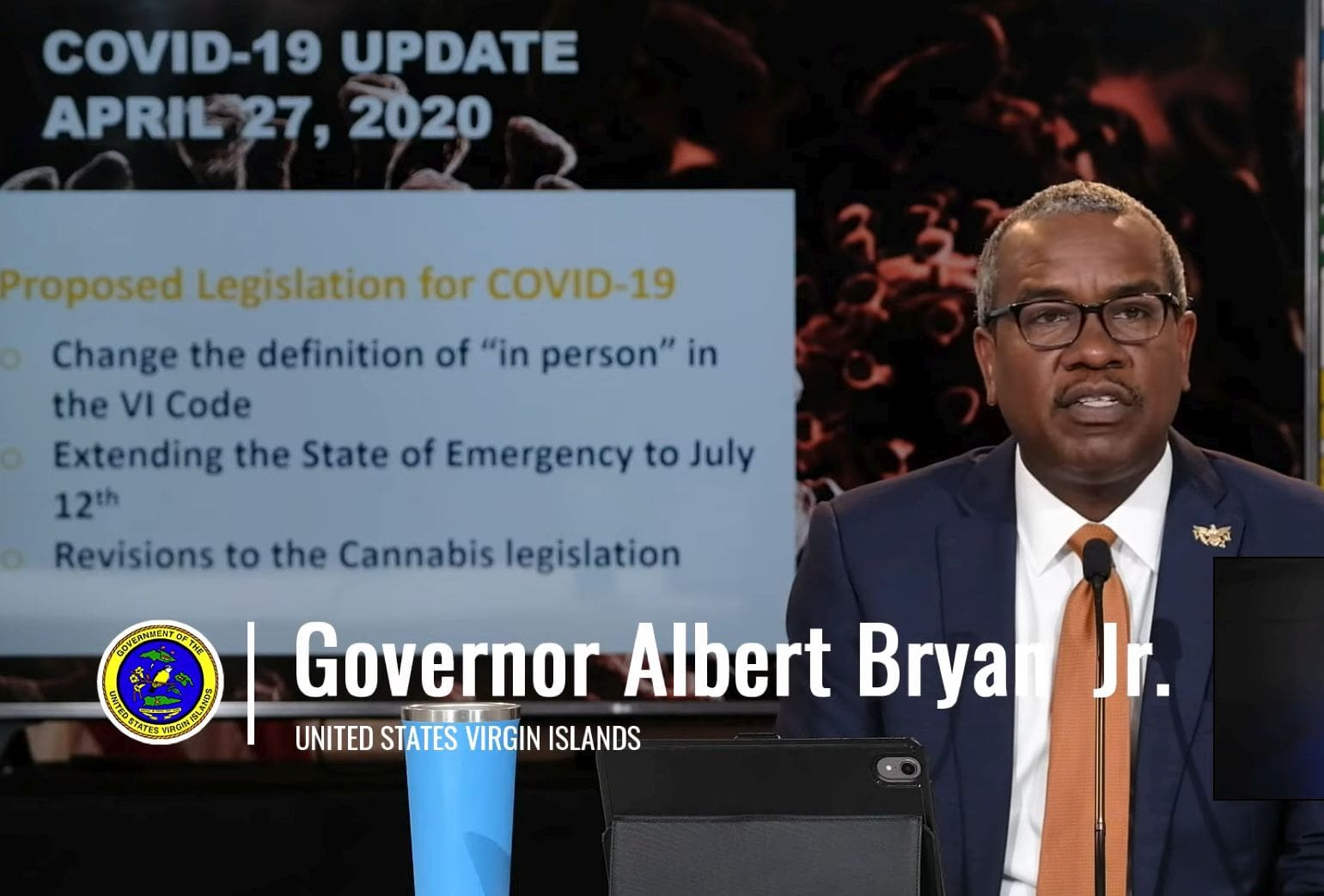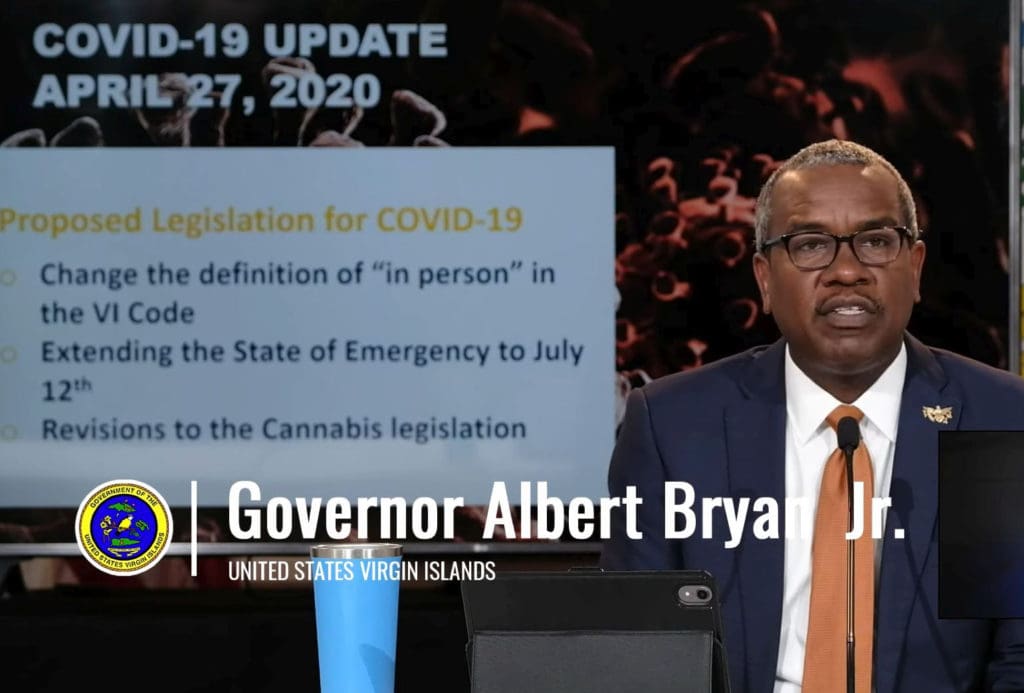 Once the current shelter in place restrictions, that run through Thursday, expire Gov. Albert Bryan Jr. said he'll issue a new order for the phased reopening of small non-essential businesses and the guidelines under which they will operate.
As of Monday, 780 USVI residents had been tested for COVID-19 and of that amount, 59 cases were positive and 716 negative, with five tests still pending. While there are no hospitalizations, Bryan said a fourth death – a 67-year-old woman on St. Croix – was recorded over the weekend. The woman died at home and was tested afterward, he said. At this point, there are four active cases of the virus being tracked.
At his news briefing on Monday, Bryan said he understands the concerns from the community about moving too fast but said reopening will start locally and be taken "step by step."
"Our approach has to be thought of as a three-legged stool," he said. "One leg represents your safety, your family's safety and the concerns of public health and another leg represents our economic concerns because we have to be able to get the economy running again. The third leg represents our concerns around individual and personal freedom."
Bringing all the "legs" together is the balancing act that government now has to consider, and in the weeks and months ahead, that might require some trial and error, Bryan said. "We have to get those three things to work in concert. We will take things one step at a time, and if we think we are heading a direction that is wrong too quickly for our community, we will fall back on the prior restrictions," he explained.
Part of the reopening includes an alert system, and Bryan said the government will make its decisions and reasons for those decisions as "clear and transparent as possible." In the meantime, legislation has been submitted to extend the current state of emergency to July 12 and change the definition of "in-person" meetings to allow boards, commissions and other government entities to make decisions or meet by video and teleconference.
An executive order also waives the in-person requirement for notaries public and allows them to conduct business over live video and with valid photo identification, the governor said.
With the territory in need of revenue and the Government Employees Retirement System looking at annuity cuts to stay solvent, Bryan said he has also sent down a revamped version of the cannabis bill to expand the territory's cannabis law, a measure he first submitted in December. Senators and members of the public expressed concerns about the measure, and it was held back by the Legislature.
But Bryan said the Legislature needs to act now with a "greater sense of urgency and exigency in implementing all things that can help us achieve greater solvency for our system and our economy."
Subsidy for WAPA Customers
In the meantime, Bryan said the government had received upward of $15 million in federal funds needed for a subsidy that would give active V.I. Water and Power Authority customers a $250-$500 credit on their electric bills. Customers will begin to see the rollout Saturday with the new billing cycle, and don't have to use it all at once, he said. The $250 residential credit will roll over to June if it's not used right away, understanding that the average power bill is about $167. Commercial customers will receive a $500 credit, he said.
Providing relief for laid off or furloughed employees, the Labor Department has so far issued nearly 1,600 checks totaling roughly $1.1 million, and Bryan added Monday that continuing to apply for the federal Small Business Administration's Paycheck Protection Program could also be a better resource for some.
"Unemployment will count against you in the long run because the unemployment insurance that your employees are accessing is the unemployment account for your business. Taking this loan not only eases the burden on your account, it helps employees get money faster and helps the businesses keep their doors open during this pandemic," he said.
So far, 240 local businesses have received a combined $62 million and Bryan said that since the program has been refunded by Congress, new applications are being received. SBA will forgive the loans if all employees are kept on the payroll for eight weeks, and funds can also be used for rent, utility payments or mortgage interest.
Bryan also called on Delegate Stacey Plaskett to put pressure on federal officials to release the funds needed for local economic stimulus checks. Puerto Rico still hasn't received theirs, which pushes checks for the U.S. Virgin Islands back to mid-May or even the beginning of June, he said, adding that the government will continue to work with Plaskett and lobbyists in Washington, D.C. to "get this thing done."
"We still have peaks and valleys all along this terrible journey," Bryan said as he wrapped up. "We have adjusted our peak time based on what we see in the community and the reality is that we will always have the potential for peaks if we don't manage this virus properly. I remind the public that we were never closed, so come Friday we are not reopening, but broadening the scope of business operations and recreation so that they can be conducted safely. We will continue to be vigilant and use all the info and resources we have to continue to grow the economy, respect your personal freedom and, most of all, keep you and your family safe."