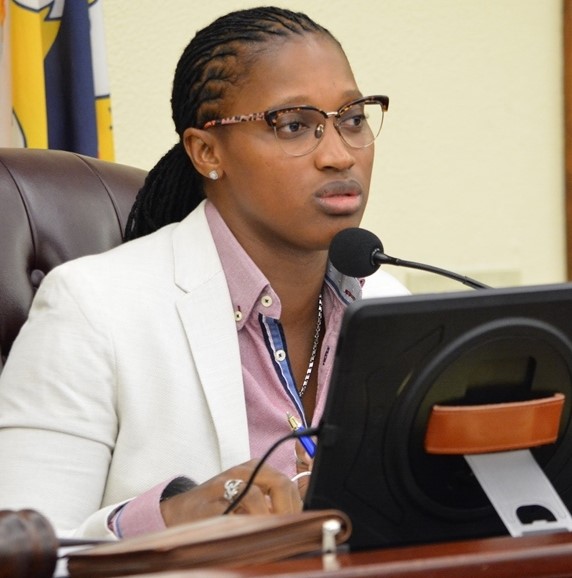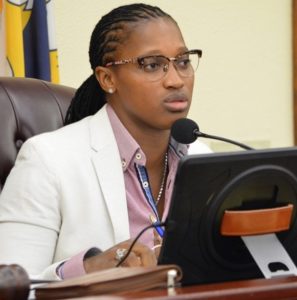 Gov. Albert Bryan Jr.'s proposal to have the Legislature amend and expand the Medicinal Cannabis Patient Care Act to get funds rolling toward the Government Employees Retirement System isn't going anywhere soon.
The Legislature met Wednesday in a special session called by the governor, to allow quick action on the bill which would structure a cannabis program to produce revenue through taxes and fees that could be used to support GERS.
Sen. Myron Jackson said what several senators apparently felt, "We are not ready for this."
The proposal was assigned a bill number and sent to the Committee of the Whole where it will be debated more and possibly amended. Several senators suggested the measure be sent down to the Committee of Jurisdiction which would have delayed the process more.
Sen. Janelle Sarauw, who is on record favoring legalized recreational use of marijuana, had problems with the governor's proposal.
She said the posture the governor took when sending the proposal to the Legislature was "disrespectful." She also said terming the proposal as a way of "saving GERS" was a "false narrative."
Along with her colleague Sen. Donna Frett-Gregory, she pointed out that sending $20 million to GERS, which has an unfunded liability of a couple billion dollars, wasn't really a solution.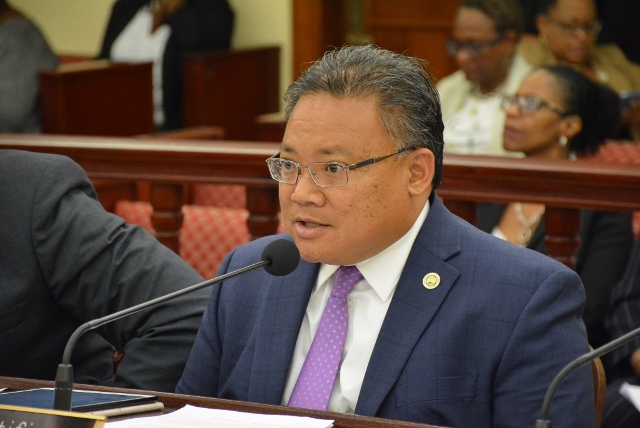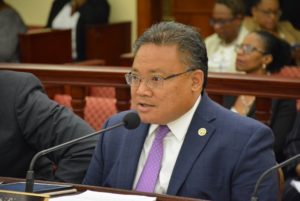 Richard Evangelista, commissioner of the Department of Licensing and Consumer Affairs, was at the hearing presenting the case for the governor's proposal. He told senators several times that the governor's proposal was not meant to be the solution. He said, "This is just the beginning."
Sen. Javan James was vocal about moving forward with the proposal. He said senators had enough time to go over the bill and, if they had problems with it, they should have come ready with amendments. He said legislators often waste time trying to get the perfect bill and no bill is perfect.
A problem Sen. Kenneth Gittens saw with the proposal is it offered no place where marijuana business operators could deposit money. Marijuana businesses cannot deposit earnings in banks covered by federal insurance. He said it would be "irresponsible" of the Senate to act on the measure without fixing its flaws.
Former Superior Court Judge Soraya Diase Coffelt testified against legalizing recreational use of marijuana. She said use of marijuana was detrimental to a person's attention span, memory and motivation. She also said that Colorado, which has legalized marijuana, was having problems with armed robberies because businesses could not bank their money.
Sen. Novelle Francis Jr. said, "so much is lacking in this measure." However, he added, in his opinion, it was "inevitable" that recreational use of marijuana would be legalized.
Coffelt agreed with his opinion and said, "These are very sad times." In her concluding statement she said, "Marijuana is a very potent drug and should not be legalized."
Kye Walker, representing the St. Thomas/St. John Chamber of Commerce, testified in favor of the measure. She went over calculations that projected the measure would bring $20 million to government coffers each year. She said marijuana has always been used in the territory. The measure would allow cruise ship passengers to buy day passes for local use of marijuana. Marijuana use and dispensaries would be restricted to certain areas.
"There are economic and social benefits to adult use legalization that are too numerous to include in this testimony," Walker concluded.
Sarauw said the figures Walker used were no longer accurate. Walker's figures were based on the number of tourists visiting the territory before the 2017 hurricanes.
Senators were also unconvinced that the proposal would correct a social injustice by expunging the record of people serving long jail terms for simple possession. Gittens, a former police officer said, "I have never locked up anyone for having a joint."
Sen. Dwayne DeGraff said the governor already has the power to pardon. He said, "Go ahead, let them out now."
Another area of concern for senators was the licensing process.
"The licensing process is alarming because it appears to circumvent small business owners and only benefit business owners from the mainland," Gittens said.
When Bryan unveiled the proposal to the public on Dec. 4, he said his proposal did not amount to legalized recreational use. He did say it would allow for both prescription and non-prescription use, but those under the of age 21 would not be able to purchase marijuana.
Voting against letting the measure be considered further in the Committee of the Whole were Sens. DeGraff, Oakland Benta, Gittens, Frett-Gregory, Athneil Thomas and Kurt Vialet.
Voting for placing it in the Committee of the Whole were Sens. Alicia Barnes, Marvin Blyden, Allison DeGazon, Francis, Stedmann Hodge Jr., Jackson, James, Steven Payne Sr. and Sarauw.
Sarauw reportedly was already working on a bill addressing recreational use of marijuana. She is now listed as the sponsor of the bill form of the governor's proposal.