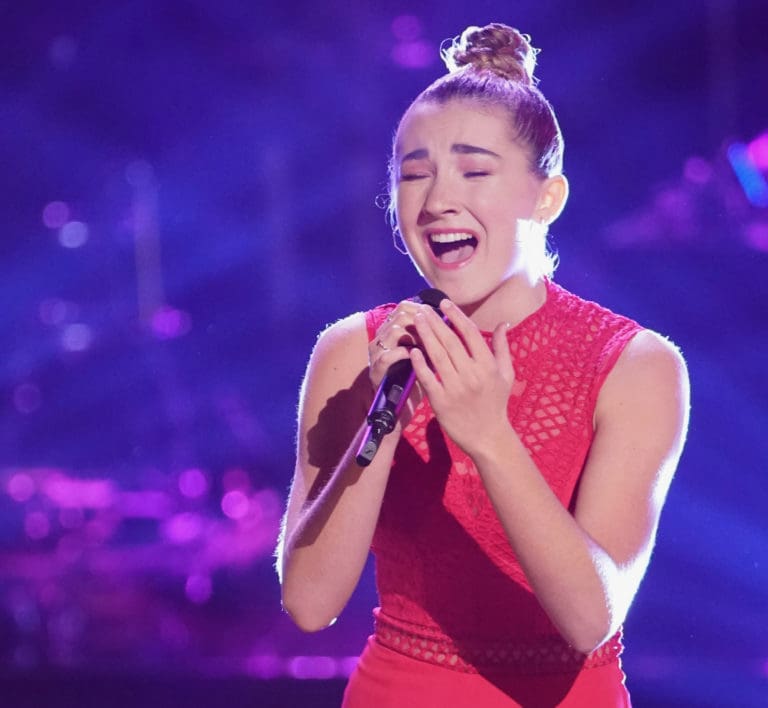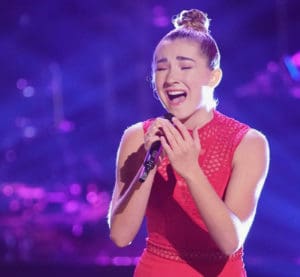 Although the public didn't learn about it until last week, Allegra Miles, the 17-year-old singer from St. John, made it through the third round of cuts on NBC's talent competition show "The Voice," and is preparing now for the live rounds – in whatever format those will take in the world of the novel coronavirus.
In the show's Knockout Rounds, coach Nick Jonas chose Allegra over her rival, Jacob Miller, when she sang a soulful, somewhat introverted version of "Chandelier," Sia's defiant anthem of reckless self-destruction.
On the Monday, April 27, broadcast viewers will have a chance to watch clips of the top 20 contestants as they prepare for live rounds, which are scheduled to begin Monday, May 4.
Up through Monday's broadcast, all the episodes have been pre-recorded. Viewers have been bombarded with the video-blitz they have come to expect from the genre: Celebrities in chairs swirling around with a thunderclap when they choose a contestant in the blind auditions; frenzied studio audiences; lights that seem to explode when a singer sustains a high note; and extra-long, suspenseful pauses before a winner is declared.
All that was taped before COVID-19.
How the live show will be shaped by the constraints of social distancing is anybody's guess.
"We don't exactly know how they'll be handling things," said Allegra.
Right now she's in Florida, where her family now lives, with her parents Raf and Thia Muilenburg and her older sister Missy. During the day, she works on her music, completes requirements online for her high school diploma, and goes for runs with her dad before it gets too hot outside.
Allegra has communicated with the show's coaches and producers the way most of us communicate these days – through Facetime, Zoom and Skype. She's confident that "The Voice's" production team will find a way to reinvent the genre.
"Everyone is innovative, creative and really passionate about what they do; they're not at all jaded," she said.
Allegra sees both pros and cons in the format that's being forged.
"There'll be less intensity without an audience. Some of us may be a lot less nervous, but there's not as much adrenaline either."
She says she hasn't made a final decision yet regarding the song she'll perform next.
"Song choice is everything," Allegra said. Her coach, Nick Jonas, has sent her his ideas now that he's gotten to know her better. She doesn't yet know how the production team will manage details like the contestants' wardrobe, makeup and hair from afar.
NBC recently posted an interview with Allegra in which she talked about her journey to make it this far on "The Voice."
In past seasons, "The Voice's" live shows were scheduled for a period of five weeks, but this year the competition was shortened to three weeks to allow for live coverage of the Summer Olympics, which has since been canceled.
During the May 4 show, the celebrity coaches will whittle the pool of 17 contestants down to nine. At the semifinals on May 11, viewer audiences will choose the final four, and on May 18, they'll choose a final winner.
Viewers can cast up to 10 votes for their choice on their computers and another 10 by using "The Voice" app on their phones. Naturally, contestants aim to rally their hometown fans to participate in these last two crucial stages, and this is where Allegra is at a disadvantage.
It turns out that just like in presidential elections, Virgin Islander residents are disenfranchised when it comes to voting on "The Voice." Only residents of the U.S. and Puerto Rico are allowed to participate.
Even though they can't influence the outcome, Allegra says she's very grateful for her friends on St. John and her time living there.
"I would not be the person I am; I don't know that I would have made it so far without growing up there where love is so strong. The rest of the world should take note."