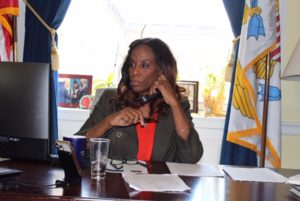 While lauding new funding for the territory in the latest massive pandemic stimulus package just approved by Congress, Delegate Stacey Plaskett urged V.I. officials to work together on a short list of goals for the next package, and to make sure funds are managed well.
The Senate passed the $484 billion package last week, the House of Representatives approved it Thursday and President Trump signed it Friday. It follows less than a month after a $2.2 trillion, (with at "t") package was enacted in March.
Meanwhile, as the world remains partially shut in, to slow new infections of the novel coronavirus, the U.S. Department of Labor reported more than 23 million Americans have filed initial jobless claims in just the past four weeks ending April 18 – by far, the largest abrupt increase in U.S. history.
According to Plaskett, the new bill has $310 billion to replenish the Paycheck Protection Program, which offers forgivable loans to small businesses. Of this, $60 billion will be set aside for Community Development Financial Institutions, Minority Depository Institutions, community-focused lending intermediaries and the smallest community banks and credit unions. The measure also contains $60 billion in economic disaster relief for small businesses; $50 billion to fund Economic Injury Disaster Loans, which will reportedly ultimately leverage more than $350 billion in additional Economic Injury Disaster Loans lending and $10 billion in grants. Eligibility for these loans was expanded to include farms and agricultural businesses.
"This funding and the set asides are a tremendous boost and will directly support the local banks and many of the businesses in the Virgin Islands," Plaskett said in a statement.
The act also contains $75 billion in new funding for hospitals and health care providers. This money will help with expenses and lost revenue hospitals and health care providers are facing during the crisis. It also has $25 billion for researching, manufacturing and administering COVID-19 tests. This, Plaskett said, will also support infrastructure to implement contact tracing and laboratory capacity expansion. Testing remains free to all Americans.
Agriculture businesses and farms with fewer than 500 employees now qualify for small business disaster relief loans, she said.
"Virgin Island family farms are the lifeblood of our agriculture sector, which is an important industry and is vital to the territories. As the representative of the Virgin Islands in Congress, it was important to me that this program was expanded to include farmers because they need certainty as we head into planting season. I am working hard to ensure that all Virgin Islanders, including our farmers are not left behind," Plaskett said.
Congress is already negotiating another bill, one which Speaker of the House Nancy Pelosi said this week would be presented soon and be "expensive."
Meanwhile, with a rancorous relationship between the GOP-controlled Senate and Democratic-controlled House of Representatives and a mercurial president, Plaskett says she, the governor and Legislature need to focus on a few narrow objectives.
"First, focusing our advocacy on one, or at most three impactful, relevant actions that will bring important funding to the Virgin Islands. Second, the local government must demonstrate in the utilization of federal funds the territory's commitment to effective and efficient spending, self-governance against mismanagement of funds, as well as execution on a strategic plan for the development of new revenues," she said.