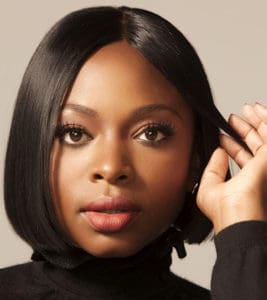 Naturi Naughton, a singer-actress who stars on "Power," a popular TV crime drama, is lending a hand to some 100 families and four local nonprofits on St. Croix, bringing her philanthropy to the big island where she traces her Crucian roots, helping its people ride out the COVID-19 pandemic.
"I wanted to do something in this tumultuous time," Naughton told Delegate to Congress Stacey Plaskett, who hosted the actress on her Instagram Live Saturday morning. "As people of influence, that is our responsibility, to really push us into action, not just talk about it."
Naughton stars opposite Omari Hardwick as Tasha St. Patrick in Starz Network's hit series "Power," which boasts Courtney Kemp as its producer and rapper 50 Cent as executive producer. The mother of one, Naughton maintains a busy schedule, but still finds time for advocacy and philanthropic work, including acting as ambassador for "Saving Our Daughters," a nonprofit that helps diverse young girls overcome obstacles through theater, film and culinary literacy.
Among Naughton's efforts is NaturiFeeds, a feeding project that began in her hometown, East Orange, New Jersey. Partnering with local chefs and restaurants, Naughton worked to provide meals to 100 families in the community. On April 27, that same project is set to begin on St. Croix and is expected to serve 100 Frederiksted families for seven days. Restaurateur Greg Richards offered his King Street restaurant Cibone as a home base for preparing the meals with the help of local volunteer chefs.
"We really thought to do this as a full cycle, a whole supply chain, really impressing on Greg [Richards] sourcing locally where he can so we can engage our farmers," Plaskett said. "Even in the transportation, we've contacted a couple of taxicab drivers who are also out of work during this time."
Naughton is also giving $5,000 in direct cash donations to support the community feeding efforts of four local nonprofits: Light House Mission, Catholic Charities, My Brothers Table and the Frederiksted Baptist Church. According to Plaskett, her office began reaching out to local organizations to get a sense of their needs as they serve certain sections of the St. Croix community. Plaskett's staff then passed along a list of organizations to Naughton, who selected the four beneficiaries.
News about Naughton's efforts came from Plaskett, who had a hand in bringing Naughton's philanthropy down to the Virgin Islands.
"I had the pleasure to meet Naturi through her advocacy work on Capitol Hill and learned that she has roots in the U.S. Virgin Islands," said Plaskett. "Her family is from Frederiksted and she is deepening her relationship with home."
Plaskett said she is proud to support Naughton's mission of feeding Virgin Islands families in need.
"This pandemic is having a domino effect on organizations that support its community and its residents in their time of need," Plaskett said. "[Naughton] has worked tirelessly in communities of color and she's making her contribution to communities affected by the COVID-19 pandemic by distributing free meals in New Jersey, New York and now St. Croix."
While Naughton did not grow up on St. Croix, she has been rediscovering her Virgin Islands roots. Her father grew up on the big island, and her grandmother, Maria Naughton, worked there as a nurse before moving to Brooklyn. Naughton, who grew up on stories about St. Croix, had been visiting the islands more often before the pandemic broke, celebrating her daughter Zuri's second birthday on island.
"I'm so proud to be a Crucian gyal," Naughton said.
"I don't have an accent, I didn't grow up on the island. I can do a little somethin', but I'm not gonna do too much," she quipped.
According to Plaskett, she hopes to continue collaborating with Naughton in Congress, leveraging the actress' celebrity to highlight issues impacting the territory.
Naughton is best known for her performances as Lil' Kim in Fox Searchlight's hit film "Notorious" and her role in MGM's 2009 remake of the film "Fame." She is also the two-time recipient of the 2017 and 2018 NAACP Image Award for "Outstanding Supporting Actress in a Drama Series" for her work on "Power," which is now in its sixth and final season.