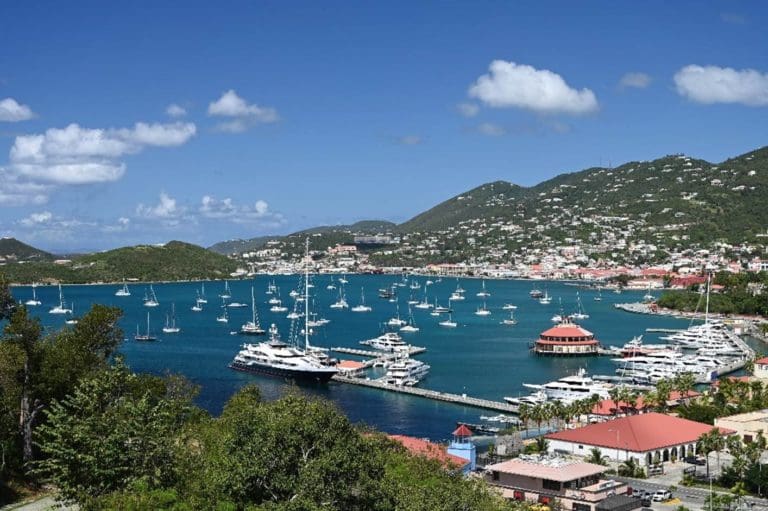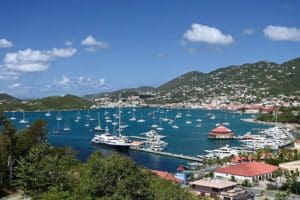 A decades-strong industry and potent contributor to the U.S. Virgin Islands economy is now in full public view due to the COVID-19 pandemic. Over 100 U.S. Virgin Islands-based professionally-crewed charter vessels are following V.I. Gov. Albert Bryan Jr.'s Emergency Executive Orders to not accept guests and to shelter in place. This mandate comes at the peak of the marine tourism charter season when this fleet of U.S.-based vessels are normally scattered among the territory's anchorages on customized seven-day itineraries for their guests. Thus, these vessels, as well as over 70 U.S.-based day charter vessels, are now docked, moored or anchored in what seems increasing numbers in the territory's bays.
"The Virgin Islands Professional Charter Association (VIPCA) has 144 USVI-based charter vessel members, all of whom are presently "grounded" rather than cruising the territory with tourists on board. In addition to the home-based charter fleet there are also a combination of professionally-run charter yachts that have arrived in the USVI from islands to the south, and cruising yachts with their owners living aboard (often in retirement). VIPCA would like to emphasize to the Virgin Islands public that both home-based and visiting boaters are naturally considerate to their host islands, and will be complying with the Governor's Executive Orders in addition to maritime regulations such as emptying sewage offshore both by free will and legal obligation," said Oriel Blake, VIPCA executive director.
YACHTS WELCOME, JUST FOLLOW PROCEDURES
Recognizing the influx of yachts, on March 27, the governor welcomed U.S.-based and other arriving vessels to the territory. Gov. Bryan has reminded all vessels to abide by the orders and compliance requests of agencies such as the U.S. Coast Guard, the U.S. Customs and Border Patrol, the Department of Planning and Natural Resources (DPNR), and any further Emergency Executive Orders to be issued by him.
"We're asking the boaters to please adhere to the mandates issued by the governor by registering for an anchoring permit, completing the health assessment, practicing social distancing by remaining on their vessel and limiting trips to shore, and not to onboard any passengers during this time.  We also require that all vessels follow our requirements for the disposal of solid and liquid waste. For any questions please contact DPNR's Division of Environmental Enforcement at 774-3320 in St. Thomas or 773-5776 in St. Croix, or by email at dee@dpnr.vi.gov. We look forward to your return under normal circumstances when you may experience true Virgin Islands hospitality," said J.P. Oriol, DPNR commissioner.
Oriol adds that his department has received over 100 anchoring applications since last Thursday.  The department's officers are now conducting patrols and telling boaters where to go online and get the information. DPNR has identified 19 bays on St. Thomas and Water Island, four in St. John and six in St. Croix for anchoring, specifically until April 30.
Additionally, the Virgin Islands National Park (VINP) has 200 moorings and this week will announce a new mooring reservation program.
"Boaters will need either a V.I. permit for V.I. waters/bays or an NPS (National Park Service) reservation, not both," said Nigel Fields, VINP superintendent.
Both DPNR and the VINP remind all vessel operators that it is illegal to discharge or discard refuse of any kind within the three nautical mile limit of the territorial waters of the U.S. Virgin Islands. More information about provisioning concierge (including local produce), trash removal and crew support networks can be found at https://vipca.org.
"The professional crew of the home-based charter yachts are very respectful towards the environment and are following usual sewage discharge practices which involve taking their yacht three miles offshore before releasing their holding tanks of black and grey water. VIPCA hopes that the sizable number of visiting yachts who have arrived from other parts of the Caribbean will continue to follow the principles of good boating and shall comply with the Virgin Islands Government regulations including emptying holding tanks offshore," said VIPCA's Blake.
DPNR also recommends vessels make use of online concierge services to the greatest extent possible for provisioning. More information can be found at https://vipca.org.
KEY ROLE IN POST-PANDEMIC TOURISM RECOVERY
VIPCA's has called on its members to be ambassadors to those visiting yachts and to assist in passing on information.
The marine industry is one of the most resilient and was one of the first to generate tourism revenues for the territory after the 2017 hurricanes. Marine tourism offers immediate expansion possibilities. By welcoming these yachts to the territory during the world's State of Emergency resulting from the COVID-19 pandemic, provided that they abide by the rules and that their crew do not come ashore until 14 days quarantine have been safely taken onboard, the Virgin Islands should hope to profit from the strengthening of the marine industry and by its expansion.
More information can be found at the DPNR website: https://dpnr.vi.gov/environmental-enforcement/ and the VIPCA website at https://vipca.org/usvi-requirements-for-all-vessels-during-state-of-emergency/