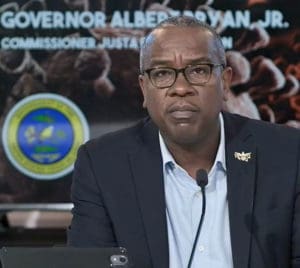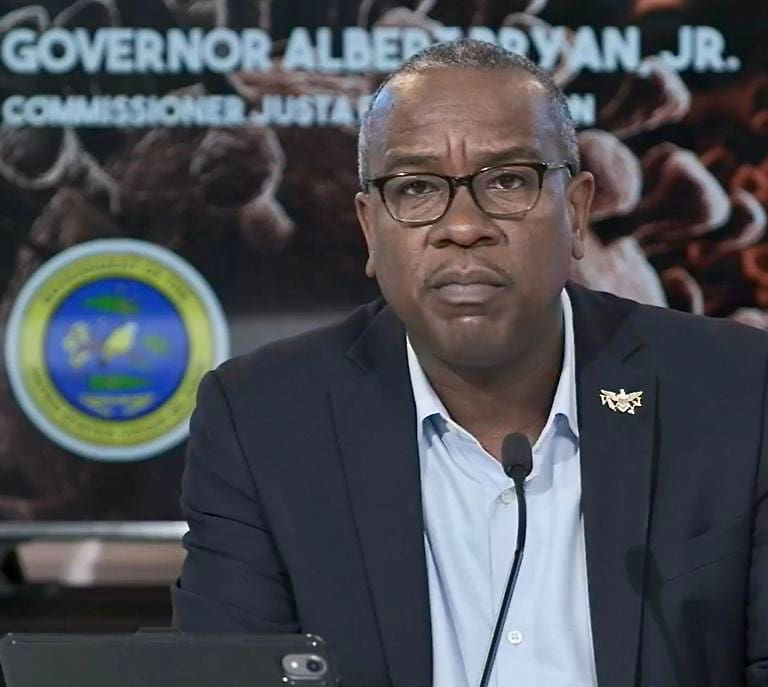 Along with answering questions from the media, Gov. Albert Bryan, Jr. took time Friday to lay out plans for additional medical facilities if the territory begins to experience a "surge" of COVID-19 cases similar to the mainland.
According to the V.I. Department of Health, as of Friday evening the USVI had 266 tested with 40 confirmed positive cases of COVID-19 – 26 on St. Thomas, 12 on St. Croix, and two on St. John – along with 184 negative tests, 42 pending. Thirty-four people have recovered, and there have been no deaths.
Looking forward, Bryan said teams from the Army Corps. of Engineers did assessments this week to see if they could quickly build medical facilities, should the territory need additional bed capacity. Reports are expected in by next week and will include details on where those facilities would be, what it would take to get them running and how long it would be before they are operational, he said. Meanwhile, both hospitals have already started to prep for an overflow surge, which would allow for more patients to be accommodated. Those efforts should be complete by Monday, Bryan said.
With U.S. President Donald Trump declaring a major disaster for the territory, Bryan said he has the ability to deploy the V.I. National Guard to help with COVID-19 response. The Federal Emergency Management Agency will fund 100 percent of the activities associated with COVID-19 prevention and response, which includes beefing up capacity within local agencies such as the V.I. Police Department over the coming week.
Airline cancelations continue to increase, with Spirit Airways discontinuing operations into the territory from April 8 to May 5. The governor said the average number of passengers on jets coming in from the mainland is about 30, and they have been told to self-quarantine for 14 days. Contact tracing is also being conducted to make sure the public is safe.
Some access to airlift out of the territory will be maintained in case individuals need to travel out for treatment or business, or to travel in to help, Bryan said.
The government's efforts to restrict new bookings at hotels was also an effort to keep visitors from traveling in, and Bryan clarified Friday that it was never a move to shut down hotels completely. Airbnbs have also been restricted from new bookings in an effort to prevent exposure to the virus from anyone visiting, but Bryan said there are a few entities that have been more difficult for the government to restrict.
A few small businesses have also "not been taking seriously" the government's increased social distancing restrictions, which includes a stay at home order for all non-essential businesses and employees that is in effect until April 30. Bryan said the government has had to close four businesses on St. Croix and 11 more on St. Thomas
"We're going to shut you down, and if we have to shut you down permanently, we are going to have to do that as well," the governor added. "We have had too many repeat offenders and I have instructed to our law enforcement to adhere to a strict one strike rule. If you are in violation of the order, we will shut you down."
Bryan added that there is still no curfew in effect within the territory, but if the public "won't help us to cooperate," he will have to reevaluate.
"So, I am appealing to everyone, if you love your community, if you love your friends, if you love your family, then urge them to take this seriously," Bryan said.
The governor also said Friday:
– Small businesses should take advantage of benefits provided by the Small Business Administration, including payroll benefits and loans;
– Economic stimulus checks – approximately $1,200 per person based on federal income limits – should be sent out locally toward the beginning of May;
– More personal protective equipment has arrived on island, and the government is looking to outfit first responders as they move about in the community; and
– The government will expand its testing capabilities when we are able to acquire the 45-minute test.
"Right now we are testing those that are high risk and those who are hospitalized, and we can get those results within an 24-hour period," Health Commissioner Justa Encarnacion added Friday. "We will update the public when we get more information, when we have more equipment available and when we can do mass testing."