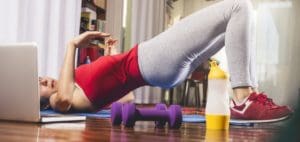 Pure Balance has converted all of its fitness classes to online classes so people can continue to exercise through the Coronavirus Pandemic from their own home. Exercising not only helps to keep us all physically healthy, but it also plays a role in improving mental and emotional health.
All of the classes (which include barre, yoga, indoor cycling and HIIT classes) can be found and registered for at www.purebalancefitness.punchpass.com. Most classes require little to no equipment and are geared towards those of all fitness levels.
Pure Balance has also partnered with Rock Life Crossfit to create a virtual health and fitness Facebook page Health and Fitness Response Team:
(https://www.facebook.com/groups/246465739854111/) to offer health and fitness support, encouragement and free fitness classes to the community.
Please visit www.purebalancefitness.com or  www.purebalancefitness.punchpass.com