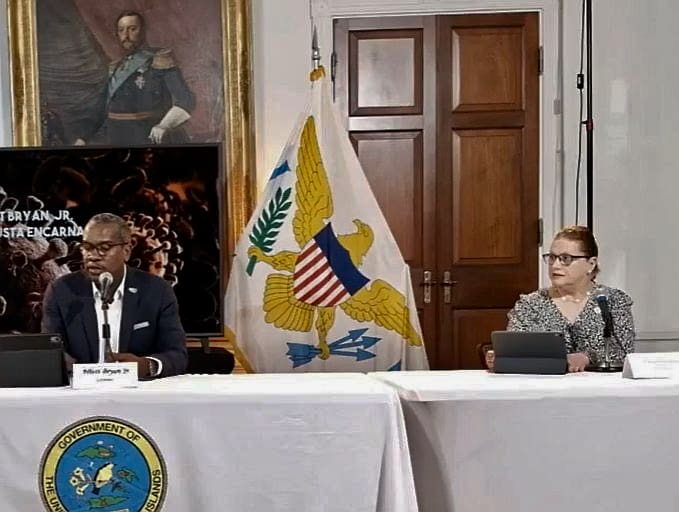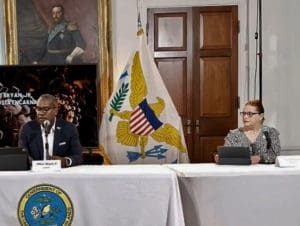 Gov. Albert Bryan, Jr. announced Friday that the number of confirmed COVID-19 cases in the U.S. Virgin Islands has increased by two, to 19. Both cases are travel related, he said. That brings the total to 10 cases on St. Thomas and nine on St. Croix; there are no confirmed cases on St. John.
Bryan made the announcement at his Friday teleconferenced news conference, which he kept brief.
Overall, 159 people under investigation have been tested, with 84 cases coming back negative and 56 still pending. Speaking later Friday, Health Commissioner Justa Encarnacion said local testing should begin by the close of business on Monday, which will allow faster return of the results.
Based on projections, the department anticipates its "highest number of hospitalizations" to be more than 100. April 4 to May 13 is expected to be the "most challenging time," she said, though the territory-wide curve has flattened – due in part to the variety of social distancing measures put in place.
Logistically, the department has been working with both of the territory's hospitals to secure containment spaces. Officials said in terms of inventory, two shipments – or 12 pallets – of personal protective gear and equipment including respirators have already come in a day ahead of schedule, with one more on the way.
"While we didn't have any shortage, we were definitely conserving resources," Bryan shared. "This shipment was a welcome sight."
Focusing on the territory's economic state, the governor also addressed concerns from residents who he said have been wondering "what will happen, and what will become of us." Bryan said that while the government has been doing what it can to protect the public health, each social distancing measure – from the closing of businesses to the halting of cruise ships – will have an "inevitable fiscal fallout," which he described as a "tsunami."
"Every day we remain under the stay-at-home order paints a worse fiscal picture, not only for our businesses, but for our government," he said.
On a positive note, Bryan said an emergency declaration to the White House is expected to be completed and approved by Monday, while Delegate Stacey Plaskett and V.I. lobbyists in Washington, D.C. have been pushing for parity and resources for the territory as Congress moves ahead with a $2 trillion stimulus package, among other measures. Meanwhile, the V.I. Legislature recently signed off on a $60 million line of credit, which Bryan said will keep the government operating, and vendors and employees paid.
"We have had dark days in the past, and we have hard times ahead, but we will get through this," Bryan said, encouraging the public to continue staying at home and limiting contact in an effort to slow the spread of the virus.