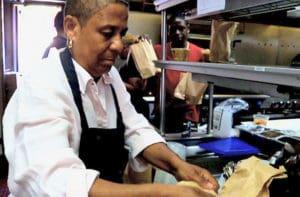 A multitiered effort organized by one community group is aiming to provide food and supplies to the territory's elderly and residents with disabilities in an effort to keep them indoors and limit any exposure to the novel coronavirus.
In news conferences over the past few weeks, public officials have stressed the need to help and protect the territory's more vulnerable populations, which include residents over the age of 50, particularly those with underlying health issues. Last week, along with announcing increased social distancing measures, Gov. Albert Bryan Jr. spoke about a partnership with local Plaza Extra supermarkets that would allow senior citizens time to shop from 7 a.m. to 10 a.m. Non-senior citizens are being asked to not to shop during this time.
To help, the V.I. Community and Police Association has been partnering with local restaurants in an effort to deliver food to residents in local senior citizen and nursing homes. Friday, group organizer Bruce Flamon picked up almost 100 soups – chicken and veggie – from Navy Beach at Yacht Haven Grande, which were later distributed to residents of the Celestino A. White Senior Citizens Complex, along with another round Saturday that were taken to the Lucinda Millin Home.
"The owners of Navy Beach wanted to show that they are here to stay, that they are invested in our community and that they wanted to support our elderly as much as possible," said chef Lenyse Shomo. "Knowing Bruce, I reached out and he told us what the organization's needs were and we were happy to help. We're hoping our seniors enjoy this, and at the same time, it gives us a chance to keep our people working, while giving back to the community."
Approximately 90 senior citizens were fed through the weekend rounds. Speaking after, Flamon said the organization is ramping up a second phase effort to gather relief items – anything from canned food to cleaning supplies – over the next week. Flamon said he has partnered with churches and community watch groups on St. Croix as well and has set up a range of drop off points where supplies can be taken from 9 a.m. to 1 p.m. on Saturday, March 28.
Drop off points are:
– Lemartec offices on St. Thomas at Raphune Hill
– Word of Faith Christian Center on St. Thomas on Crown Mountain Road
– AME Church on St. Thomas in Red Hook Plaza above Banco Popular
– Church of God (Iglesia De Dios) on St. Thomas in Market Square
– Smith Bay Community Action Foundation on St. Thomas in the Smith Bay Business Complex, second floor
– Speak the Word Ministries on St. Croix
– Masjid Nur Islamic Center on St. Thomas in Sugar Estate, 8th Street
Volunteers interested in helping to sort and deliver the supplies – all within the proper protocols and given protective equipment – can call Flamon at 340-513-4041.